Vegan Oven-Baked Mexican Quinoa Casserole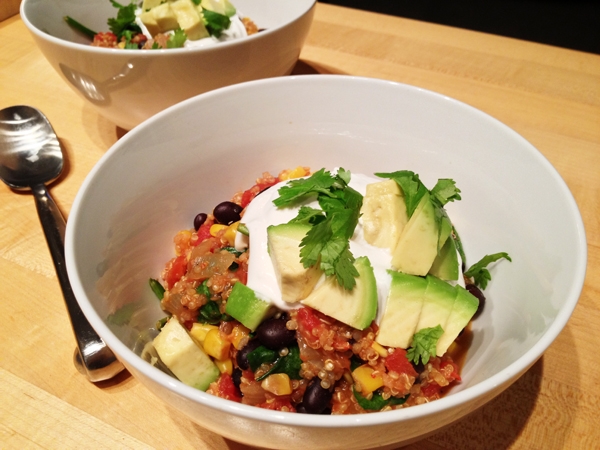 Author:
Angela @ Vegangela.com
1 tbsp vegetable oil
1 onion, chopped
1 clove garlic, minced
1 cup uncooked quinoa
796 ml (28 oz) can diced tomatoes, with liquid
½ cup water
2 tbsp nutritional yeast (optional)
1 tbsp tomato paste or ketchup
1 tsp cumin
1 tsp oregano
½ tsp chilli powder (more if you like things spicy)
Salt & freshly ground pepper
540 ml (19 oz) can black beans, rinsed and drained
311 g (11 oz) can corn kernels, with liquid
3 cups baby spinach
Toppings of choice: vegan sour cream, avocado, cilantro, vegan cheese, etc.
Preheat oven to 350F.
Heat 1 tbsp olive oil in a medium frying pan (or stove-top-safe 2.8 litre/3 quart casserole dish). Add onion and garlic, and sauté until translucent, about 8 minutes. Remove from heat; and transfer to oven-safe casserole dish if not already using one.
Add quinoa, diced tomatoes (with juice), water, nutritional yeast, tomato paste (or ketchup), and spices. Season with salt and pepper and stir to combine.
COVER and place in oven and set timer for 30 minutes.
Carefully remove casserole from oven and stir in drained beans and corn (with liquid). If the mixture looks dry, add a half cup of water.
Return to oven WITH LID and set timer for another 30 minutes.
Carefully remove casserole from oven and stir in spinach. It will wilt from the heat.
Top with sour cream, diced avocado and/or cilantro and serve.
IF FREEZING: Make full recipe but leave-out the spinach and toppings. Let cool and freeze in airtight container(s). To serve: defrost fully, lightly reheat (in microwave or on stovetop), stir in spinach and add toppings of choice.
Recipe by
Vegangela
at http://vegangela.com/2013/02/18/oven-baked-mexican-quinoa-casserole/