Vegan Egg McMuffins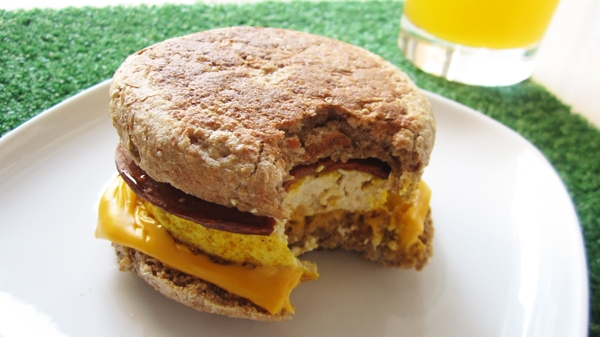 Author:
Angela @ Vegangela.com
Recipe type:
Breakfast, Sandwich
Slice ⅓ of the tofu horizontally so that it is about X thick. Either cut it into a square, or use a metal food ring mould or knife to cut it into a disk. This is your "egg".
Sprinkle turmeric powder onto the "egg" and gently coat all surfaces so that they are a light yellow color. Season with garlic powder and black pepper.
Heat 1 tsp oil in a frying pan and cook the "egg" and Canadian bacon, so that they are browned on both sides.
Meanwhile, toast the English muffin and butter with vegan margarine.
Assemble the sandwich using the cheese, "egg" and vegan bacon.