Healthy Vegan Quinoa Chili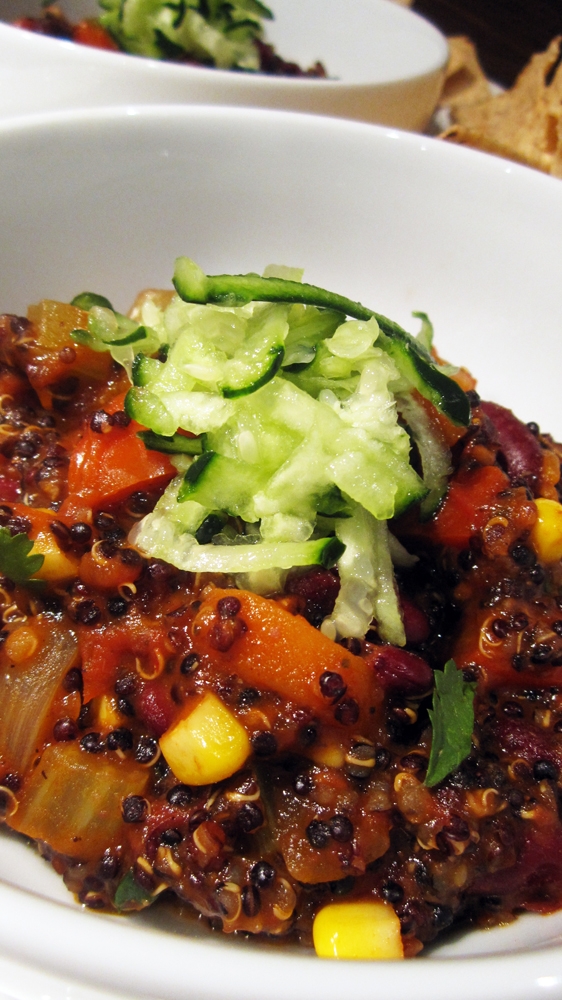 Author:
Angela Thompson @ Vegangela.com
Recipe type:
Main, Entree
Cuisine:
Mexican, Tex-Mex
2 cups vegetable stock
1 cup quinoa, rinsed well (I use red & black quinoa, but regular white quinoa is fine)
1 tbsp olive oil
1 large onion, diced
2 cloves garlic, minced
2 stalks celery, diced
1 carrot, peeled, diced
1 red bell pepper (capsicum), seeded, diced
2 cans (400g) diced tomatoes with juices
2 cans (420g) kidney beans, NOT drained
1 tsp chili powder
½ tsp dried oregano
½ tsp ground cumin
salt & freshly ground pepper
1 cup corn kernels (drained if using canned)
cucumber
avocado
cilantro (fresh coriander)
tortilla chips
vegan sour cream
vegan cheese
Bring vegetable stock to boil in a medium saucepan. Add quinoa, stir, cover, and simmer on lowest setting until ready, about 15 minutes. You'll know it's ready when little curls stick-out from the grains. Set aside.
In a large saucepan or stockpot, heat the olive oil over medium-high heat. Add the onions and garlic, and saute until tender, about 3 minutes. Add celery and carrot, and saute until tender, about 3 minutes.
Add bell pepper, tomatoes, kidney beans, chili powder, oregano and cumin, salt and pepper. Bring to boil, reduce heat and simmer, uncovered, for about 30 minutes, stirring occasionally. Stir-in quinoa and corn.
Serve topped with diced avocado, tofu sour cream, cilantro (fresh coriander), and/or shredded cucumber, and with a side of corn chips or cornbread/corn muffins.
To freeze chili, let chili cool completely and freeze in freezer-safe containers. To cook from frozen state, pop chili into an oven-safe casserole dish and COVER with a lid or aluminum foil before baking for 50 minutes at 375F/190C.
Recipe by
Vegangela
at http://vegangela.com/2011/05/27/vegan-quinoa-chili/