Vegan Beetroot Risotto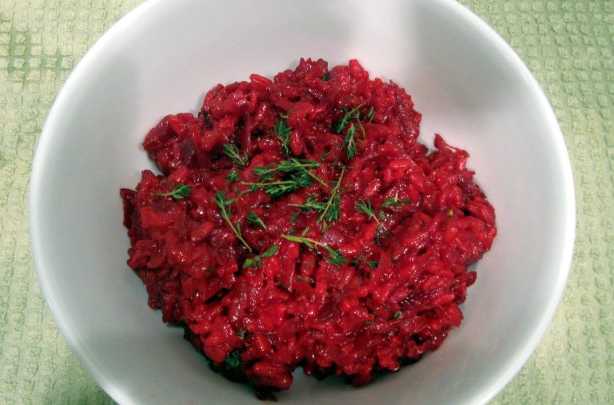 Author:
Angela @ Vegangela.com
2 beets
1 litre vegetable stock
2 tbsp olive oil
2 cloves garlic, minced
¼ cup shallots, peeled and finely chopped (or 1 small onion, peeled and finely chopped)
1 cup arborio rice
¼ cup vermouth, or white wine
1 tsp salt
½ tsp pepper
2 tbsp vegan margarine
fresh parsley or thyme, for topping
If you want chunks of beetroot throughout the risotto, wrap the beets in foil and roast them in the oven at 350F (180C) until tender, about 1 hour. Peel and chop into ¼ inch (5mm) cubes to make 3 cups; set aside. Alternatively, wearing latex gloves, peel the beetroot with a small pairing knife and grate into a bowl; set aside.
Place vegetable stock in a saucepan over high heat and bring to the boil, then reduce heat to a low simmer.
Heat oil in a large, heavy-bottomed saucepan over medium-high heat. Add garlic, and shallots/onion, and cook until onion is soft, about 3 minutes.
Add rice, stirring to coat and toss grains, about 2 minutes.
Stir in vermouth/wine until absorbed.
If using fresh shredded beets, add them now.
Add stock, ½ cup at a time, stirring after each addition until most of the liquid is absorbed before adding more, about 20 minutes total. Rice should be loose, creamy but not mushy, and al dente (still slightly firm at center of grain).
If using cooked beets, add them now.
Add salt and pepper, and stir in margarine.
Serve in warmed bowls, and scatter with fresh parsley or thyme.