Refried Black Bean Tostadas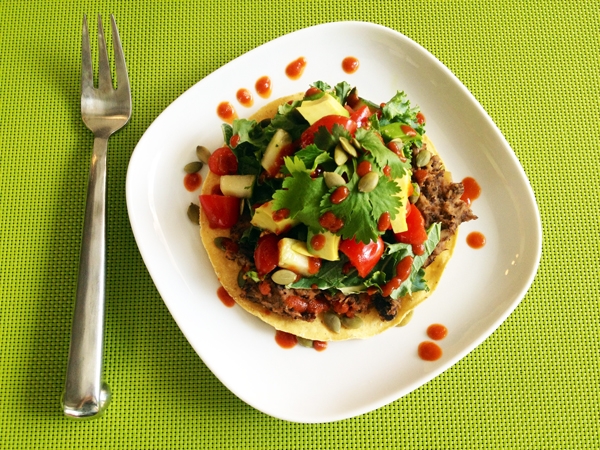 Author:
Angela @ Vegangela.com
Recipe type:
Main, Appetizer
Cuisine:
Mexican, Tex-Mex, Southwestern
2 tbsp olive oil
½ large onion, diced
1 clove garlic, minced
½ tsp chili powder
½ tsp cumin powder
1 can black beans, drained
¼ cup water
4 Tostadas
1 tbsp olive oil
Shredded lettuce greens (kale works wonderfully!)
Salsa
Vegan sour cream
Vegan shredded cheese
Diced avocado
Diced cucumber
Cilantro (fresh coriander)
Pepitas
Hot sauce
Heat oil in large frying pan over medium-high heat. Add onions and garlic, and saute until translucent, about 3 minutes.
Stir in chili powder and cumin powder, and cook for 1 minute.
Add the black beans and water, and cook until beans are tender, about 4 minutes. Use a large fork or potato masher to roughly mash the beans. Cook for another minute.
Preheat oven to 400F. Brush the tostadas lightly with the oil and place on a cookie sheet. Bake for 5 minutes, then turn tostadas, and bake for 3-6 minutes longer until the tostadas are crisp and light brown.
Divide and spread the refried bean mixture onto the 4 tostadas, add toppings, and serve with hot sauce, if desired.
Serves 4 starters/appetizers, 2 mains
Recipe by
Vegangela
at http://vegangela.com/2013/07/21/refried-bean-tostadas/