Asian Cashew Quinoa Salad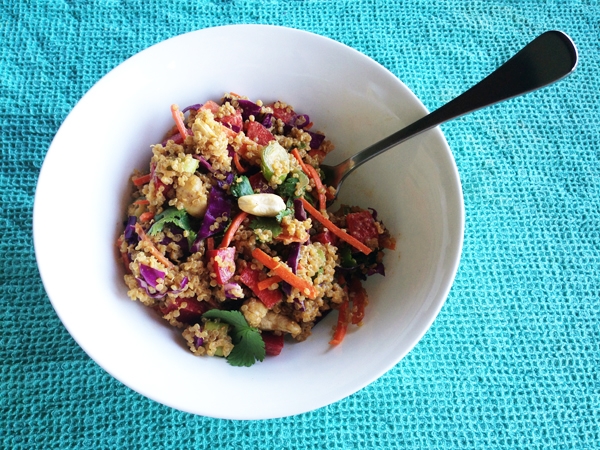 Author:
Angela @ Vegangela.com
1 cup quinoa, rinsed and drained
2 cups finely cut purple cabbage
1 cup shredded carrots
1 red bell pepper (capsicum), diced
2 green onions (scallions), thinly sliced
½ cup chopped fresh coriander (cilantro)
½ cup cashews (or peanuts)
¼ cup cashew butter (or peanut/almond butter)
2 cloves garlic, minced
1 tbsp grated fresh ginger (or 1 tsp dried ginger)
3 tbsp tamari (light soy sauce)
2 tbsp agave (or maple syrup)
2 tbsp warm water
1 tbsp rice vinegar
1 tbsp sesame oil
½ tsp crushed red chili pepper (or 1 tsp Sriracha sauce)
Place the quinoa along with 2 cups salted water in a medium saucepan. Cover and bring to a boil, then reduce to the lowest heat setting. Simmer until water is completely absorbed and quinoa is fluffy, about 20 minutes.
In a large bowl, whisk the dressing ingredients together.
Add the quinoa to the dressing and mix well to combine.
Add the veggies, onions, cilantro and cashews.
Adapted from http://www.juliehasson.com/2012/10/peanut-sesame-noodles
Recipe by
Vegangela
at http://vegangela.com/2013/09/27/asian-cashew-quinoa-salad/