Vegan Low-Carb Cauliflower Risotto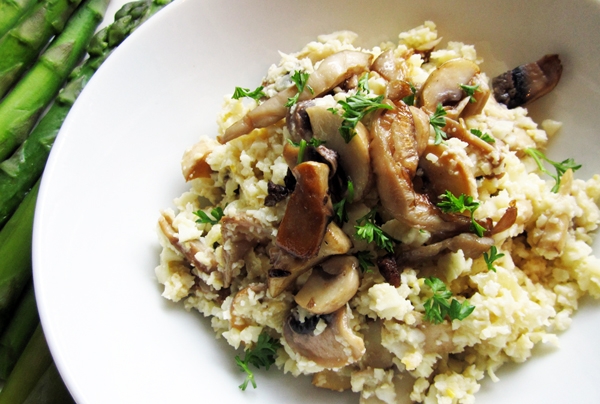 Author:
Angela @ Vegangela.com
3 Tbsp olive oil
450g mushrooms, chopped (I used just oyster, but any mix would be great)
1 head cauliflower, grated (either by hand or food processor)
¼ cup dry white wine
1 cup onion, grated
2 garlic cloves, minced
½ cup vegetable broth
6 Tbsp pine nuts, lightly toasted
2 Tbsp nutritional yeast
1 tsp salt
2 tbsp vegan margarine
pepper, to taste
truffle oil
Heat 1 tbsp olive oil in a medium skillet and cook the mushrooms until tender; set aside.
Heat 2 tbsp olive oil in a large skillet over medium heat and cook the onions and garlic for a few minutes until the onion becomes translucent.
Add the cauliflower and wine, and cook for about 5 minutes, until the wine has evaporated.
Add the broth, reduce the heat and cover, letting it cook a few minutes. You'll want the cauliflower to be "al dente" with a little texture so it isn't just mush.
Meanwhile, pulse together the pine nuts, nutritional yeast, and salt until it forms a powdery consistency.
Remove the cauliflower from the heat and stir in the nut mixture until well combined. Stir in the margarine and season with pepper, to taste.
Stir in the mushrooms and drizzle some truffle oil on top before serving.
Recipe by
Vegangela
at http://vegangela.com/2010/11/25/low-carb-risotto/