I found this recipe on Vegweb.com a few years ago and I probably make it at least once a month. It's not super authentic, but it's quick, easy, and tastes great.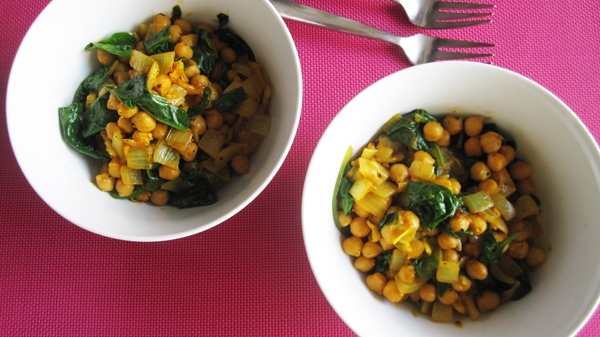 I love this recipe because it satisfies my 3 basic requirements for weekday meals:
It's quick to prepare — it's faster than waiting on the delivery guy! (check out my other ready in under 30 minute recipes)
It's comes together easily — you chop the onion and cook everything up in the frying pan
It's made-up of pantry staples — so there's no running to the store to buy expensive or exotic ingredients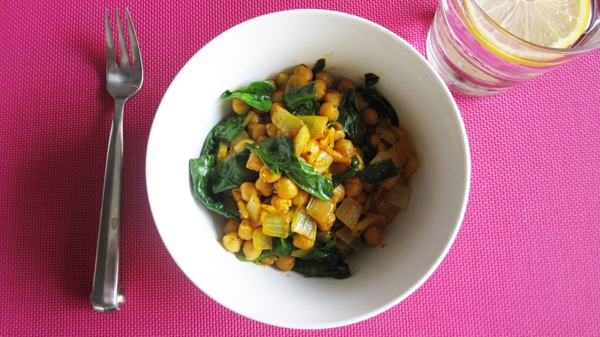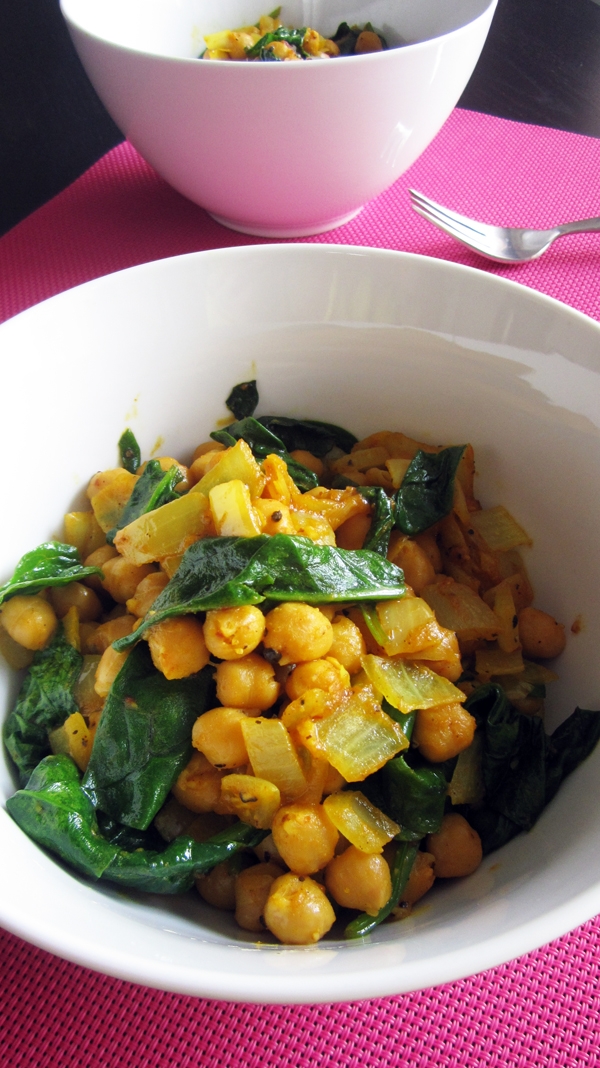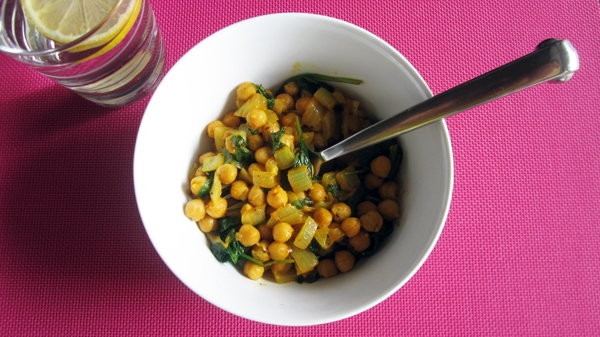 My only complaint about a lot of Indian food is that it often lacks green veggies, which add so much color and nutrients. I therefore include baby spinach in this dish and/or top it with cilantro (fresh coriander).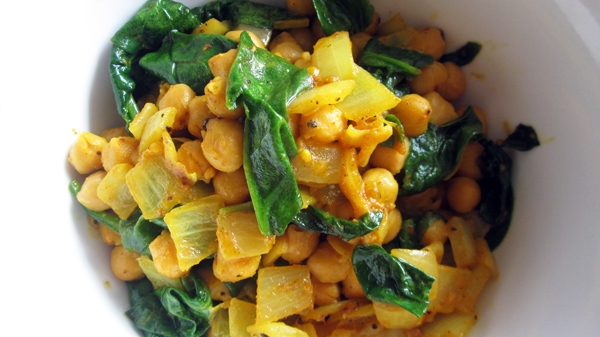 Served straight-up, this serves 2 people. However, you can stretch it to 4 servings if you serve it on rice/quinoa.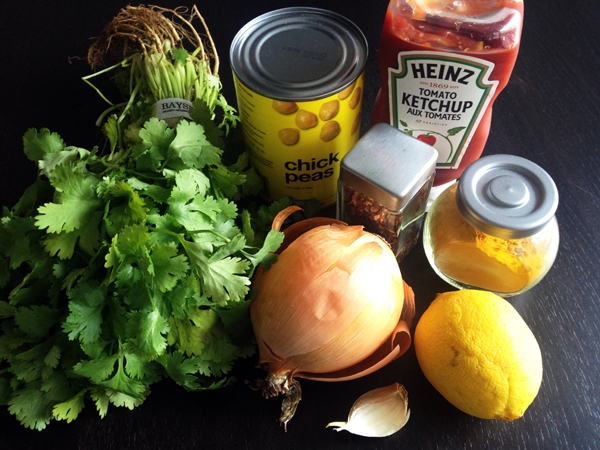 Quick & Easy Chana Masala
This curry is hearty, delicious, and ready in no time. With the addition of baby spinach, it's colorful and nutritious. Vegan & Gluten-Free.
Recipe type:
Main, Entree
Ingredients
2 tbsp coconut oil or vegetable oil
1 medium onion, chopped
1 large clove of garlic, minced
1 tbsp curry powder
1 tbsp tomato paste or ketchup
15 oz can chickpeas, drained, reserving 3 tbsp liquid
½ lemon (about 1 tbsp), juiced
½ tsp salt
fresh black pepper
crushed red pepper (optional, to taste)
2 handfuls baby spinach
cilantro (fresh coriander) (optional)
Instructions
In a medium flying pan, heat oil on medium-high heat. Fry onions until slightly browned. Reduce heat to medium.
Add garlic, curry, and tomato paste. Stir and simmer about 2 minutes.
Add chickpeas, liquid, lemon juice, salt, and black pepper. Stir and simmer until chickpeas are softened, about 6 minutes.
Stir in spinach, if using, and add crushed red pepper, to taste.
Serve as-is, or over rice. May be topped with fresh cilantro or vegan sour cream / yogurt.
Notes
Serves 2 as-is, or 4 when served with rice.
Recipe adapted from Chana Masala recipe on VegWeb.com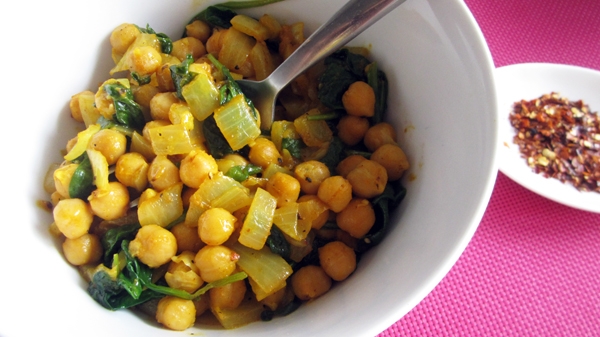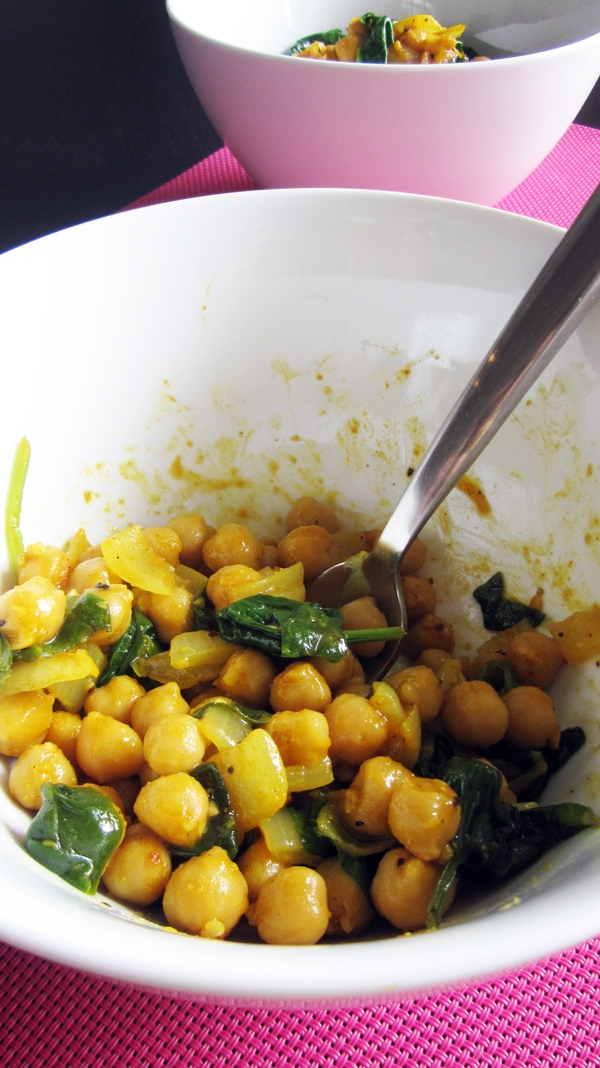 UPDATE
July 7, 2013 – I made this again today and made a few changes to the recipe to make it even easier (and healthier). I also updated the photos. Enjoy!