This is a recipe that my mom made for us growing up and I always loved how moist and delicious these muffins were. There's something about the pineapple/carrot combo that is just so perfect (I've got a pineapple carrot cake post coming soon too!) I've since veganized the recipe, and replaced the white sugar with raw sugar, and the all-purpose (white) flour with wholewheat. The original recipe made 12 muffins, but I guess that since these don't rise as much because of the denser flour, this recipe only makes 10. The topping is optional but highly recommended as it ads a nice initial crunch to the muffins, as well as some healthy omega-3 fatty acids.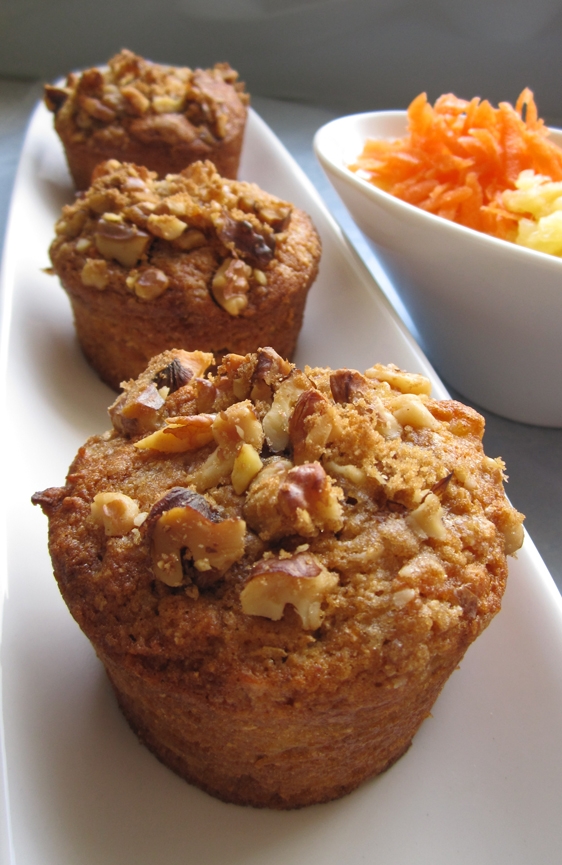 As I mentioned in my Vegan Caramel Apple Muffins recipe: Remember that with all muffin recipes – and especially those containing whole wheat flour – it's important not to over-mix your batter. You really just want to fold it together a few times, and a few lumps here and there are OK. Over-mixing leads to dense/dry muffins – and no one wants that!

Vegan Wholewheat Pineapple Carrot Muffins
Author:
Angela @ Vegangela.com
Recipe type:
Dessert, Breakfast, Snack
Ingredients
1 ½ cups wholewheat (wholemeal) flour
1 tsp baking powder
1 tsp baking soda
½ tsp salt
1 tsp cinnamon
2 vegan eggs (Ener-G egg replacer works well)
1 cup raw sugar
⅔ cup vegetable/canola oil
1 tsp vanilla
1 cup crushed pineapple with juice
1 cup grated carrots
¼ cup lightly packed brown sugar
¼ cup chopped walnuts
Instructions
Combine flour, baking powder, baking soda, salt and cinnamon. Stir well to blend.
Beat vegan eggs, sugar, oil and vanilla in mixing bowl. Stir in flour mixture, pineapple and carrots, mixing until all ingredients are moistened.
Fill well-greased muffin cups ¾ full.
Combine brown sugar and nuts for topping. Sprinkle over tops of muffins.
Bake at 350F for 25 to 30 minutes.