Something happened when I turned 30. My taste buds seemed to transform overnight. I don't seem to crave as much of the "bad" stuff anymore. For example, when I used to go to a Vietnamese restaurant, I would pick deep-fried spring rolls over the fresh variety 9 times out of 10. I just loved the greasy goodness of a golden fried spring roll. Maybe it's because I grew up eating such healthy food (made with love by my awesome mother) that I was rebelling in my teens and 20s? Whatever it was, all that seems to have changed quite a bit in the last year. It seems as though I just prefer the taste of fresh, healthy foods these days – including fresh spring rolls. Don't get me wrong, I'm not perfect and I still have my food-vices… But it's nice to know that my body seems to know what it needs these days, or at least, I've become better at listening to it! 🙂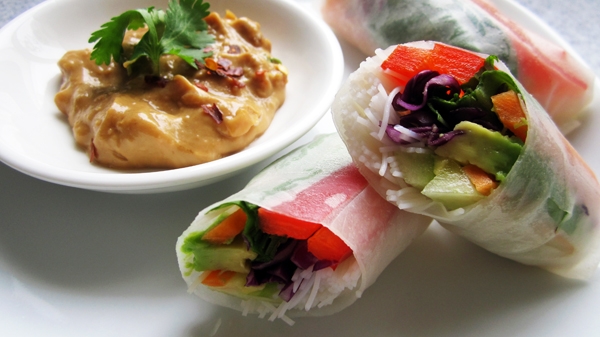 In Ottawa, Canada (where I'm from), there are many Vietnamese restaurants and lots of opportunities to eat great fresh spring rolls. Here in Sydney, I haven't come across many Vietnamese restaurants and/or the rolls that I've had have been kind of plain (too many noodles, not enough veggies). I also prefer my rolls with peanut sauce, rather than the sweet-chili sauce (that everyone on this continent seems to be obsessed with) or hoisin sauce.
| | |
| --- | --- |
| | |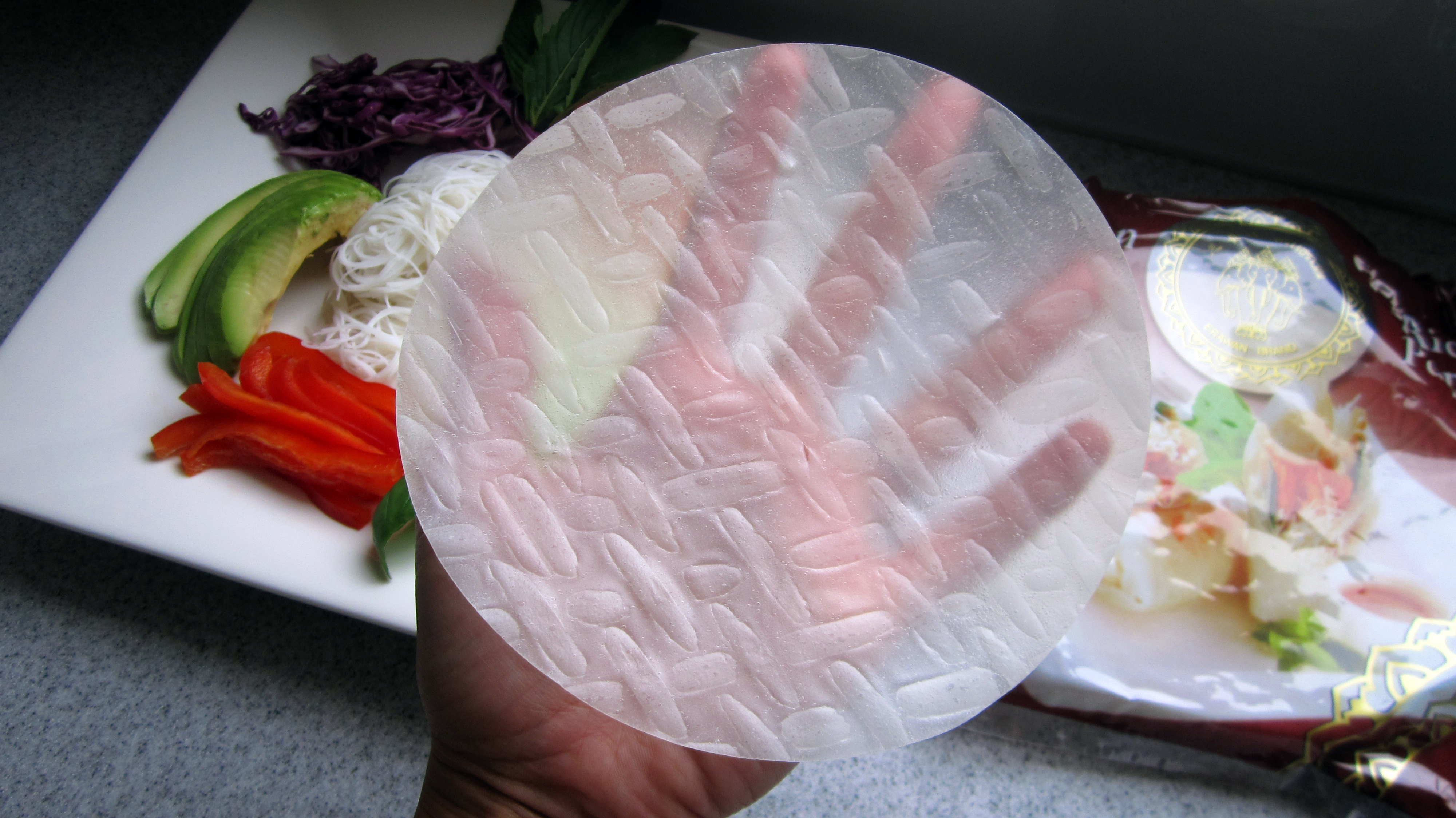 It never really occurred to me to make my own rolls until I was home visiting my mom this past summer, and she bought all the ingredients to make them together. While it might take a couple rolls to really get the hang of it, these are really very easy to make. It's really more prep-work than anything, and the payoff is great, with fresh colorful rolls that you can serve to guests and eat right away. I made these again this week on my own, and I have to say that these are now my new favorite recipe. The rice paper wrappers and noddles will keep in your pantry, and you can easily use whatever veggies you have on hand to quickly throw these together for unexpected guests or as a light snack.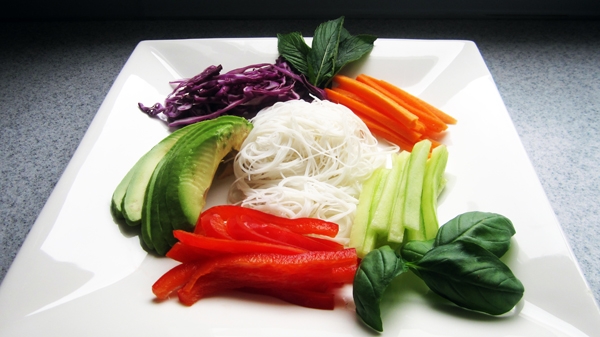 Things to keep in mind:
The rice noodles come in a fairly big bunch, and I really wanted my rolls to be veggie-centric so I didn't use very many noddles. I only cooked about 1/10th of the noodles to make 12 rolls. Another option is to leave the noddles out altogether, as they don't have add any flavor and you wouldn't be missing anything flavor-wise by leaving them out.
To easily wrap the rolls, you'll want to work on a clean and wet tea towel, as I have described below. This will prevent the wrappers from drying-out.
The fresh basil and mint really add a lot to these rolls and I encourage you not to skip those ingredients. They make the rolls so much fresher and tastier!
I initially served these "whole" but found that they look even better when cut diagonally with a sharp knife, especially because of all the bright colors that I used. I've also seen these done-up as "cones" (like sushi) – so feel free to experiment with your own ingredients and presentation styles!
The most important part when making these is to prep your ingredients beforehand. Trust me on this! Once your wrappers are ready, you'll want to be moving fairly quickly.
For the peanut sauce, I was inspired by this recipe, but modified it below to make it vegan.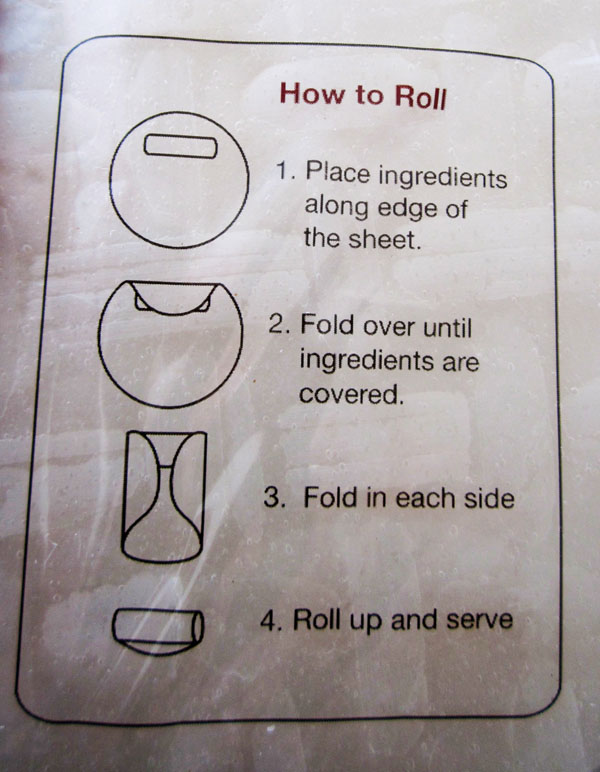 | | |
| --- | --- |
| | |
| | |
| --- | --- |
| | |
Fresh Spring Rolls with Peanut Sauce
These Vietnamese-style fresh spring rolls (summer rolls) are easy to make - just prep your favorite fillings, wrap, and roll! Vegan / Gluten-Free
Author:
Angela @ Vegangela.com
Cuisine:
Vietnamese, Asian
Ingredients
24 thin spring roll rice paper wrappers (Vietnamese or Thai, not the Chinese ones used for egg rolls)
Choice of fillings:
Rice vermicelli noodles
Red peppers (capsicum)
Carrots
Cucumber
Avocado
Purple cabbage
Fresh herbs (I recommend a couple mint and/or basil leaves per roll)
Thin strips of lightly-fried tofu or seitan
Bean sprouts
Enoki mushrooms
Lettuce/Spinach
Peanut Sauce
½ cup creamy natural peanut butter (or almond/cashew/sunflower butter)
½ cup soy or coconut milk
1 tbsp Tamari or soy sauce
1 tbsp lime or lemon juice
1 tbsp maple syrup (agave would work too)
1 tbsp fresh grated ginger
½ tsp chili powder (or 1 tsp crushed red chili pepper)
¼ cup unsalted peanuts, chopped (optional)
Instructions
In a medium bowl, mix together all of the ingredients for the peanut sauce except the chopped peanuts, set aside.
Prep all your veggies so that they are thinly sliced, and shorter than your wrappers by about 5-6 cm. (My wrappers are 16 cm wide, so I cut my veggies about 10 cm long.)
If using rice noodles, decide how much of the noodles you will need based on the quantity of rolls you're making and how many ingredients you plan on using. You can break the noodles off or use scissors to gently cut them away from the bigger piece. Fill a pot with just enough hot water to submerge your noodles. Regular hot tap water should be hot enough – it doesn't need to be boiling. Let the noodles sit in the water until they are soft and edible, about 2 minutes. Remove the noddles, shaking them to remove excess water, and set aside.
Wet a clean tea towel, ring it out and lay it flat on your counter top.
Fill a pot with water and bring to a boil. Transfer the water to a large bowl and let cool a couple minutes. drop a wrapper into the water, and let it soak for 30 seconds – any longer and it will begin to get too soft and/or tear. It should be transparent and pliable. Remove wrapper from the water and gently shake it to remove any excess water. Lay the wrapper flat on your tea towel.
Place your mint and basil leaves near the top of the wrapper, as per diagram. Take some noodles and fold them back so that they fit within the top of the wrapper, as shown. Add 2-3 pieces of each vegetable on top, keeping everything tight and in a nice elongated pile. Tightly fold the top of the wrapper over the ingredients, and then fold-in each side. Continue rolling the wrapper onto itself to form the roll. Continue with remaining ingredients.
Before serving, add the chopped peanuts on top of the peanut sauce that you plan on serving. If desired, cut rolls diagonally with a sharp knife before serving.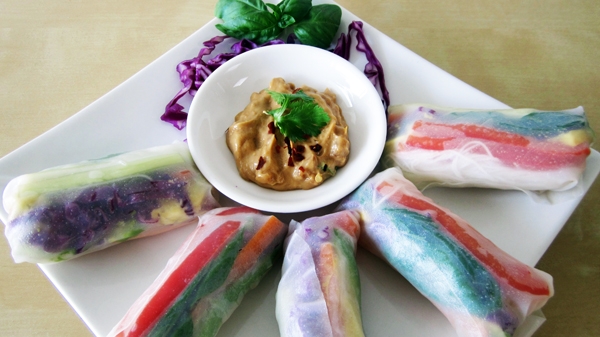 UPDATE
March 29, 2013 – My mom made these for lunch for us today, and they were so delicious! She left the rice noodles out altogether, and added some tofu strips, which she had marinaded in Tamari and then lightly fried. Delish!