I just couldn't resist bringing home these gorgeous grape tomatoes and figured that the best way to enjoy them would be as a light and fresh salad. Fresh basil and a high-quality olive oil are the key to making this easy recipe taste very gourmet. So I don't have a big post today, but this is just a reminder that you can make an amazing dish with just a few high-quality fresh ingredients.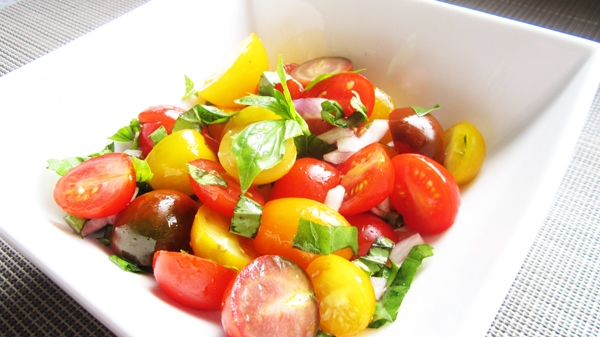 Fresh Tomato & Basil Salad
Author:
Angela @ Vegangela.com
Ingredients
Fresh tomatoes
Fresh basil
Olive oil
Salt & pepper
Instructions
Cut tomatoes into quarters or halves, depending on whether you're using baby tomatoes or full-sized ones. Toss into a large bowl along with fresh basil leaves. Drizzle with olive oil and season with salt and pepper.