You're probably sick of holiday sweets by now, but I made these elegant truffles over the holidays and wanted to share them with you. I actually found this recipe for Easy Decadent Truffles a few years ago and have veganized it with great success a few times now. You've got to get your hands messy to make truffles, and they're a little time-consuming. However, they're relatively easy to make and look & taste a lot fancier than the effort to make them.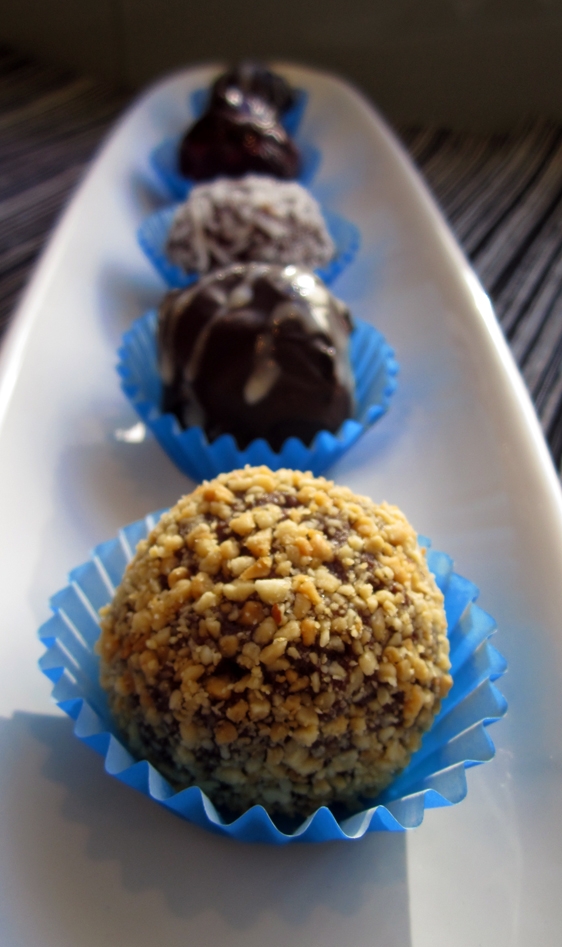 WARNING: These are ridiculously rich and sweet. Most people wouldn't eat more than 2-3 of them in one go, but they've always been a big  hit whenever I've made them – including this past Christmas.
Decadent Vegan Chocolate Truffles
These chocolate truffles are so decadent - no one will know they're vegan!
Ingredients
1 (8 ounce) package vegan cream cheese (Tofutti)
3 cups confectioner's (icing) sugar, sifted
3 cups semisweet vegan chocolate chips, melted
1½ teaspoons vanilla extract
Choice of toppings: chopped nuts, shaved coconut, etc (see notes for details).
Instructions
In a large bowl, beat cream cheese until smooth. Gradually beat in confectioners' sugar until well blended. Stir in melted chocolate and vanilla until no streaks remain. Refrigerate for about 1 hour.
Use a melon baller to scoop out a ball of chocolate and use your hands to shape it into a 1-inch ball. Continue until all chocolate is used-up and then roll in desired toppings.
Place truffles in individual mini paper cups and refrigerate in an airtight container.
Notes
I like to roll the truffles in crushed walnuts, peanuts, or shaved coconut. This time, I divided the batch in 3 and to one of the portions, I added 3 tbsp of rum and rolled those truffles in shredded coconut. (The rum mixture took a little bit longer to set – 3 hours or so – and the rum truffles are a bit mushier than the other ones, but they're chocolately-boozy goodness!) For the second portion, I added the same amount of smooth peanut butter and rolled the truffles in crushed peanuts. For the last portion, I dipped the truffles in melted chocolate and once dry, I drizzled some white or red icing onto them. You can really use any topping and substitute the vanilla for other flavors, like peppermint, orange, coffee, raspberry, etc. You would use 1 tsp of flavor for each ⅓ portion. Next year, I plan on getting some small gift boxes and putting 10 different truffles inside and giving them out as gifts. That would make a beautiful Valentine's day gift too (just find a heart-shaped box), or place 2-3 in a small box and give them out as wedding favors. The sky is the limit!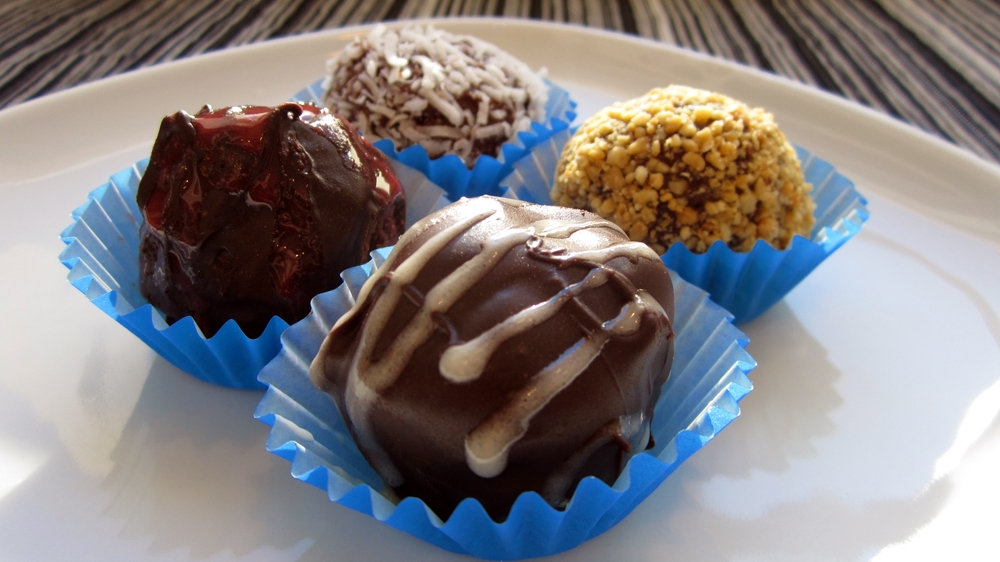 PS – I also found this recipe for Garlic Truffles, which I've bookmarked and plan on making at some point. I know that they sound kind of gross, but I'm intrigued and really want to try them!
Q: What about you – Have you ever tried garlic chocolate?