I think it's pretty clear from my last couple posts (and overall recipes) that I love avocados. They're so rich and creamy and such a beautiful shade of green (my favorite color). If I had to eat one fruit or veggie the rest of my life, avocados would probably be it.
I bookmarked Allyson from Manifest Vegan's Ghastly Tortilla Chips & Ghoul-camole back in October. Although I've made regular guacamole many times since then, it only just occurred to me today to try her version, which includes "broccoli confetti". All I can say is WOW! I'm actually a bit mad at myself for not trying it sooner, and to be honest, for not thinking of it myself. What an awesome way to sneak broccoli into a snack or as part of a meal. You honestly can't really taste the broccoli, and in fact, I find that it adds a nice texture to the guacamole, making it thicker and less "goopy" than the usual stuff. As long as I have broccoli and avocados on hand, I'll be making this version from now on.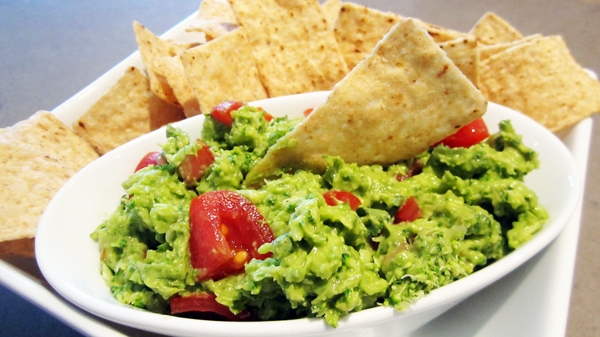 While I personally like raw broccoli, this would be great recipe for kids, as well as anyone else who may not entirely love the stuff.
I didn't make Allyson's super cute ghost tortilla chips, but they're on my list to try at some point. What a creative way to use-up stale corn tortillas, and they look better than any other tortilla chips out there. Manifest Vegan is easily one of my favorite vegan recipe blogs, and was certainly one of the inspirations for me starting my blog. Check it out when you have a moment. The recipes and photos there are simply awesome!
Updates
November 17, 2011 – A reader notified me that Allyson's recipe is no longer available. So here's my own guacamole recipe, with added broccoli… x
Healthy Hidden Broccoli Guacamole
No one will know there's hidden broccoli in this delicious guacamole! Vegan and Gluten-Free.
Author:
Angela @ Vegangela.com
Recipe type:
Snack, Appetizer
Ingredients
2 ripe avocados, diced
¾ cup raw broccoli pieces (no stems) – finely chopped so it's virtually unrecognizable
1 tomato, diced
¼ cup red onion, minced
1 garlic clove
1 tbsp lemon juice
Handful of fresh coriander (cilantro), chopped – optional
Salt
Instructions
Mix all the ingredients except the avocados.
Add the avocados but just gently fold them in so that there are still some chunks.
Season with salt, as needed.