I got a little carried away at the farmer's market last week and found myself with too many tomatoes. I didn't really feel like making the obvious thing (pasta sauce) so I decided to hunt for a tomato soup recipe instead.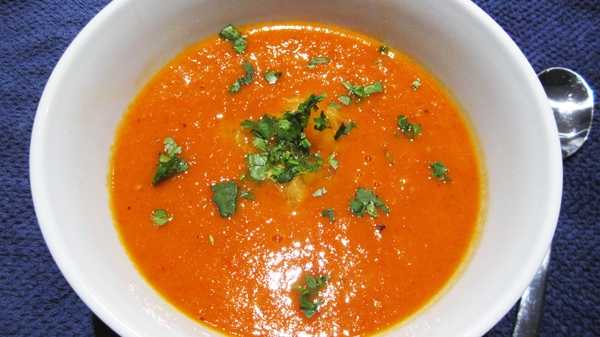 While my mom made many wonderful homemade soups for us growing up (like this one, and this one), I don't remember her ever making tomato soup from scratch. And until now, I hadn't either. So when I came across this one on the Food Network, I chose it because it used fresh tomatoes (as opposed to canned), sounded really delicious and would be easy to make vegan.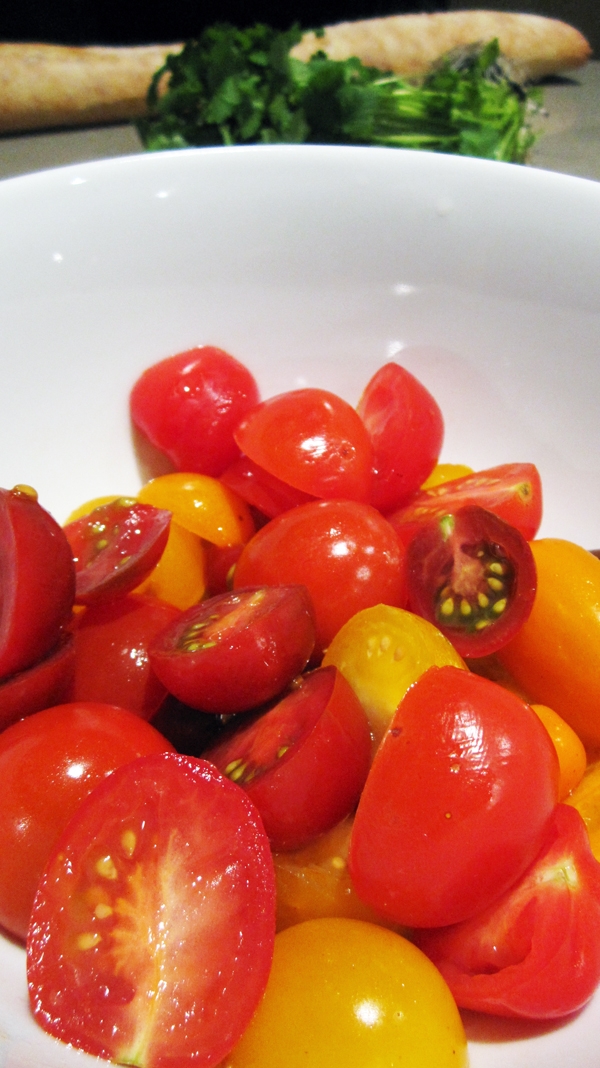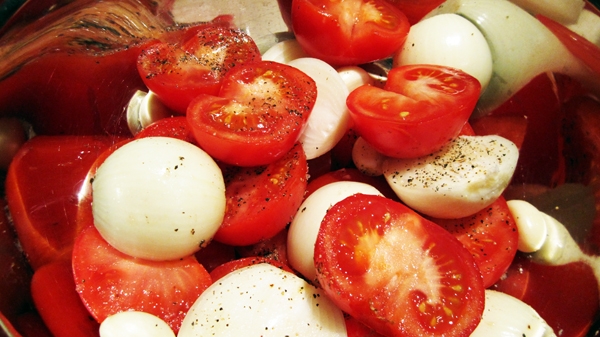 I really like the fact that you roast not only the tomatoes, but the onions and garlic too. The smell of everything roasting is divine! But it's the bright orange color and rich taste of the finished soup that is really amazing. It's definitely a "keeper" for this household!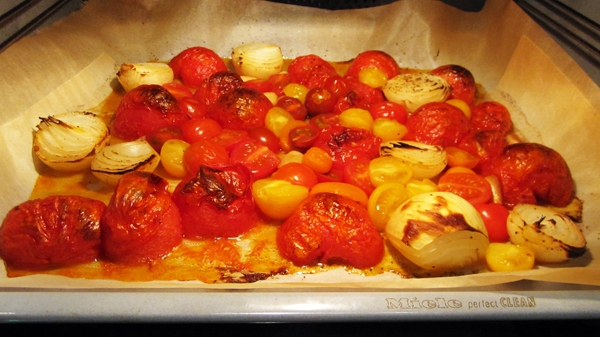 Notes
The original recipe said to toss the veggies in 1/2 cup of olive oil before roasting, but I only used 1/4 cup and it was more than enough. I also poured all of the roasting juices into the stock pot as well, so that's included in the directions below.
If you want to make this really decadent, you could serve it with a splash of cashew cream or vegan sour cream.
This recipe can be easily doubled or tripled, and it is very freezer-friendly. Why not make extra and pack it away for those cool fall/winter months?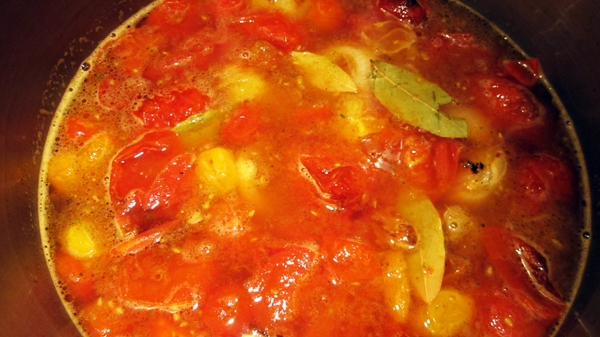 Updates
August 21, 2012 – I've decided that this is even better with more tomatoes and less vegetable stock, so my revised recipe appears below.

Roasted Fresh Tomato Soup
Ingredients
3 pounds fresh tomatoes (about 4 cups, halved)
6 cloves garlic, peeled
2 small yellow onions, sliced
¼ cup extra-virgin olive oil
Salt and freshly ground black pepper
3 cups vegetable stock
2 bay leaves
Handful of chopped fresh basil or cilantro (coriander) for garnish (optional)
Instructions
Preheat oven to 450F/230C.
Wash, core and cut the tomatoes into halves. Spread the tomatoes, garlic cloves and onions onto a baking tray. If using vine cherry tomatoes for garnish, add them as well, leaving them whole and on the vine. Drizzle with ¼ cup of olive oil and season with salt and pepper. Roast for 30-35 minutes, or until caramelized.
Remove roasted tomatoes, garlic and onion from the oven and transfer along with any roasting juices into a large stock pot. Add 3 cups of the vegetable stock and bay leaves. Bring to a boil, reduce heat and simmer for 20 minutes or until liquid has reduced by a third. Discard bay leaves.
Use an immersion blender to puree the soup until smooth. Season to taste with salt and freshly ground black pepper. If freezing, let soup cool before transferring to freezer-safe containers
Garnish in bowl with chopped fresh basil or cilantro.
Notes
Modified from "Roasted Tomato Soup" recipe, FoodNetwork.com