Warning: if you suffer from Mycophobia (fear of mushrooms), you should turn back now or maybe read this nice post on swiss chard. For everyone else, welcome to the mushroom orgy!
I cut the Cauliflower Purée with Mushroom Compote recipe from the LCBO's Food&Drink magazine back in 2009 and have been lugging it around with me ever since. While it called for a few non-vegan ingredients, its reliance on earthy mushrooms and creamy cauliflower seemed worthy enough to veganize. Still, I never got around to making this until this week, when I came across some fantastic king mushrooms at the farmer's market. Along with getting a great deal on oyster and shitake mushrooms, I knew it was time to finally try this dish… with my own spin!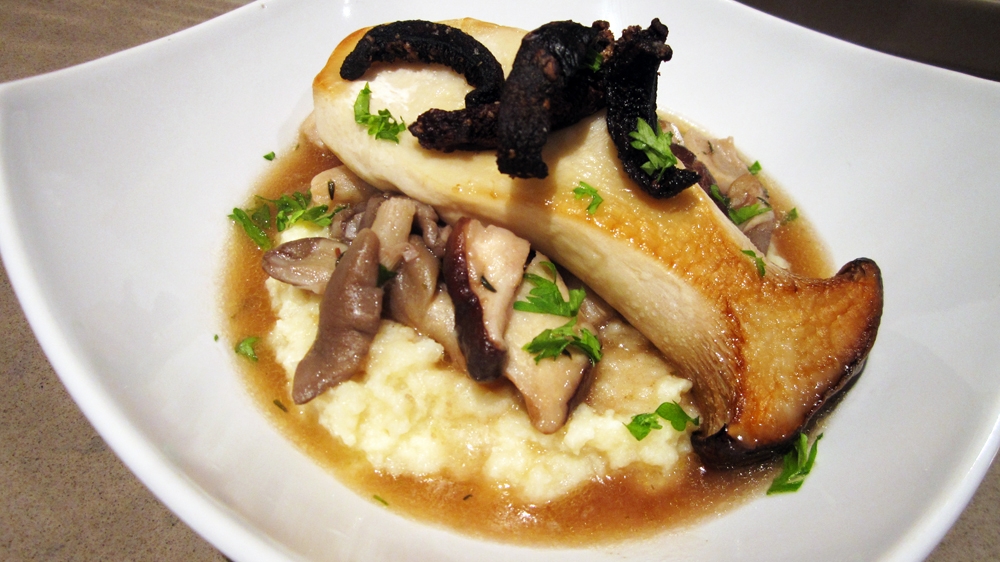 The original recipe calls for a slice of bacon to be laid across the dish so I was originally going to leave that part out altogether. But then I had a moment of vegan faith and Googled "mushroom bacon" – and sure enough, I found a shitake mushroom vegan bacon recipe. There is a (vegan) god!
While the main recipe includes 3 components (the purée, the compote, and the bacon), I took it a step further by searing some king mushroom slices and laying them across the purée and compote. King mushrooms are really "meaty" and they add a nice chewy and dense texture to the meal. Feel free to leave out this part because the meal is already pretty fancy as-is, but if you have access to king mushrooms, I do recommend taking this extra step, which will make the meal just that much more decadent.
This dish is really yummy. From the soft earthy mushrooms, the creamy cauliflower purée, the crispy bacon, and the dense king mushroom… well, there is a lot of mushroom sexiness going on here!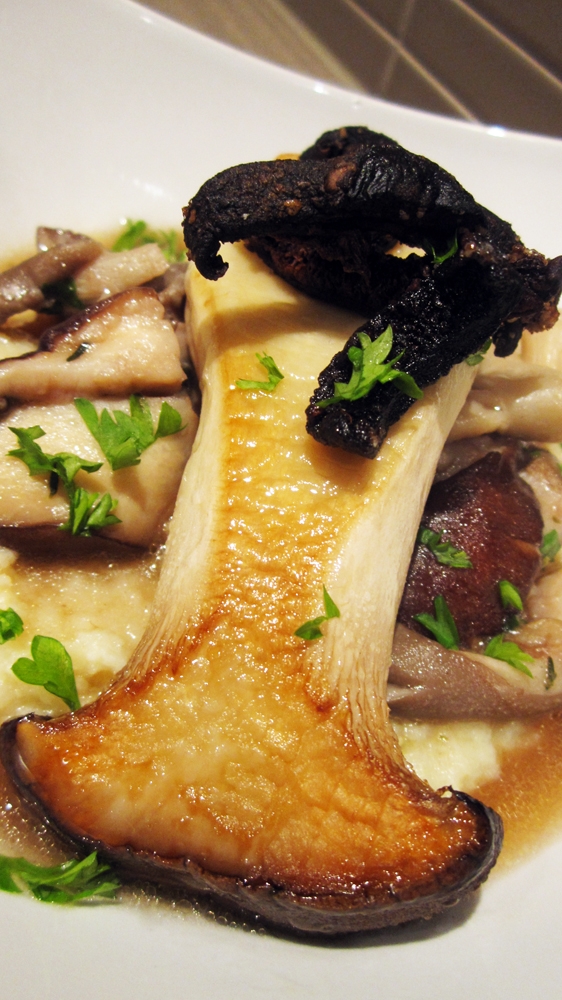 Notes
The cauliflower purée is awesome! Go ahead and try it on its own as a replacement for mashed potatoes.
I messed-up my math when preparing the shitake mushrooms and accidentally doubled the required salt, so they were way too salty! However, they definitely had a chewy/fatty/salty "overcooked bacon" thing going on and will be a nice bacon replacement in the future. They're a bit on the expensive side since shitakes normally run about $5/100g here in Sydney… but it's a nice option for special recipes.
The original recipe said this serves 6, but I halved it and it really only fed two (even with the additional king mushroom). I've therefore updated the serving to 4 for the full recipe below.
Updates
December 12, 2013 – I just noticed that this recipe made Buzzfeed's Ultimate Infographic Of Wild Mushrooms. Woohoo!
recipe featured on


Cauliflower Purée with Mushroom Compote, Seared King Mushroom and Shitake Bacon
Mushroom-lovers will enjoy this elegant dish that is also vegan, low-carb and gluten-free
Author:
Angela @ Vegangela.com
Ingredients
Cauliflower Purée Ingredients
1⁄2 cup (125 mL) peeled, diced Yukon gold potatoes
3 cloves garlic, peeled
3 cups (750 mL) soymilk
1 1⁄2 lbs (750 g) cauliflower, cut into 1 inch (2.5 cm) chunks, about 6 cups (1.5 L)
Salt and freshly ground pepper
1 tbsp (15 mL) lemon juice
Mushroom Compote Ingredients
3 tbsp (45 mL) olive oil
1⁄4 cup (50 mL) chopped shallots
1 tsp (5 mL) chopped garlic
1 1⁄2 lbs (750 g) mixed mushrooms, halved or quartered if large
2 tsp (10 mL) chopped thyme
Salt and freshly ground pepper
1⁄4 cup (50 mL) red wine
2 cups (500 mL) vegetable stock
1⁄4 cup (50 mL) vegan margarine
2 tbsp (25 mL) chopped parsley
12 pieces of shitake bacon (optional – see recipe below)
King Mushroom Ingredients (optional)
2 tbsp olive oil
2 king mushrooms, sliced lengthwise so that flat on both sides (you can use unused ends in the mushroom mix, above)
Shitake Bacon (Vegan Bacon) Ingredients
1⁄2 pound shitake mushrooms, stemmed and sliced
1⁄4 cup extra virgin olive oil
1 teaspoon sea salt
Instructions
Shitake Bacon Instructions
Preheat oven to 350°.
In a bowl combine the mushrooms, oil, and salt.
Spread mushrooms on a parchment-lined baking sheet and place in oven.
Roast mushrooms until dry and crisp, stirring about every 10 minutes, approximately 45 minutes to one hour. (Oven temperatures may vary.)
Recipe Instructions
Place potatoes, garlic and soymilk in a pot over medium-high heat. Bring to boil and add cauliflower. Boil for 10 to 15 minutes or until potatoes and cauliflower are very tender. Drain liquid and reserve separately.
Place vegetables in a food processor with 1⁄2 cup (125 mL) drained liquid and purée until smooth. Season with salt and pepper and lemon juice. Add more cooking liquid if needed to make a soft purée that holds its shape. Return to saucepan at lowest possible heat.
Place oil in a large skillet over high heat. Add shallots and garlic and sauté for 30 seconds. Add mushrooms and thyme and sauté for 4 minutes or until mushrooms lose their juices. Season with salt and pepper. Remove mushrooms from skillet and reserve skillet with any remaining liquid.
Meanwhile, heat olive oil over medium-low heat and fry king mushrooms on both sides until golden brown. Lower to lowest heat setting.
Add wine and bring to boil. Add stock and any more mushroom juices and reduce for 5 minutes or until stock thickens slightly. Reduce heat to low and stir in margarine. Sauce will thicken a bit more. Stir in reserved mushrooms and simmer for 2 minutes or until mushrooms are coated in sauce. Adjust seasoning if necessary and stir in parsley.
Place a full ladle of cauliflower purée in a soup bowl. Top with mushrooms and some sauce. Garnish each dish with 2 king mushroom slices and a couple pieces of shitake bacon.
Notes
Adapted from LCBO Magazine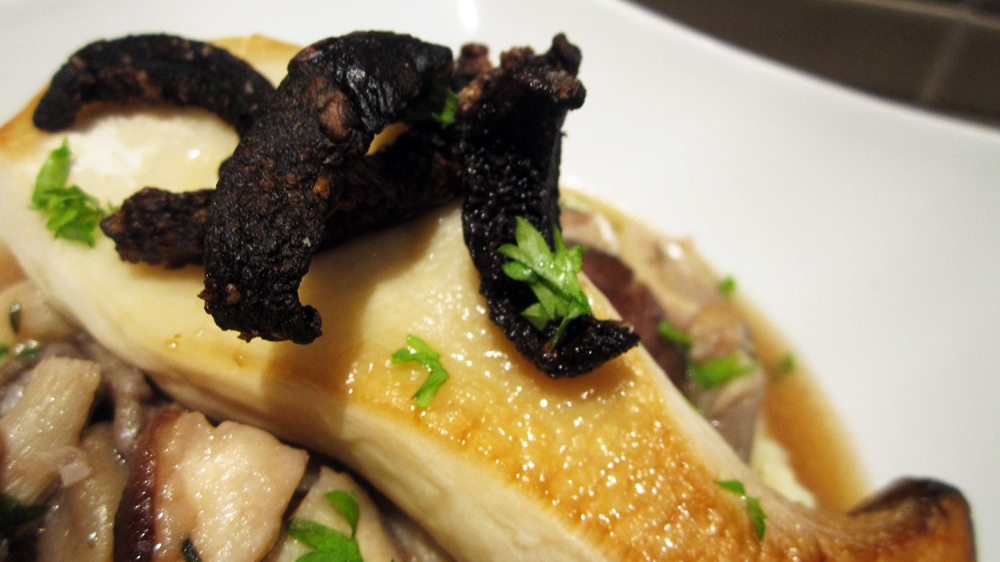 Q: Do you love or hate mushrooms?