My mom makes a killer Caesar salad and it was one my favorite dishes growing up. She left the anchovies out of it for me when I went vegetarian, but when I went vegan a couple years later, it was "bye bye Caesar salad" for me. Years later, I started playing with a few ingredients to perfect my vegan version. I think this comes pretty close in flavor to my mom's original recipe – and my omnivoire fiancé even prefers it to the regular stuff.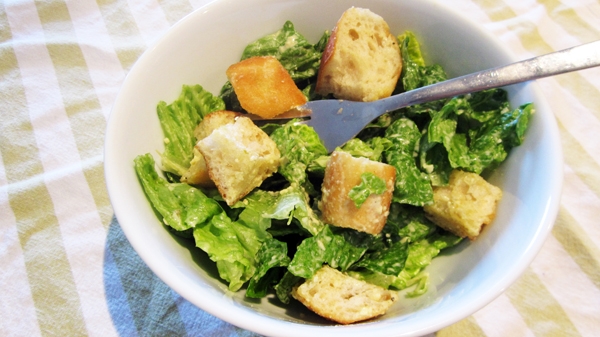 Notes
Instead of soy mayonnaise, feel free to use some silken tofu and a bit more lemon juice.
Most crouton recipes call for stale bread, but I use fresh bread as I prefer softer croutons in my salads. This way they don't irritate the roof of my mouth.
I just use my hands to tear lettuce, but if you use a knife, be sure to use a porcelain or plastic one as metal blades will make the cut edges of the lettuce "rust" prematurely.
For a super-duper healthy Ceasar salad, feel free to add/substitute spinach and/or kale. Yum!
Sometimes, I'll sauté some tempeh or tofu strips in a little bit of tamari sauce and add it to the salad to sort-of mimic a chicken Caesar salad.
| | |
| --- | --- |
| | |
Vegan Caesar Salad
This Caesar salad is so good, no one will know it's not the "real thing"! Vegan / Gluten-Free Option
Author:
Angela @ Vegangela.com
Ingredients
1 head romaine lettuce (called "cos" lettuce in Australia)
Dressing
¼ cup blanched almonds
¼ cup soy mayonnaise
2 tbsp nutritional yeast
2 tbsp lemon juice
1 tbsp olive oil
1 tbsp capers
1 tbsp dijon mustard
1 clove garlic, minced
salt & pepper, to taste
Garlic Croutons
1 French baguette (or other thick bread such as sourdough or Focaccia – use gluten free if that's an issue for you)
2 cloves garlic, minced
3 tbsp olive oil
Instructions
To make the croutons
Preheat oven to 350F/175C.
Cut the bread into small cubes, about 3 cm thick.
Toss bread cubes with the olive oil and garlic, and place on a baking sheet.
Bake in oven for about 10 minutes, stirring them around about halfway and watching that they don't burn. Set aside to cool.
To make the salad
Wash and dry lettuce, and tear it into bite-sized pieces. Place into a large salad bowl.
Blend all other ingredients in a blender until smooth. Add 2-3 tablespoons of water, as needed, to achieve desired consistency.
Add dressing and croutons to salad bowl and mix to distribute dressing evenly.