This was inspired by a recipe for "Chicken with Thai Peanut Sauce" that I saw in the Ottawa Citizen newspaper a few years ago. Everything about the recipe was vegan except the chicken so it was very easy to veganize it by substituting tofu instead. While the sauce and tofu are easy to prepare, you will end-up using 3-4 pots by the time you've prepared veggies and/or rice as well. But I think that the effort is well worth it and I love being able to make this Thai-style dish fresh from my kitchen.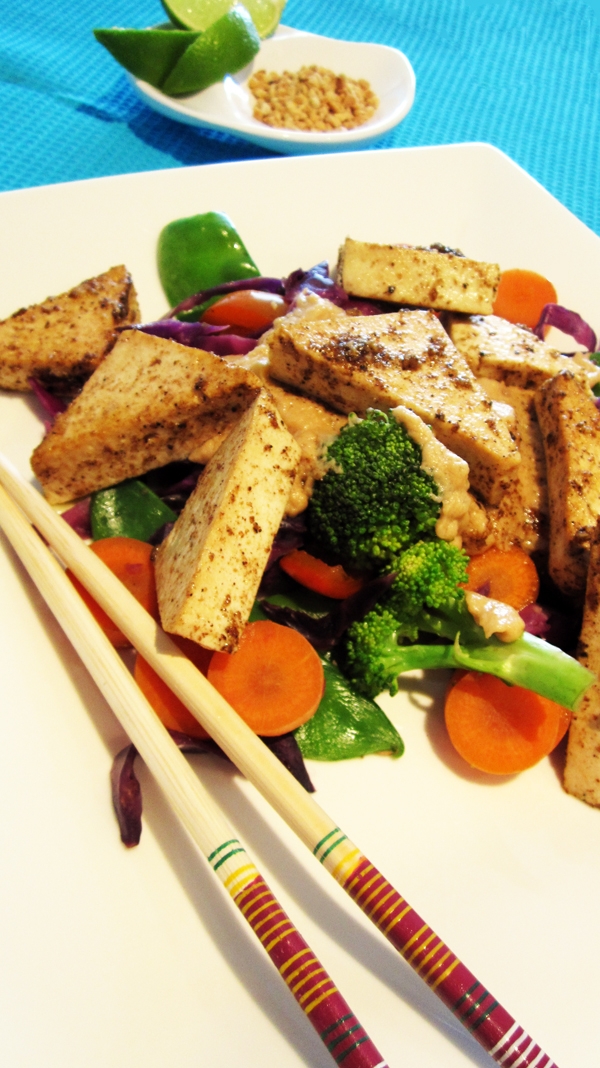 Notes
I like to serve this with colorful veggies, and sometimes rice too. For the veggies, I just quickly saute them in a wok with a bit of water.
I find that the sauce is very well balanced, and isn't overly coconut, peanut or red curry tasting. It's just a nice combination of all those great flavors. I once forgot to use the red curry paste and still thought this tasted great, so I've marked it as optional below. Also, the original recipe called for chunky peanut butter, but I've used smooth at times and it works just as well. If you really like a strong peanut flavor and a bit of crunch to your meal, feel free to serve it with ground peanuts on the side.
I forgot to sprinkle fresh coriander (cilantro) on my plate before snapping the pictures, and while it's not entirely necessary, it's great on this dish if you're a fan of cilantro.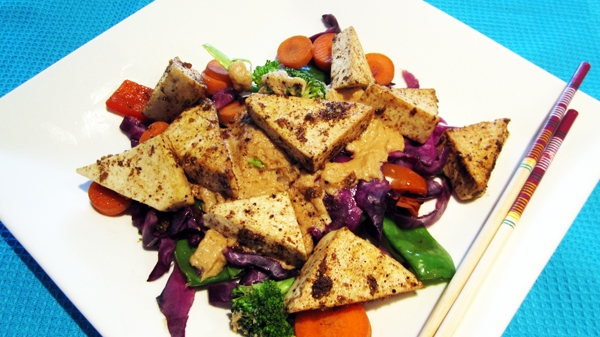 Tofu with Thai Coconut Peanut Sauce
Love Thai food? Then this recipe is for you! Simply add your favorite vegetables and an optional rice/quinoa base, and you can enjoy this restaurant-worthy dish in the comfort of your own home (possibly in the less time than you'd be waiting for a bland take-away)! Vegan and Gluten-Free.
Author:
Angela @ Vegangela.com
Ingredients
2-4 servings of rice/quinoa (optional)
2-4 cups chopped mixed vegetables (optional)
1 block firm tofu (350g or so)
¼ cup + 1 tbsp coconut oil (or peanut/canola oil), divided
3 cloves garlic, minced
2 tsp ground cumin
1 tsp ground pepper
1 tbsp fresh ginger root, finely chopped/grated
1 shallot, finely chopped (or ¼ small onion)
1 tsp crushed red chili pepper
⅓ cup peanut butter (or almond/cashew butter)
½ cup coconut milk
1 lime, juiced
1+1/2 tbsp tamari (or soy sauce)
1 tsp red Thai curry paste (optional – make sure it's vegan)
¼ cup fresh coriander (cilantro), roughly chopped
Chopped ground peanuts (optional – for serving)
Instructions
If you plan on serving with rice/quinoa, start cooking it as per package instructions.
To make tofu marinade: In a flat dish, mix the ¼ cup of oil, garlic, cumin, and pepper.
Press the tofu between paper towels to dry it as much as possible. Cut it into 1 inch rectangles or triangles and gently toss it into the marinade to evenly coat the tofu. Set aside.
Heat 1 tbsp of oil in a small saucepan over low heat. Add the ginger, shallot and crushed red chili pepper and sauté for a few minutes. Add peanut butter, coconut milk, lime juice, tamari, and red Thai curry paste. Simmer for 10-15 minutes, stirring occasionally to prevent sticking. If the sauce becomes too thick, add a couple tablespoons of water.
If you're serving this with vegetables, begin sautéing them in a separate pan at this point.
Place the tofu mixture in a frying pan and sauté over medium-low heat until browned on both sides.
Divide the rice/quinoa, vegetables and tofu into plates/bowls and drizzle with peanut sauce. Top with fresh coriander and ground peanuts.
| | |
| --- | --- |
| | |