What do you do if you're leaving the house for almost a month and you have a head of cauliflower, a couple carrots, and a bunch of fresh coriander (cilantro) left in the fridge? You make Cauliflower and Lentil Coconut Curry!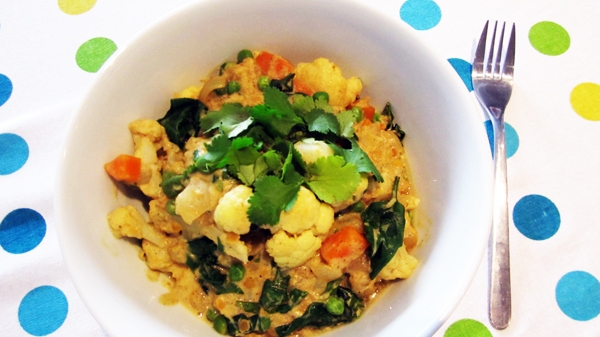 Normally, the "day before vacation" meals are a quick stir-fry of whatever is left in the fridge. Yesterday though, I got lucky and found this great recipe from Reader's Digest (via All Recipes), and was pleasantly surprised to find that I had everything on hand to make it.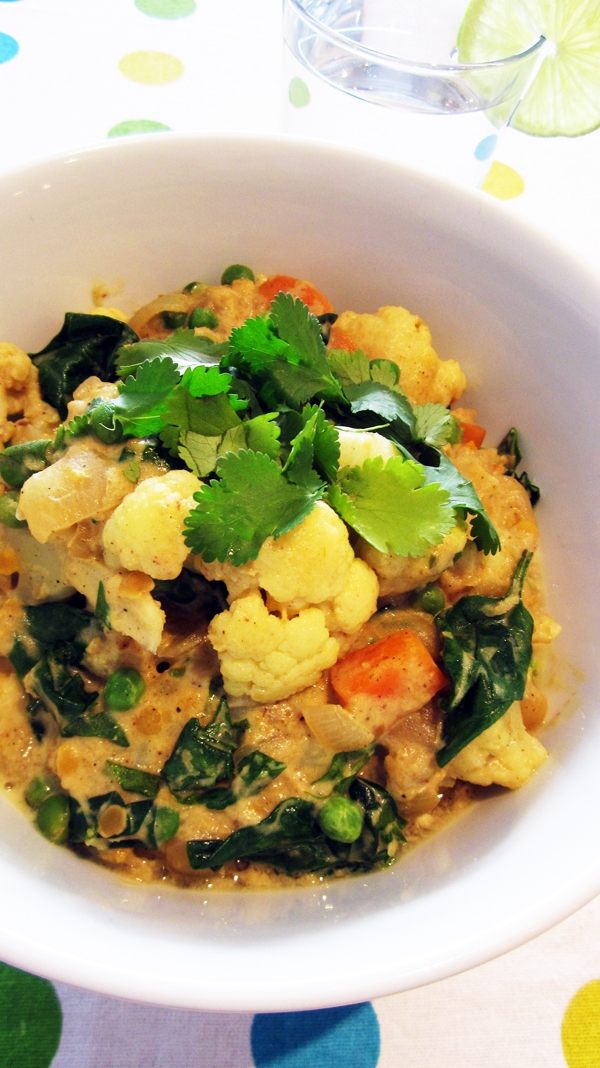 Notes
I thought the curry needed more "green" so I tossed in the 1/3 bag of spinach that I also had leftover in the fridge. I think it's a great addition, so I've included it in the recipe below.
I found that my lentils were drying out while cooking, so I upped the vegetable stock from 150ml to 250ml, and noted it as such below.
If you serve this with rice, it will feed 4 people, but if you eat it straight-up, it's more like 3.
This isn't spicy at all – so feel free to add a teaspoon of crushed red chili pepper if you like a bit of spice.
Cauliflower and Lentil Coconut Curry
This hearty cauliflower and lentil coconut curry is great on its own, but you can serve it over rice to stretch the portions. Vegan and Gluten-Free!
Author:
Angela @ Vegangela.com
Ingredients
2 tbsp vegetable oil
1 onion, finely chopped
1 garlic clove, minced
2.5 cm piece fresh ginger, peeled and grated
2 tsp ground coriander
2 tsp ground cumin
½ tsp ground turmeric
⅓ cup dry red lentils
250 ml vegetable broth, hot
1 head cauliflower, cut into small florets
1 large carrot, peeled and diced
400 ml can coconut milk
¾ cup frozen green beans or peas, thawed and drained
large handful of spinach (optional)
2 tbsp chopped fresh cilantro (fresh coriander) leaves (plus more for garnish)
1 tbsp lemon juice
salt and freshly ground black pepper
Instructions
In a large saucepan, heat 1½ tbsp of the oil and gently cook the onion for 10 minutes, stirring frequently, until soft and translucent. Add the garlic, ginger, coriander, cumin and turmeric and cook for 2 minutes.
Stir in the lentils. Pour in the broth, bring to the boil, then reduce the heat, cover and leave to gently simmer for 10 minutes.
Meanwhile, heat the remaining oil in a frying pan and fry the cauliflower for 2–3 minutes until lightly browned. Add to the lentil mixture with the carrot and coconut milk.
Bring the curry to a gentle simmer and cook for a further 10 minutes, or until the vegetables are tender. Stir in the beans/peas (and spinach, if using) and cook for 3–4 minutes.
Stir in 2 tbsp of cilantro and the lemon juice, then season to taste with salt and freshly ground black pepper. Spoon onto a warmed serving dish or into four warmed serving dishes and garnish with additional cilantro.
Notes
Adapted from: http://allrecipes.com.au/recipe/6194/cauliflower-and-lentil-curry.aspx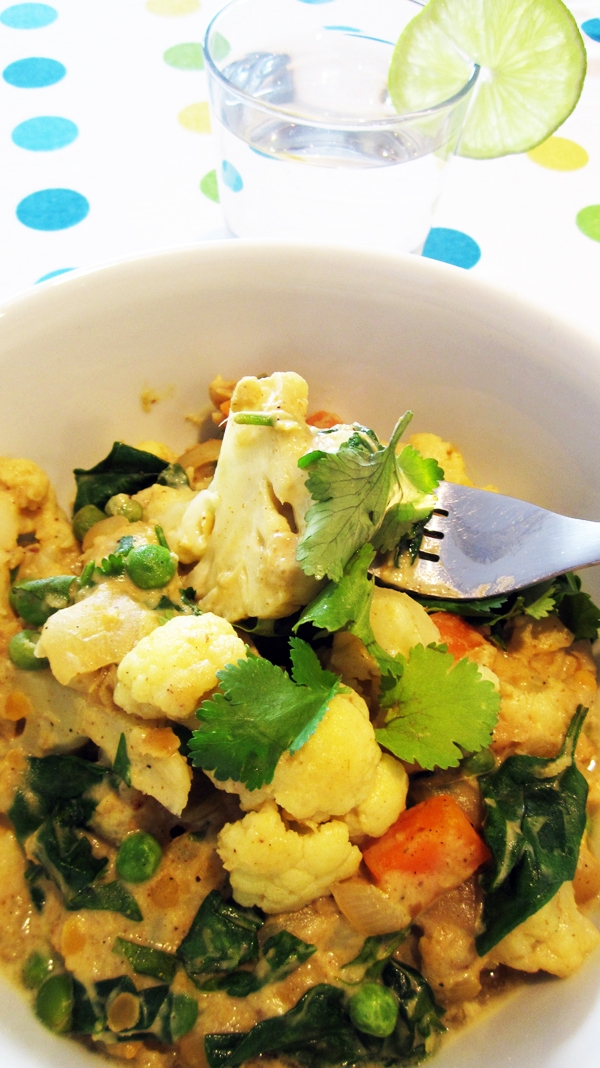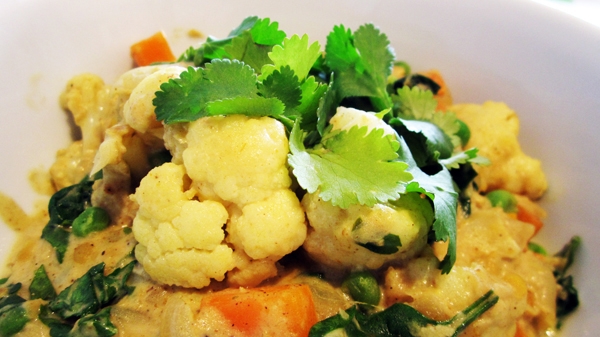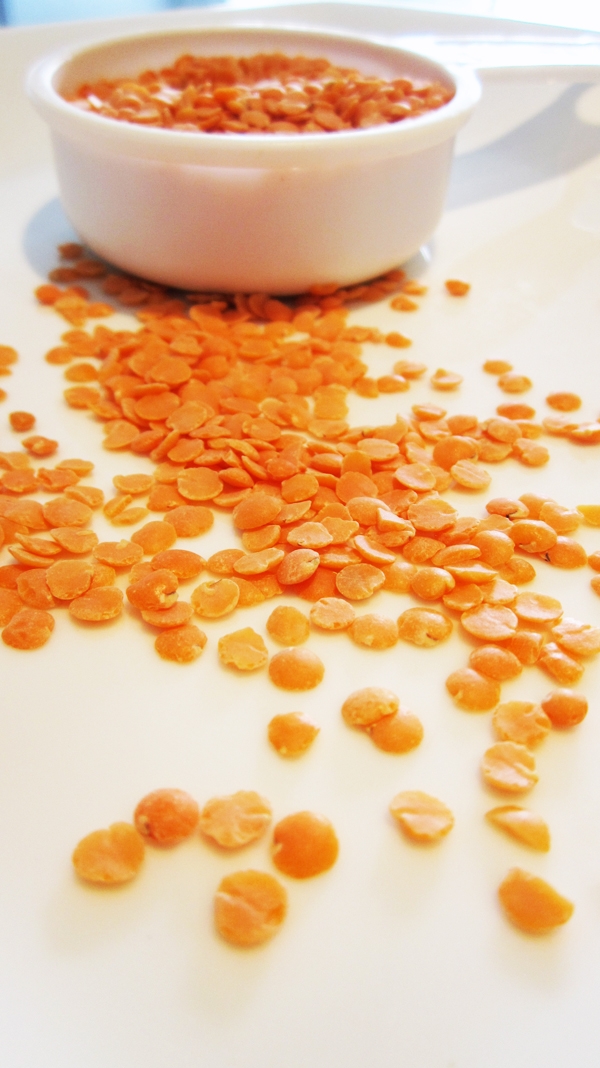 What I'll be up to…
I'm leaving Sydney later today to spend a month back home in Toronto, Ottawa and Montreal. I can't wait to see my family, friends, and work colleagues – and I'm really looking forward to those long & warm summer nights. Canadian summers are the best because everyone appreciates them so much – no day is taken for granted! I probably won't be able to post anything for the next couple weeks since I'll be living out of hotels and staying with in-laws. However, when I'm at my parents' house in mid August, I plan on cookin' up a storm, so hopefully there will be a few posts from within my little mommy's kitchen (and garden). Take care everyone – see you on the other side of the world! 🙂