My mom saw this recipe in Canadian House & Home magazine a few months ago and we made it together for dinner last night. The recipe comes from chef Jennifer Houston at Fresh restaurant in Toronto. I've never had the pleasure of eating at Fresh – but after trying this salad, it's at the top of my list of places to visit. After being vegan for 16 years, a salad has to be pretty amazing to impress me. So how good is this salad? Let's just say that it's my new favorite salad. That's a big deal!
My mom had to go to 3 grocery stores to find all the ingredients for this recipe. But don't let that scare you away. The dressing is the most important part. Toss it onto any greens/veggie combination, and top with raw nuts/seeds of your choice and you're set!
We decided to add some panko-crusted tofu to the salad as well, so I've included the directions for that below. It's totally optional but added a nice dimension to this awesome salad.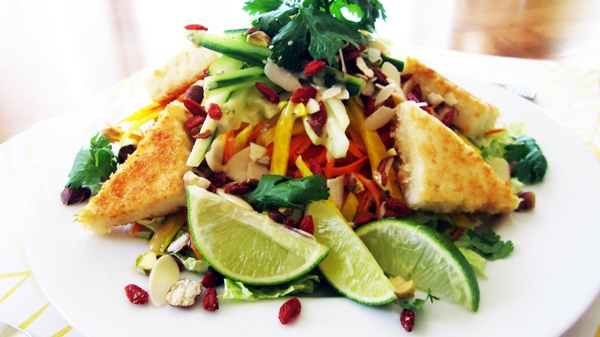 Notes
My mom accidentally bought cocoa puffed quinoa and I'm not a big fan of raisins/currants, so we left them both out of the Fresh Salad Topper. It was great regardless so I marked them as optional, below.
My mom doesn't own a spiralizer, so we just used a julienne vegetable peeler for the carrots and simply cut the beetroot and cucumber into matchsticks. It's wasn't technically a "tangled" salad that way, but hey, you have to work with what you have, right?
| | |
| --- | --- |
| | |
| | |
| --- | --- |
| | |
Fresh Restaurant's Tangled Thai Salad
Author:
Jennifer Houston, Fresh Restaurant
Ingredients
Salad
1 cup chopped napa cabbage
1⁄3 cup jicama, cut into small sticks
2⁄3 cup peeled raw carrot, spiralized (or cut/peeled into julienne)
2⁄3 cup peeled raw yellow beets, spiralized (or cut into julienne)
4 tbsp Peanut Lime Dressing (recipe follows)
3 slices cucumber, halved (or cut into julienne)
2 tsp chopped raw peanuts
2 tbsp Fresh Salad Topper (recipe follows)
1⁄4 lime
Cilantro to taste
Peanut Lime Dressing
3 cloves garlic, peeled and minced
1 tbsp ginger, peeled and chopped
1 tsp chili sauce (Sriracha is perfect)
2 tbsp cilantro, densely packed
2 tbsp natural peanut butter
2 tbsp plus 2 tsp lime juice
1 tbsp rice vinegar
1 tbsp plus 1⁄2 tsp tamari (a type of soy sauce)
2 tsp maple syrup or agave
2 tsp coconut milk (optional)
1 tsp sesame oil
1⁄2 cup sunflower oil (sometimes I use half oil, half water)
Fresh Salad Topper
1 cup puffed quinoa (optional)
1⁄4 cup goji berries
1⁄4 cup currants (optional)
2 tbsp sliced almonds
2 tbsp hazelnuts, chopped
2 tbsp pistachios, chopped
1⁄4 tsp sea salt
Panko Crusted Tofu
½ block of tofu (about 225 g)
3 tbsp cornstarch
¼ cup Japanese panko breadcrumbs
3 tbsp coconut or peanut oil
Instructions
Peanut Lime Dressing
In a blender, purée all but sunflower oil. With blender running, add oil in a thin stream.
Makes 1 cup, enough for 4 salads
Fresh Salad Topper
Put all ingredients into a bowl and mix.
Makes approx. 1-3/4 cups; refridgerate unused portion
Panko Crusted Tofu
Slice tofu into 1 inch rectangles or triangles.
Heat oil in a large frying pan over medium-high heat.
Place cornstarch and breadcrumbs in two separate small bowls. Coat tofu pieces with cornstarch, and then press breadcrumbs into them.
Fry until golden brown on both sides. Pat dry with paper towels and set aside.
Salad
Put cabbage into a large bowl and top with jicama. Pile the carrot and beet strands on top and drizzle with Peanut Lime Dressing.
Garnish with cucumber, peanuts, Fresh Salad Topper, lime and cilantro.