When I came across this recipe over at Vegan Good Things back in May, I very swiftly bookmarked it. Anything with peanut butter in it is pretty much awesome in my books. But PB&J? That's even better. I never thought that it would take me this long to get around to making this recipe, but it seemed like every time I went to make it, I was missing one of the rather basic ingredients. Peanut butter… Jelly… heck, I didn't even have an 8×8 pan until last week. But finally, the stars have aligned because today I decided to finally make these little babies.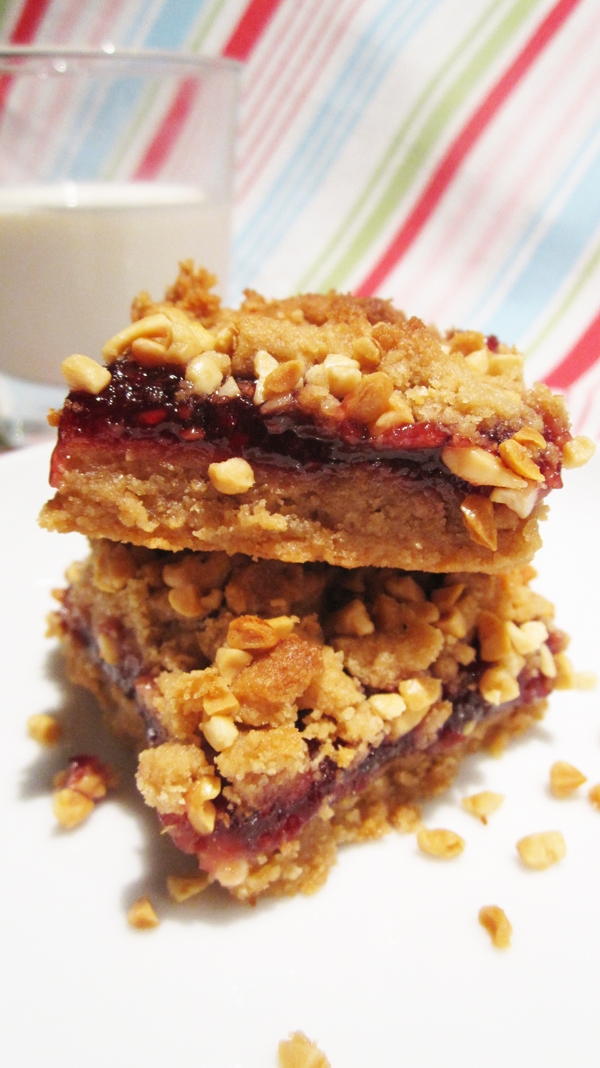 Modifications to the Recipe
I used coconut oil instead of the margarine (and nonstick vegetable oil spray). I think coconut oil is a much healthier option and I've had so much success baking with it that I don't really buy margarine anymore. The trick is to chill your coconut oil beforehand, so that it has the same consistency as margarine/butter.
I used whole wheat flour instead of unbleached all purpose flour to make the bars even healthier still.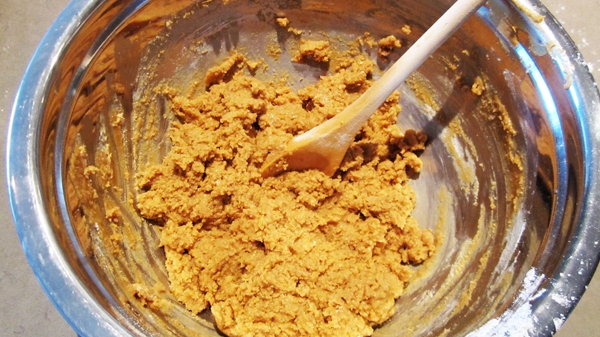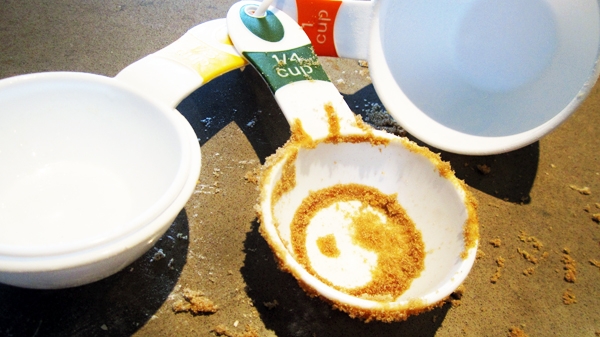 I went with raspberry jam on this one because I've always loved raspberry jam in cookies and other baked goods. Speaking of jam, I absolutely love St. Dalfour jams. They come in cute little glass jars, and the best part is that they're vegan and contain no preservatives, artificial colors or flavors. Check-out the 3-ingredient list: raspberries, grape juice and fruit pectin. Awesome! Oh, and it turns out that a jar contains about a 3/4 cup of jam – which is exactly what this recipe calls for. It's jelly destiny!
As for the bars, they taste like a gooey PB&J sandwich, yet they're a little bit crumbly too. It is well advised to serve them with a big ol' glass of (non dairy!) milk… but if you want to get really serious, a scoop of (non-dairy) vanilla ice cream would be out of this world.
Updates
October 8, 2011 – I cut these guys right from the counter top last night, but I realize now that they would have been easier to cut had I put them in the fridge for about 20 minutes (after they had cooled completely on the counter). This is because the coconut oil really firms up when cold. I stored the bars in the fridge overnight and a little taste-test this morning (hey, no one said running a food blog would be easy!) tells me that's the way to store these guys, especially if you make them with coconut oil. ALSO, after eating a few of these, I've realized that they're quite sweet. So if your jam is very sweet, you could probably reduce the sugar to 1/2 cup. Hope this helps – let me know if you make them!

Vegan Peanut Butter & Jelly Bars
PB&J sandwiches, in dessert form! These vegan bars are made with creamy peanut butter, sweet jelly, and salty dry-roasted peanuts.
Author:
Angela @ Vegangela.com
Ingredients
½ cup + 1tsp coconut oil, hardened in fridge until the consistency of soft butter
1½ cups whole wheat flour
½ tsp baking powder
¼ tsp salt
¾ cup smooth peanut butter
¾ cup (packed) brown sugar
1 vegan egg (such as Ener-G Egg Replacer)
1 tsp vanilla extract
¾ cup jelly or jam (raspberry or strawberry)
⅓ cup coarsely chopped salted dry-roasted peanuts
Instructions
Preheat oven to 350°F. Line 8 x 8 x 2-inch metal baking pan with heavy-duty foil, leaving 2-inch overhang around edges and pressing firmly into corners and up sides of pan. Coat foil with 1 tsp coconut oil. Set aside.
Whisk flour, baking powder, and ¼ teaspoon salt in small bowl. Using electric mixer, beat peanut butter, sugar, and remaining coconut oil in large bowl until smooth.
Add vegan egg and vanilla; beat on low speed until smooth.
Add flour mixture; beat on low speed just to blend.
Transfer half of dough to prepared pan (about scant 1½ cups). Place remaining dough in freezer for 10 minutes. Using fingertips, press dough evenly onto bottom of pan. Spread jelly over in even layer. Remove dough from freezer; using fingertips, break into grape-size pieces and scatter over jelly layer. Sprinkle chopped nuts over.
Bake bars until top is golden brown, about 30 minutes. Cool bars completely in pan on rack.
Using foil overhang as aid, lift bars from pan. Gently peel foil from edges. Cut into 16 squares.
MAKE AHEAD: can be made 3 days ahead. Store in an airtight container in fridge.
Notes
Adapted from: http://vegangoodthings.blogspot.com.au/2011/05/peanut-butter-jelly-bars-some-vegan.html