Yesterday was pretty much a perfect spring day here in Sydney, Australia. It was 22C and there wasn't a cloud in the sky in the afternoon. After walking about 6k around the city, and then going for a 5k run/walk in the beautiful Centennial Park, my man and I were looking forward to eating a nice dinner out on the balcony. The warm weather screamed for potato salad, but when I looked through the pantry and came across a package of gnocchi, I decided to try something new.
Gnocchi are potato dumplings that think they're pasta. Potato pasta! To a carb-lover like me, that's perfection. (The only other thing that might come close are perogies. But I digress…) I decided to use gnocchi for my potato salad instead of regular potatoes. Once your water is boiling, they're ready in just 2 minutes and they have a great soft pillowy texture. I was going to serve green beans on the side anyway, so I decided to toss them right into the salad. Quinoa was added in as a means to justify the carbs. See? There's a healthy girl in me somewhere!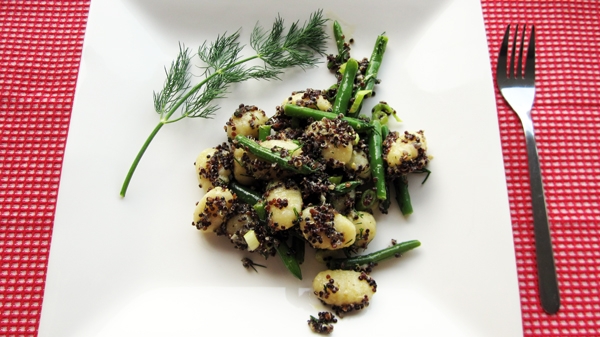 For the dressing, I went with my mom's Creamy Dijon Dressing. I'm not sure where she got it from, but she's been making it for years. The original calls for regular mayo, so I always just substitute it with vegan mayo, and I use maple syrup for the teaspoon of sugar. Agave should work too.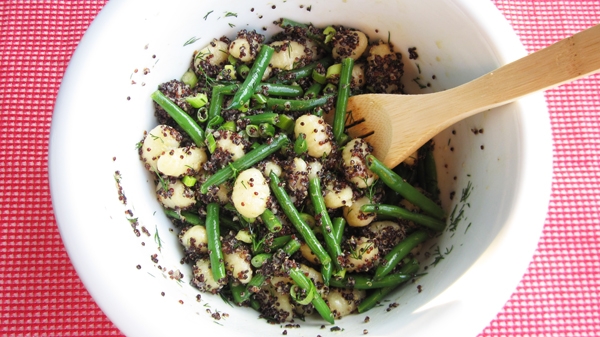 Notes
Dark (red/brown) quinoa makes the biggest impact here, so try to seek it out if you can. Otherwise, you may want to add some more color to this dish – black beans would be a nice option.
I tried the cold leftovers, and I have to say: this one of those salads that is better served warm (and fresh). The gnocchi lose their pillow-soft texture when cold. So while it's better fresh, you can just zap leftovers in the microwave for a couple minutes to bring the gnocchi back to life.
You can substitute 4 cups of boiled cubed potatoes for the gnocchi – this is a great option if you're celiac and can't find gluten-free gnocchi in your area.
Gnocchi Potato Salad with Green Beans & Quinoa
This warm salad uses store-bought gnocchi as a neat alternative to traditional potato salad. The green beans and quinoa make it healthy, not to mention colorful!
Author:
Angela @ Vegangela.com
Recipe type:
Main, Side, Salad
Ingredients
½ cup red/brown quinoa, rinsed and drained
500g gnocchi (make sure it's vegan) (or 4 cups of cubed, boiled potatoes)
2 cups green beans, de-stemmed and cut in half
⅓ cup green onions, sliced
¼ cup fresh dill, finely chopped
Creamy Dijon Dressing
⅓ cup extra-virgin olive oil
1 tbsp vegan mayonnaise
1 tbsp Dijon mustard
1 garlic clove, minced
1 tsp maple syrup
¼ tsp salt
Instructions
In a large bowl, whisk together the ingredients for the Creamy Dijon Dressing. Set asside.
Add quinoa to a saucepan with 1 cup water, cover and bring to a boil. Reduce heat to simmer, and cook, covered for about 20 minutes.
Bring a large pot of water to boil. Drop in the gnocchi and cook until they rise to the surface, about 2-3 minutes. Leaving the water boiling, use a slotted spoon to remove the gnocchi from the surface and into a medium bowl. Drain the gnocchi of any excess water and place them into the bowl with the dressing.
Add the green beans to the boiling water and cook until tender but still crisp, about 5 minutes. Drain beans and add them to the gnocchi.
Add the quinoa to the gnocchi. Stir in the green onions and dill and serve.