I bought a big chunk of fresh ginger last week in order to remake my Carrot Ginger Dressing. I adore the smell and taste of fresh ginger and I love using it in my meals because I find that it really "wakes" everything up.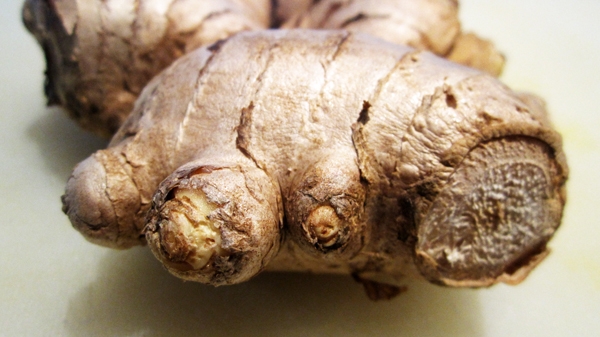 The only problem is that I find that fresh ginger goes-off quickly in my fridge. It either dries-out or gets all slimy and moldy before I have a chance to use it all up. So, instead of storing it in the fridge, I now store it in the freezer. I don't just toss it in the ice box whole though – I grate it first. The benefit of finely grating your ginger is that you won't end-up with those stringy bits of ginger in your food. Since it's a bit time-consuming, it's nice to do a whole bunch at once, that way you always have "fresh" ginger on hand when you need it. Time flies when you watch a documentary while peeling and grating…
Freezing Ginger
1. Cut your ginger into manageable pieces – pieces that you'll be able to easily handle and peel.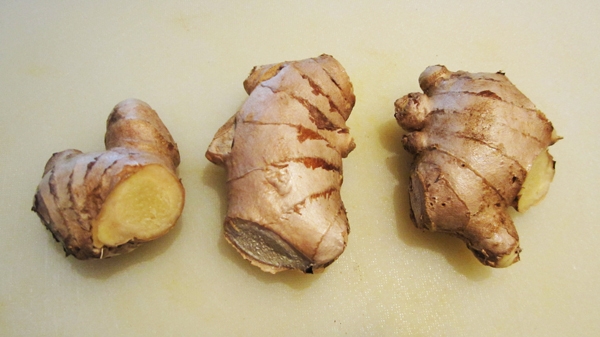 2. Using a small knife, remove the peel from the ginger and cut-out any rough bits. Save all your scrapings – I'll show you how to use them below!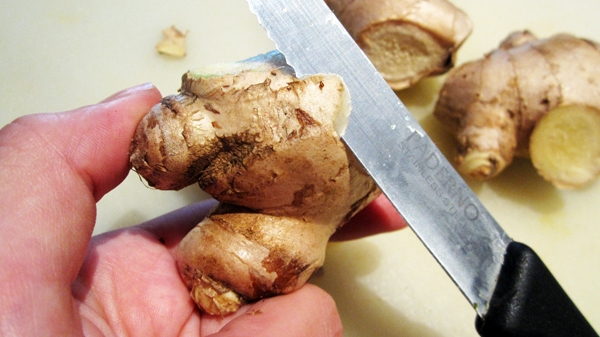 3. Finely grate the ginger – watch those fingers!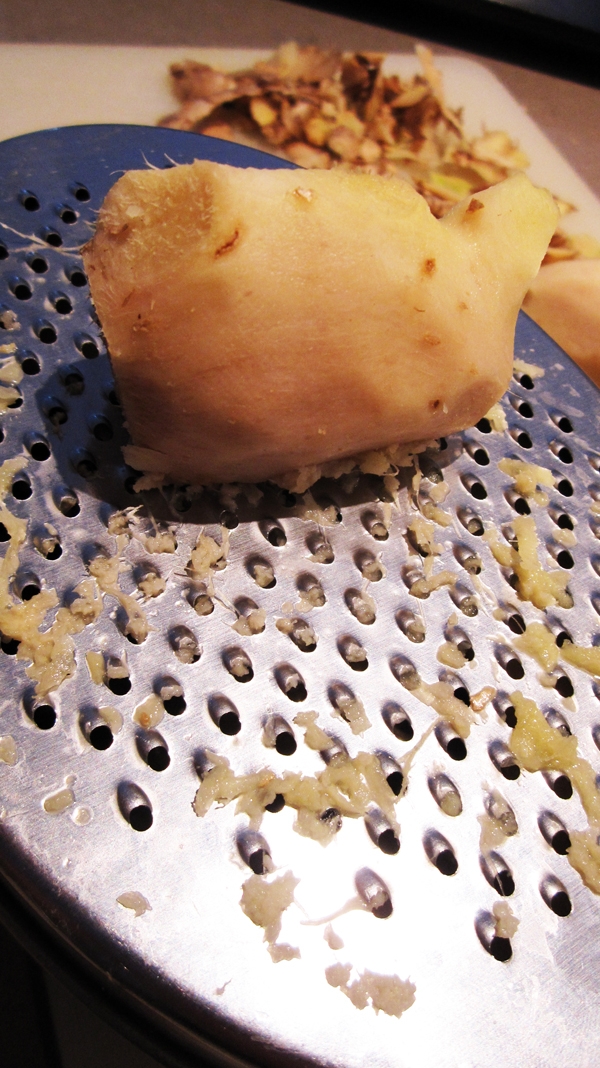 4. I find that most of my recipes call for 1 tbsp of fresh ginger, so that's how I portion it.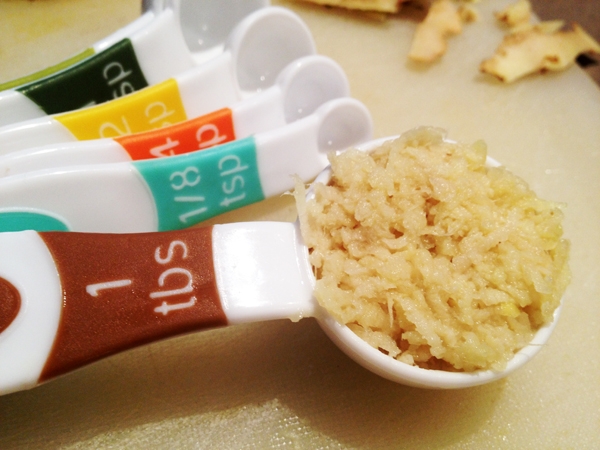 5. Wrap the ginger in cling wrap, twisting at the ends like a candy wrapper, and tying in a knot
6. Place ginger parcels in a freezer-safe bag and store it in the freezer until ready to use.
Remember how I said to keep all those peelings?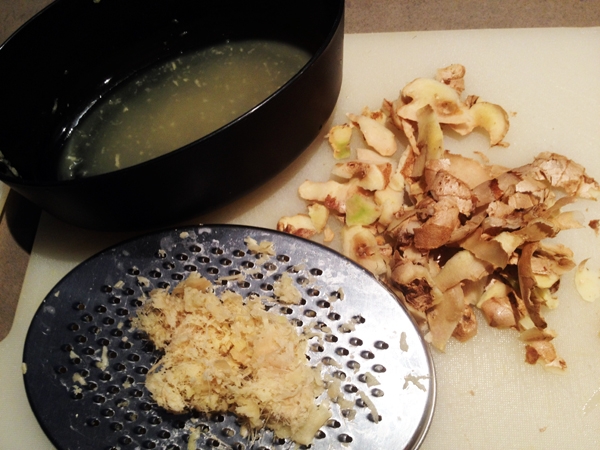 I like to simmer the ginger peels along along with a squeeze of lemon in a saucepan filled with water for about 20 minutes. It's a natural air freshener for your kitchen!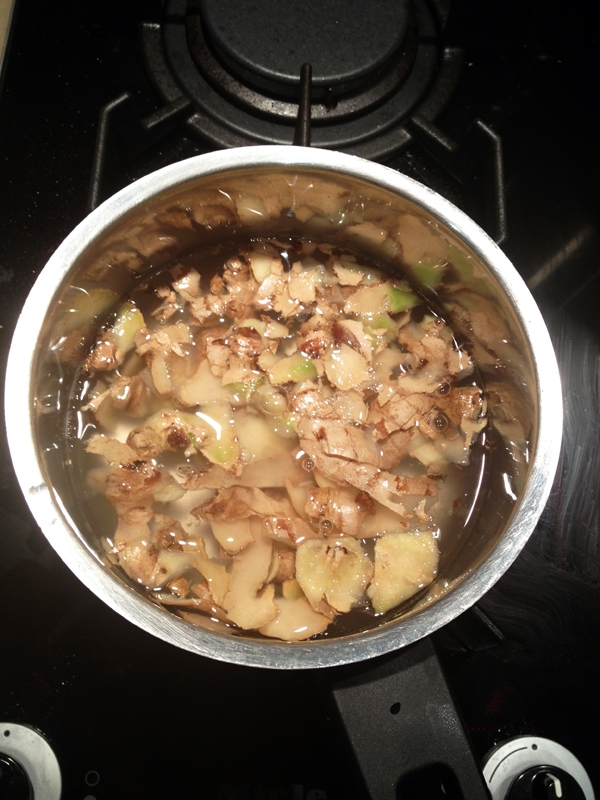 I also use the collected juice and stringy bits to make a quick ginger tea.
Ginger Tea
Seep the ginger remnants and juice in boiling water for about 5 minutes. You can make it as strong as you want, but 4 cups of water for these remnants was perfect for me.
Strain the tea from the ginger pieces.
Add a splash of lemon juice and a squirt of agave nectar.
This is such an invigorating drink, and is especially nice if you're feeling run-down and/or feel a cold coming on.
I even like it served cold out of the fridge…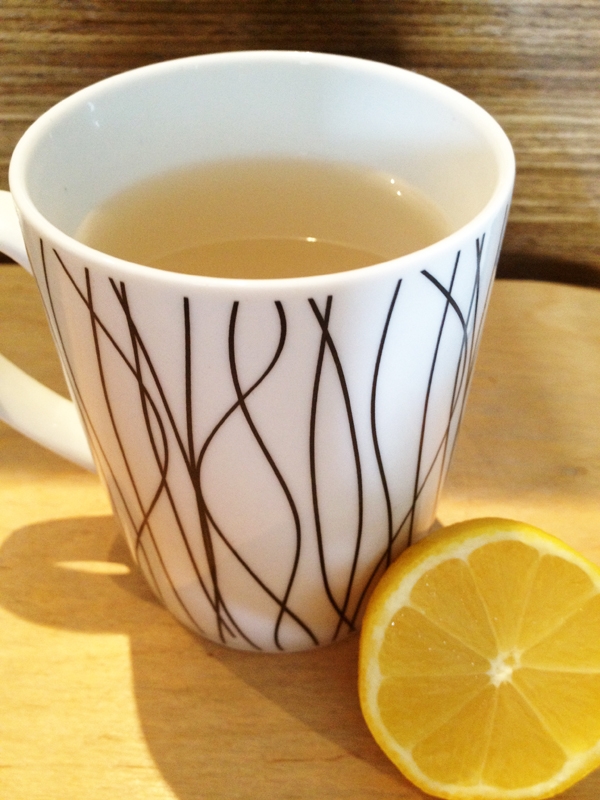 Do you like ginger? Share your tips on using and storing it!