Are you lucky enough to be enjoying a Thanksgiving dinner this year? Some friends of ours are hosting a Thanksgiving dinner for all of us American and Canadian ex-pats and I can't wait to share a couple of my favorite vegan Thanksgiving recipes with them. Having said that, I can only eat so much stuffing, mashed potatoes, Tofurky and pumpkin pie. With all that over-indulgence, I'll be seeking-out lighter meals after the festivities are over. I thought you might too.So here's my Thanksgiving gift to you. I call it The "Next Day" Salad!
This salad is light yet satisfying. The cucumber, fresh coriander (cilantro), mint, and lime make it super refreshing, and the black beans and quinoa give it a protein punch.
Notes
The lime juice will help prevent the avocado and mango from turning brown, but I would still serve this the same day that you make it.
Toss in a handful of baby spinach or rocket (arugula) if you want a few greens in there.
Feel free to add a pinch of red pepper flakes if you like things hot!
My friend Lisette taught me how to cut a mango, Queensland-style. The trick is to use the stem as your guide. Simply slice the mango to the left or right of the stem. If you hit the stone (pit), just move a little farther from the middle, until you can slice the whole way through. Then carve horizontal and vertical marks in the flesh, and push against the skin to fan out the fruit. I love it – thanks girl!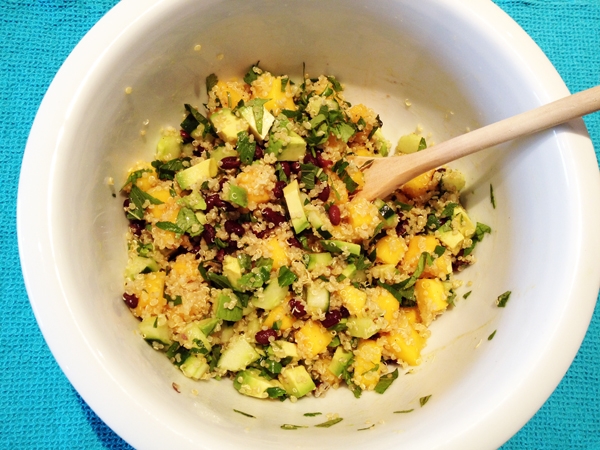 Refreshing Quinoa Salad with Mango, Cucumber, Avocado & Black Beans
I also like to call this the "next day salad" - it's perfectly fresh and healthy after you've overindulged on heavy foods! Vegan, Gluten-Free
Author:
Angela @ Vegangela.com
Ingredients
1 cup quinoa, rinsed and drained
1 can black beans, rinsed drained
1 fresh mango, cubed
1 ripe avocado, cubed
1 cucumber, seeds removed and diced
½ cup mint, chopped
½ cup fresh coriander (cilantro), chopped
⅓ cup olive oil
2 tbsp lime juice
1 clove garlic
salt and pepper
Instructions
Place the quinoa along with 2 cups salted water in a medium saucepan. Cover and bring to a boil, then reduce to the lowest heat setting. Simmer until water is completely absorbed and quinoa is fluffy, about 20 minutes.
In a large bowl, whisk together the olive oil, lime juice, and garlic.
Add the remaining ingredients, including the quinoa, and gently combine. Season with salt and pepper. Place in the fridge for 20 minutes to let the salad cool and flavors combine. Serve immediately.