I'm still working my way through all my travel photos, so my posts over the next few weeks will primarily focus on current happenings (what I'm cooking at home and restaurants that I'm discovering here in Toronto). But don't worry, all the information and reviews of the things that I ate and experienced during my 3-month trip through New Zealand and South East Asia will be coming soon!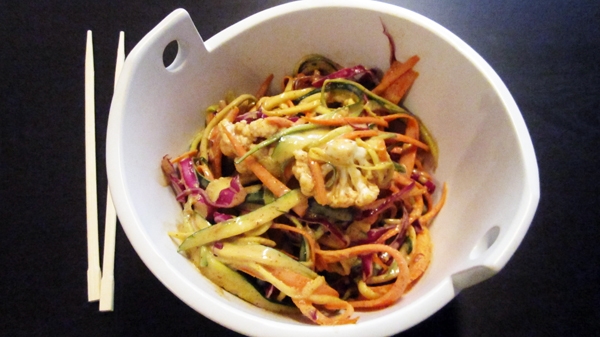 For today's post, I'd like to share a recipe that my mom made for me when I last visited her in Ottawa. She got the recipe from Chatelaine magazine, but it comes from Julie Daniluk's Meals That Heal Inflammation cookbook.I love how fresh and healthy this dish tastes! In fact, I love it so much that I've already made it 3 or 4 times this month. It's a total "keeper" for me and I hope it will be for you as well.
I haven't found any raw almond butter yet, so I used this roasted almond and cashew blend instead. So in my case, this salad isn't 100% raw. However, I did manage to find this huge bottle of raw organic agave nectar at Homesense for $12.99 though. Score!
You'll need a spiralizer, mandoline or julienne vegetable peeler
in order to make the veggie "noodles". I'm normally not a big fan of kitchen gadgets, but I use these all the time and think they're a good investment for any vegetarian/vegan, or anyone looking to eat more vegetables. Otherwise, check out my Raw Vegan Alfredo Sauce with Zucchini Noodles post to learn how to make wide Fettucine noodles with a regular vegetable peeler. I used my julienne peeler for this recipe, and my mom gave me this special mandoline glove that prevents me from cutting myself when I use it.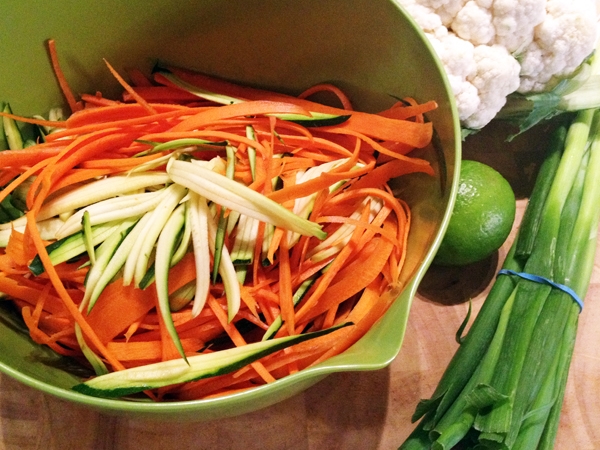 Notes
If you make the dressing first, and then toss the veggies on top, this becomes a one-pot meal.
I've doubled the recipe, because I find that even doubled, it only makes 2-3 servings.
The original recipe called for raw honey, but I've made it vegan by using raw agave or maple syrup.
I didn't find any fresh sprouts, but this was still delicious, so I've marked them as optional below.
I also like serving this with crushed peanuts and chopped cilantro, so I've added them as options too.
As the directions indicate, it's definitely better after a few hours in the fridge, however, if you leave it at room temperature for about 15 minutes, it should also help to soften-up the veggies and combine the flavors.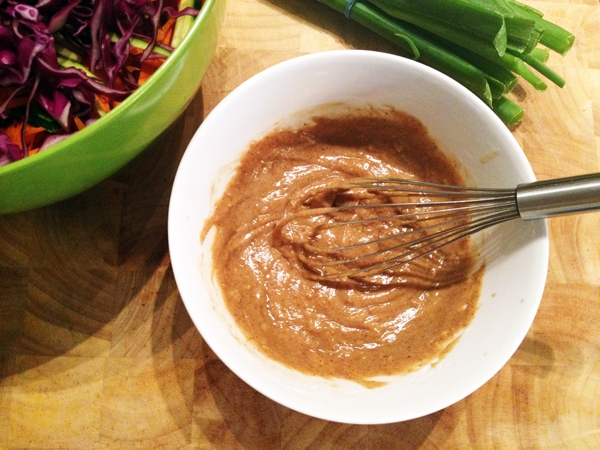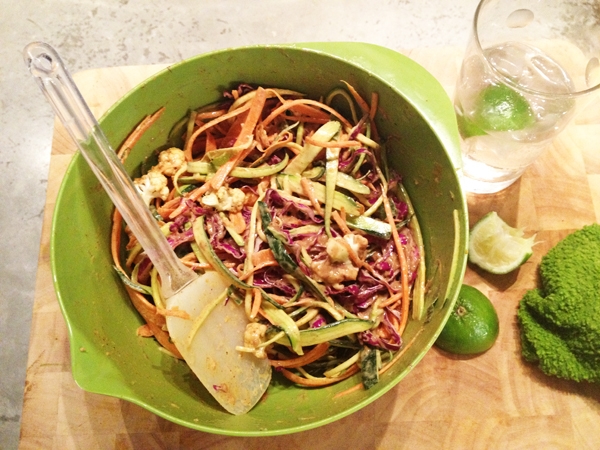 Updates
February 27, 2013 – I sometimes like to add tofu to this dish. I simply cut up 250g of organic tofu and lightly fry it in some sesame oil and tamari sauce. I tend to leave-out the cauliflower when I do this. It no longer makes the dish 100% raw, but I like the additional protein punch it delivers this way.
Also, once the sauce has had a chance to break-down the veggies a little bit, I've noticed that there's quite a bit of it left over. I've therefore updated the recipe to use 3 carrots and zucchinis instead of 2. I've also increased the serving size to 3. Less waste + more servings = even better recipe 🙂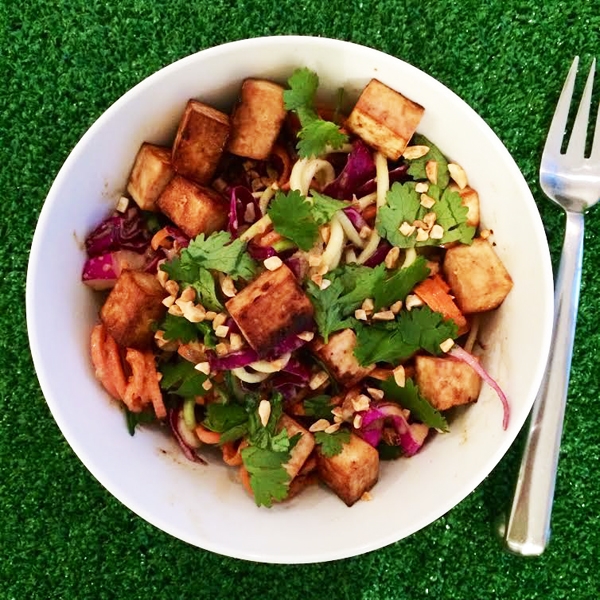 Raw Pad Thai
This easy raw vegan dish uses zucchini and carrots for the "noodles" / Raw, Vegan, Gluten-Free
Author:
Angela @ Vegangela.com
Ingredients
3 medium zucchinis
3 large carrots
2 green onions, chopped
1 cup shredded purple cabbage
1 cup cauliflower florets
1 cup mung bean sprouts or radish sprouts (spicy) (optional)
½ cup crushed peanuts (optional)
½ cup chopped fresh coriander/cilantro (optional)
Sauce
Instructions
Use a spiralizer (or mandolin or vegetable peeler) to create noodles from the carrot and zucchini. Place them in a large mixing bowl and top with the other vegetables.
Whisk sauce ingredients in a bowl. The sauce will be thick, but will thin out after it's mixed with the vegetables.
Pour the sauce over the vegetables and toss. Best after 1 day in the fridge.