As you may have read from my last post, my fiance and I have recently moved back to Sydney and I'm in the process of setting up my new kitchen. An upcoming post will go through the process building-up my vegan pantry again, but until I've finished all that… we need to eat!
A few days ago, I was texting back and forth with my good friend Jodi from Toronto. (Side note: how people maintained overseas friendships before iMessage is beyond me! It's a life-changer!) Jodi was about to make this African Stew for dinner, saying that it's one of her all-time favorite healthy recipes. I took a look at it and fell in love instantly. Peanut butter? Beans? Sweet Potato? Stop right there… You had me at peanut butter!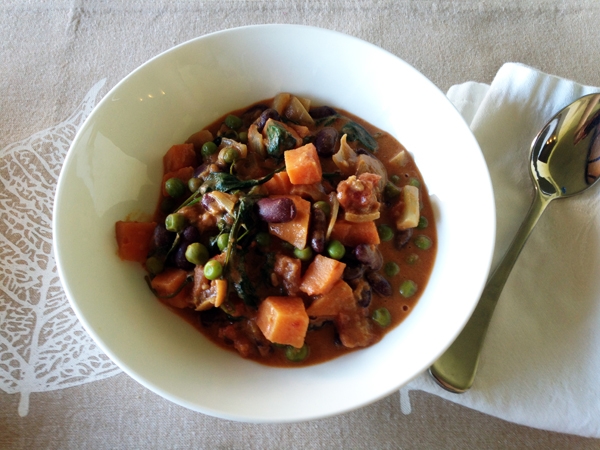 Seriously though, since the recipe was already vegan and since the ingredients are fresh or really basic pantry items, it was a perfect recipe to make in my "new" but sparsely stocked kitchen.
Notes about my modifications
I substituted kidney beans for black beans. This is probably going to sound weird to those of you in North America, but canned black beans are almost impossible to find in Sydney. As soon as I find a place that sells them, I will buy them out and hoard every single last can of them. Sure, I know that dried black beans are available here and are "pretty easy" to prepare. But based on the amount of email I get from Australians looking for canned black beans, I know I'm not the only one looking for the convenience of cans. Maybe I should look into starting a canned black bean import business… Hmm…
I used vegetable broth instead of water. Feel-free to just use plain water, but I'm one of those people who thinks everything taste better with broth.
I used frozen peas instead of frozen corn. I got home from buying the sweet potato and the kidney beans for this recipe, only to realize that I had forgotten to pick up frozen corn. Luckily, I had just made my mom's Minestrone Soup a few days before, so I had some frozen peas leftover. Sometimes you just have to work with what you've got, and luckily the peas worked out beautifully.
I used crushed red chili flakes instead of fresh chili peppers. I don't make a habit of using fresh chili peppers, as we're not big spice fans in this household. I like using crushed red chili flakes because they're consistent and I can control the heat.
I upped the garlic, and added fresh ginger. Before tossing the greens in at the end, I tasted the stew and thought that it was missing something. I did a quick Google search for similar stews and found that most of the recipes used more garlic, as well as fresh ginger and dried coriander. Because I'm still in the process of building my pantry, I didn't have any ground coriander on hand, but I did have a knob of fresh ginger in the fridge. I quickly fried up some minced ginger with an additional clove of garlic and added it to the stew. It made a big difference to the overall taste, so I've included that in the recipe below. I've also included the ground coriander as optional, as I'm sure it would be even better with that if you've got some on hand.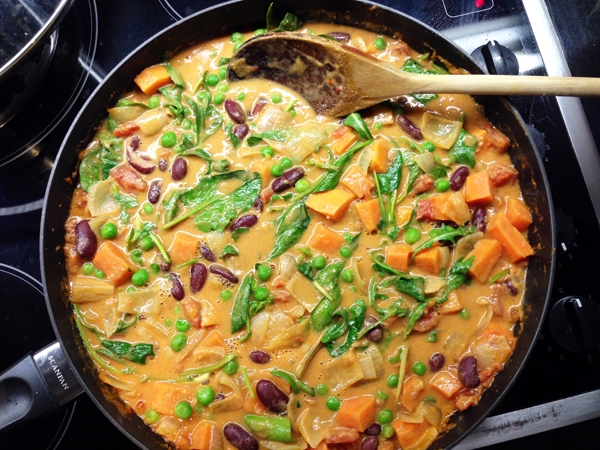 African Peanut Stew
This delicious vegan and gluten-free stew is made of pantry staples. It's hearty enough to hold-up on its own, or serve it with rice or quinoa and get more servings out of it.
Ingredients
2 tablespoons olive oil
1 medium onion, very finely minced
3 cloves garlic, finely minced
1 tbsp fresh minced ginger
½ tsp crushed red chili pepper
1 – 14.5 oz (400 g) can crushed or diced tomatoes
½ cup peanut butter (or almond or sunflower butter)
1 tsp dried coriander (optional)
2 cups vegetable broth (or water)
1 medium sweet potato (about 1 lb), peeled and diced
1 can kidney or black beans, drained and rinsed
1 ½ cups frozen peas (or frozen/canned corn)
2 cups hearty leafy greens (spinach, arugula, kale, collard)
Salt and pepper
Instructions
If you're using a can of diced tomatoes, blend them along with their juice for a few seconds in the food processor or blender, just to break them up.
Heat the oil in a large pot or Dutch oven over medium heat. Add the onion and cook until soft but not brown, about 10 minutes.
Add the garlic, ginger and chili and cook for about 5 minutes to soften.
Add the tomatoes, stir to combine then add the peanut butter (and coriander, if using), stirring it in until smooth.
Stir in the broth add sweet potatoes. Cover the pan and simmer until the sweet potatoes are tender but not falling apart, about 15 minutes.
Add the black beans, peas/corn, greens and cook until the beans and peas/corn are heated through and the greens are wilted.
Season with salt and pepper, and add additional crushed chili flakes, as per your heat preference.
Notes
Adapted from http://www.sunbutter.com/recipes-African-Stew