I haven't blogged about arugula (rocket) very much before, but it's really popular in Australia, so I've been eating a lot more of it since moving back here a couple months ago. Aussies put rocket in salads, sandwiches, burgers, and even on pizza. Another place that rocket often shows up is in a dip/spread made with rocket, cashews and sometimes chili. It usually hangs out beside the hummus at the supermarket, but because it also often contains Parmesan cheese, it's not an option for us vegans.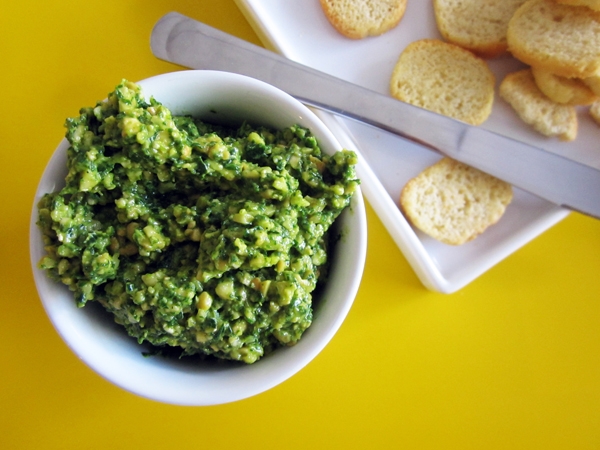 I was visiting a friend the other day, and she made a rocket and cashew dip sans-cheese so that I could have some. How sweet! It was so delicious that decided to try my hand at making a version with nutritional yeast.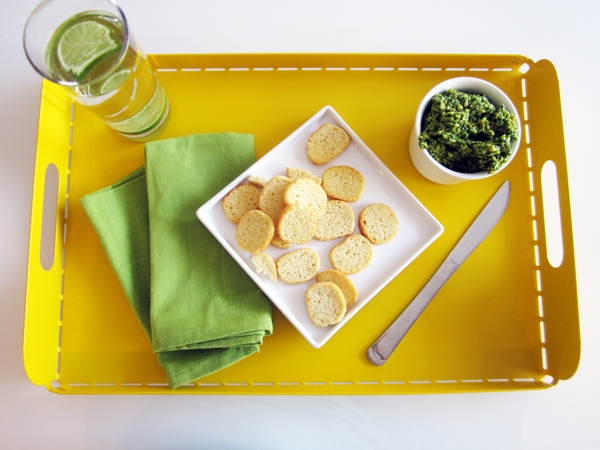 As a side note, how do you like my bright yellow tray? I'm so glad that I decided to use yellow as the accent color in our new place. It's so bright and cheerful that I feel like smiling every time I walk in the room!
To ensure that the dip remained chunky, I processed the cashew separately from the rocket. Then I just folded everything together in a mixing bowl.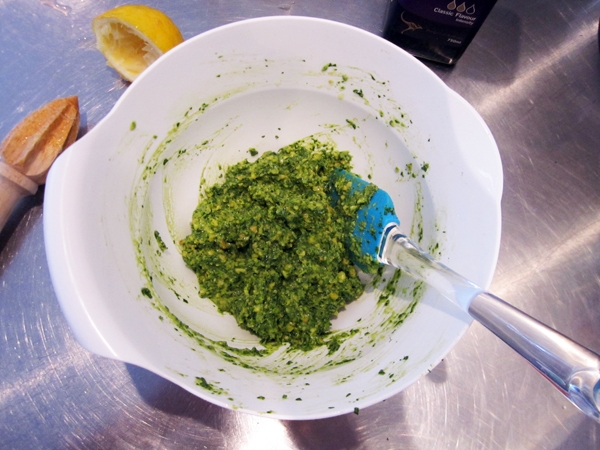 The result is a chunky spread with a beautiful bright green color. The rocket, lemon juice and nutritional yeast make it just a little bit tangy – so it's perfect served with crostini crackers or toasted baguette.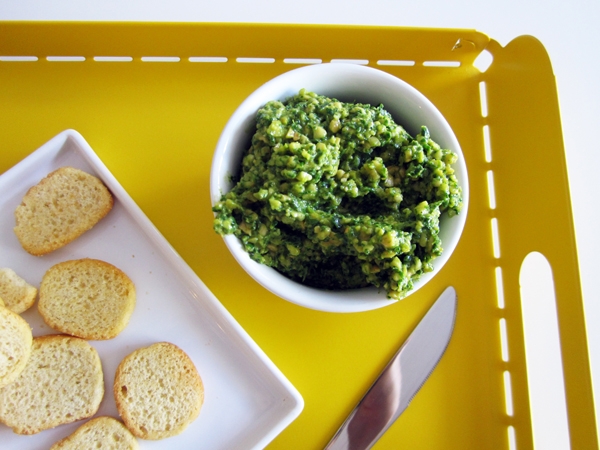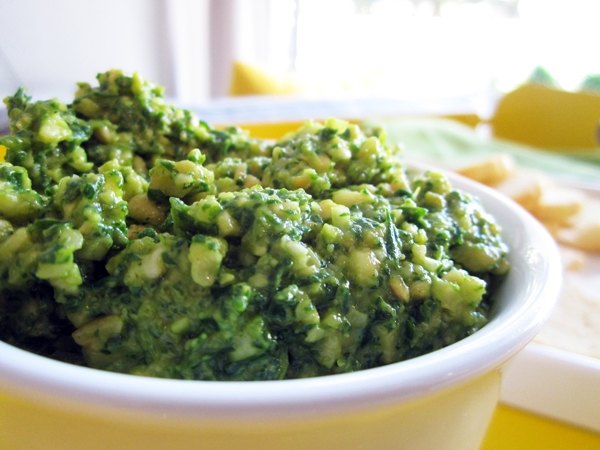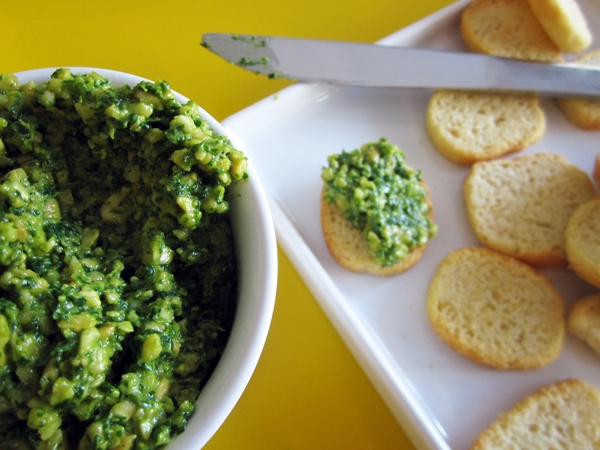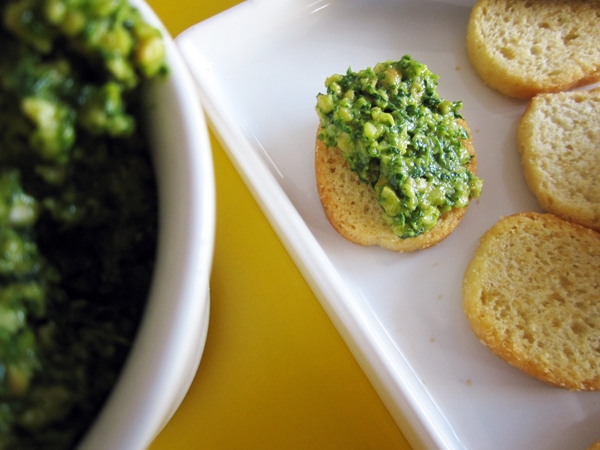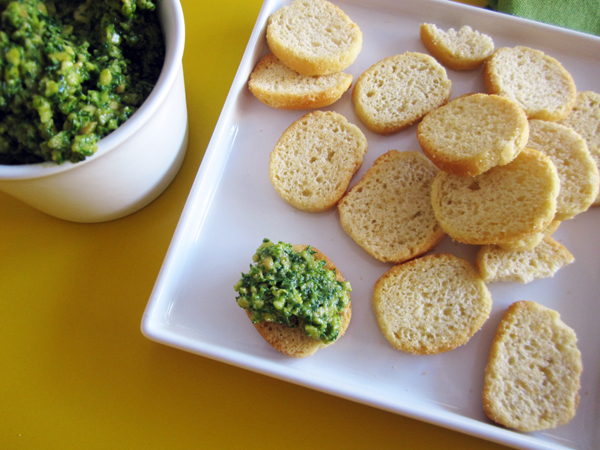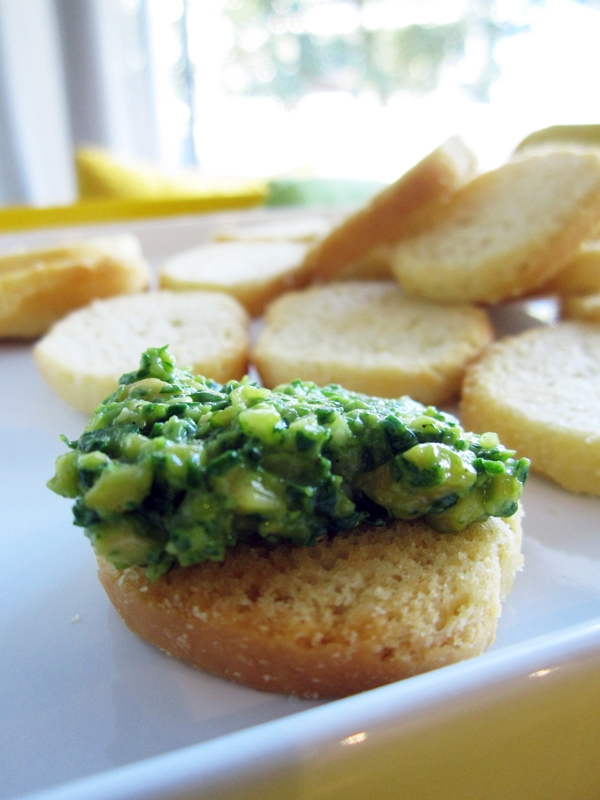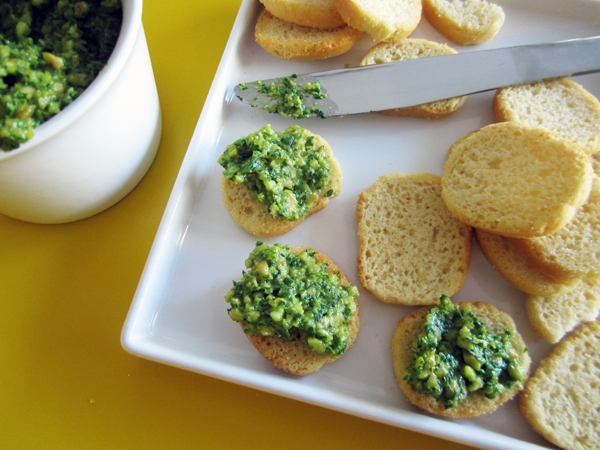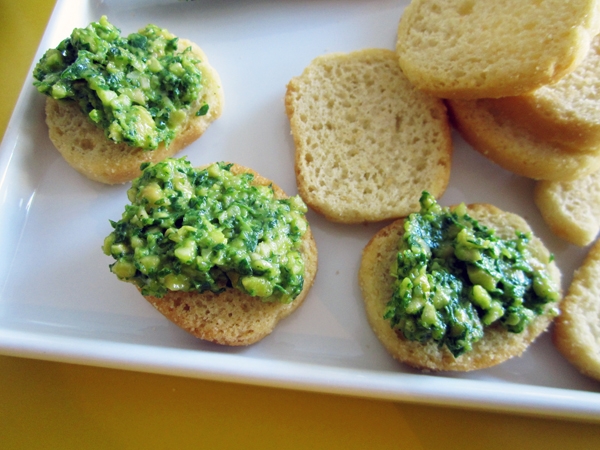 Notes
I used roasted and lightly salted cashews, but raw cashews would be equally good (just add more salt when seasoning).
I initially didn't include as many cashews in this, so it was more of a pesto consistency. But it was quite delicious, so I've included that option in the recipe notes, below.
This is great served on crostini-type crackers or lightly toasted French bread.  It also makes an incredible sandwich spread.
Topped with a halved cherry or grape tomato, these would make great Christmas canapés.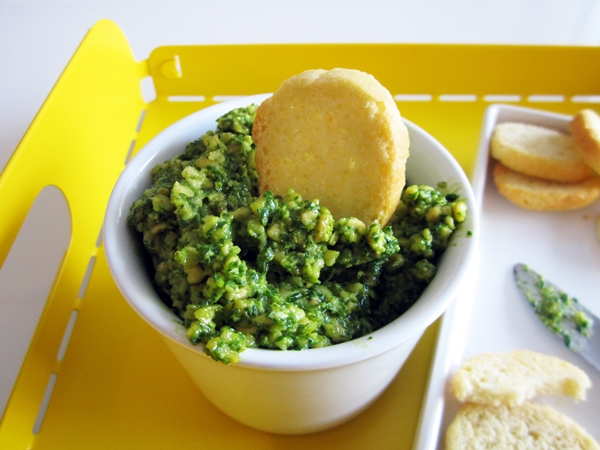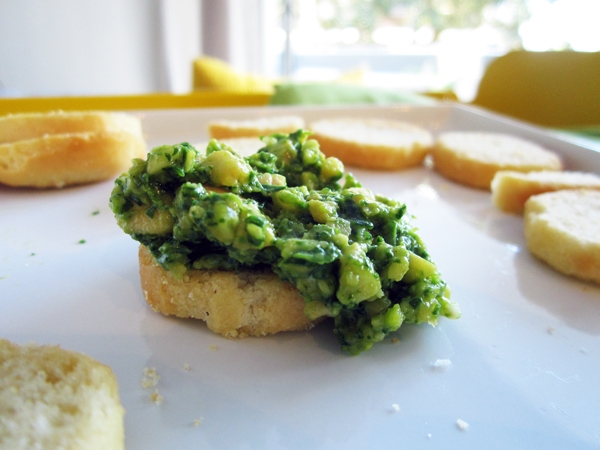 Vegan Rocket & Cashew Spread
This rocket (arugula) and cashew dip is delicious served with crostini bread or crackers, or as a sandwich spread. Vegan & Gluten-Free
Author:
Angela @ Vegangela.com
Recipe type:
Spread, Dip, Appetiser, Canapé, Hors d'Oeuvre
Ingredients
1.5 cups cashews (raw or roasted)
¼ cup nutritional yeast
1 garlic clove
3 cups rocket (about 120g)
¼ cup extra-virgin olive oil
2 tbsp lemon juice
salt
pepper
crushed red chili pepper (optional)
Instructions
In a food processor, add the cashews, nutritional yeast and garlic. Pulse gently, so that the ingredients are mixed but the cashews are still chunky. Empty into medium-sized bowl and set aside.
In the food processor, add the olive oil and lemon juice first, and then the rocket. Pulse to blend well.
Mix rocket mixture into cashew mixture, and season with salt, pepper and crushed red chili pepper (if using).
Serve with thick crostini-type crackers. May be stored in the fridge up to 3 days.
Notes
For pesto, reduce the cashews to ½ cup.