Just before the holidays, my partner and I had some friends over for a BBQ dinner. I decided to make a mango-based dessert because they're at their peak in Australia right now. And because it's been so warm out (sorry Polar Vortex sufferers), a raw cheesecake seemed like the perfect treat.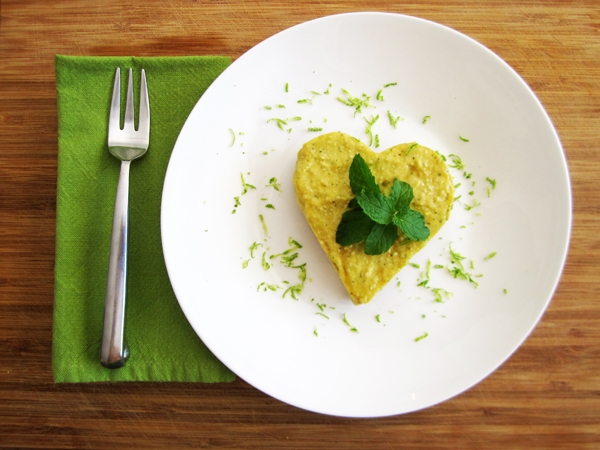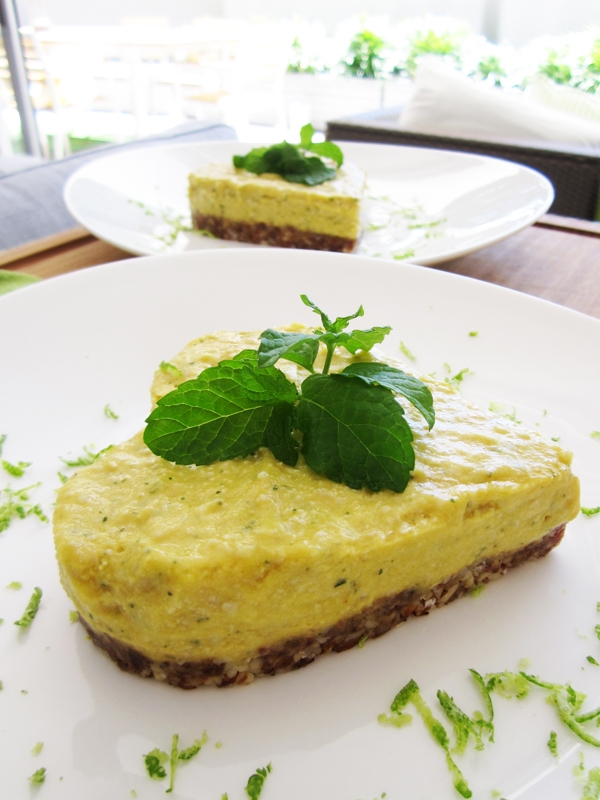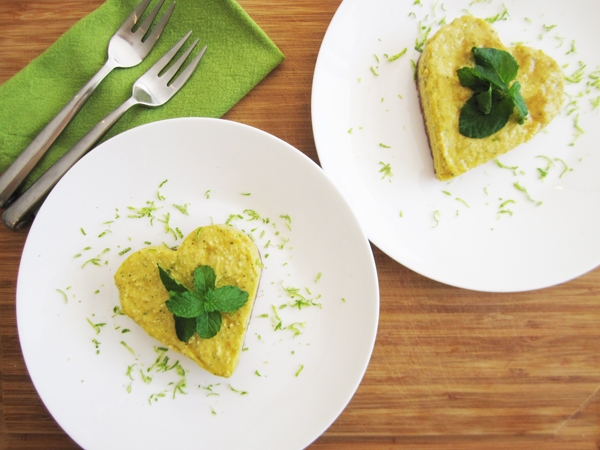 I've been a fan of raw cheesecakes ever since I made my first one back in 2011. They're not baked (so they're a perfect summertime treat), and they're chock-full of healthy ingredients (so you can feel good about eating them… any time of the year!)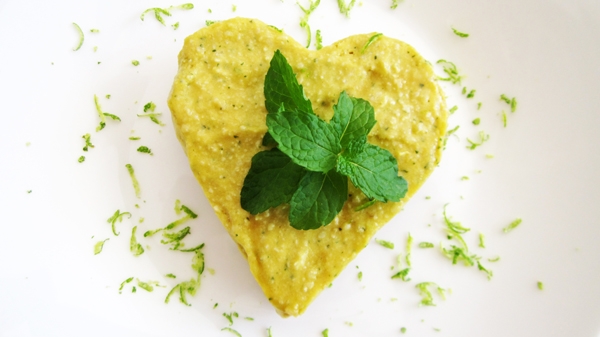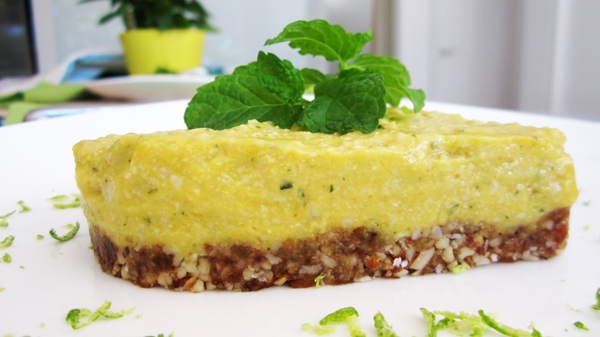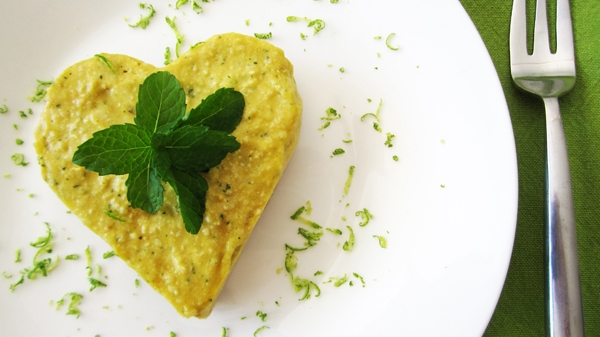 The crust is made from almonds, medjool dates, dried coconut and coconut. You just grind the ingredients up and press them down into a "crust". It doesn't seem like much, but once you've had a raw crust, you'll seriously wonder why you ever bothered with flour-based ones. They're so easy to make and they're oh-so healthy!
Once I decided to make a raw cheesecake, there was only one problem. My cheesecake pan was still on its way over to Sydney, in one of the twenty-five boxes that I shipped from Toronto back in August. I didn't want to buy a new cheesecake pan because, well frankly, with all the moving I've been doing over the past few years, I've sold/given/bought too many of the same things over and over again! And I knew my moving shipment was due to arrive in late December. So I decided to get creative. And when I found some cookie cutters at my local grocery store, I decided to use them as molds and make mini raw cheesecakes instead of a full-sized one. It worked perfectly!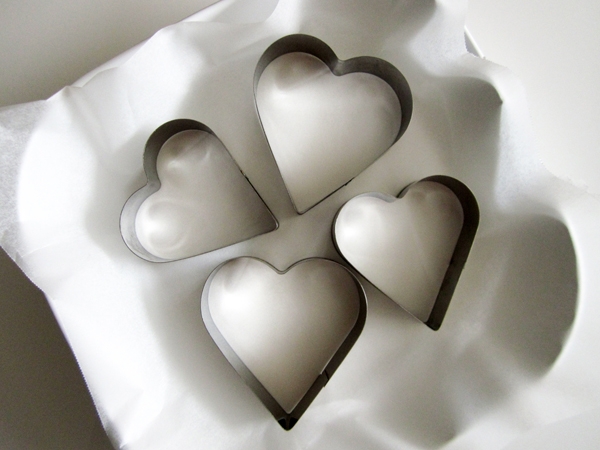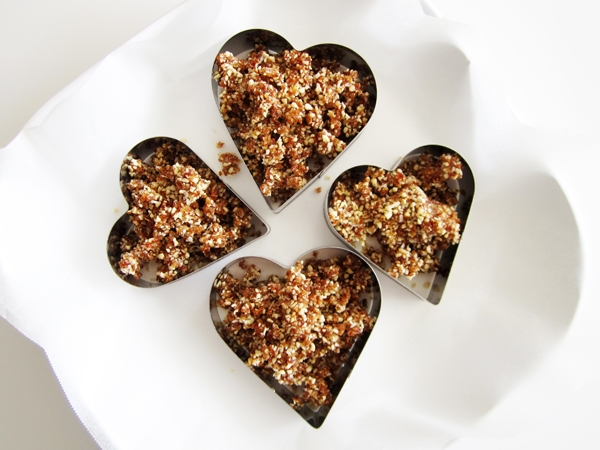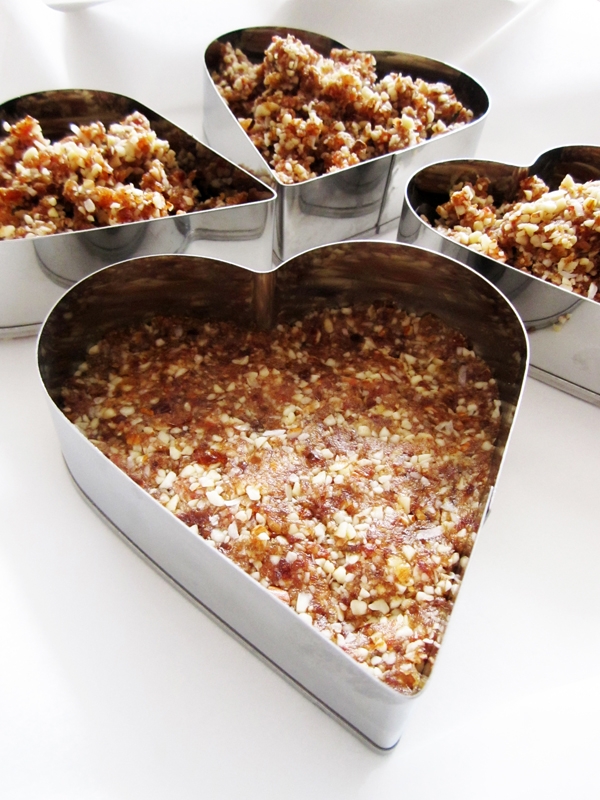 The first time I made this recipe, the filling consisted of cashews, coconut oil, coconut cream, fresh mango, agave and vanilla extract. When I made these again this week though, I added some fresh lime juice/zest and fresh mint. While totally optional, they balance-out the sweetness of the mango/agave  and add a refreshing zing!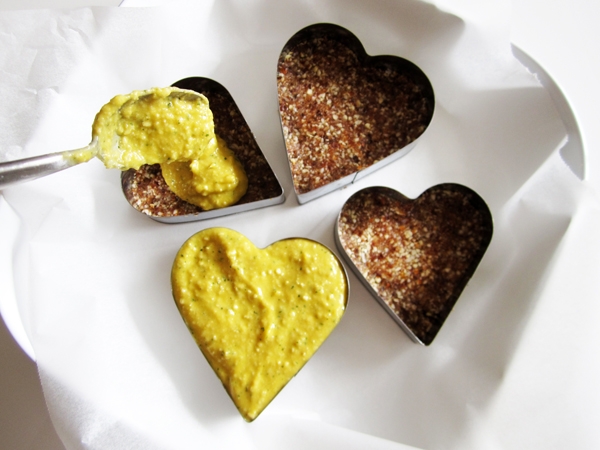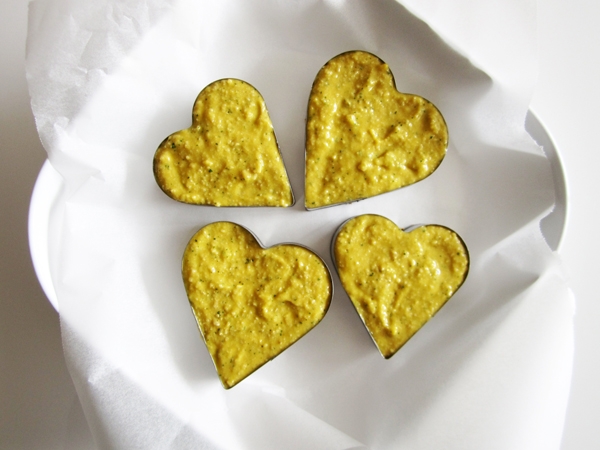 This recipe makes enough filling to fill 4 large cookie cutters. In my case, I used 2 large heart-shaped ones, and 2 smaller ones. That left me with a little bit of leftover filling that I promptly… ate. Definitely an "error in my favor"!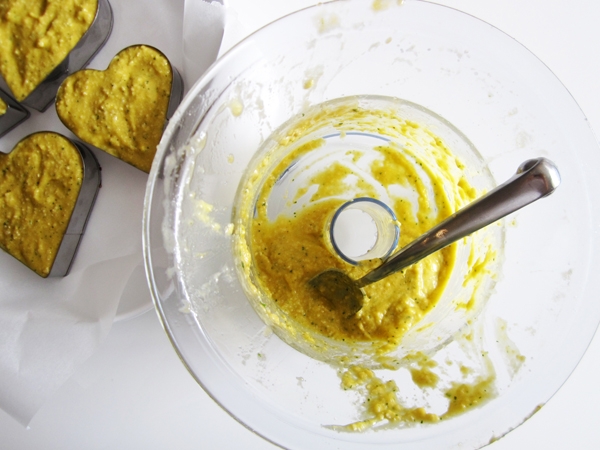 Notes
The trick to using cookie cutters for mini raw cheesecakes is to let them set in the freezer for a couple hours, gently push them up (from the crust side), and then refrigerate them until ready to serve.
I recommend using "simple" cookie cutters, instead of those with delicate/small details and shapes. You'll want to easily push the cheesecakes up and out of the cookie cutters, without worrying about them falling apart.
I was a bad girl. I didn't soak my cashews long enough, so that's why batter was a bit chunky. So I highly recommend soaking your cashews overnight. That will ensure that your batter is velvety smooth.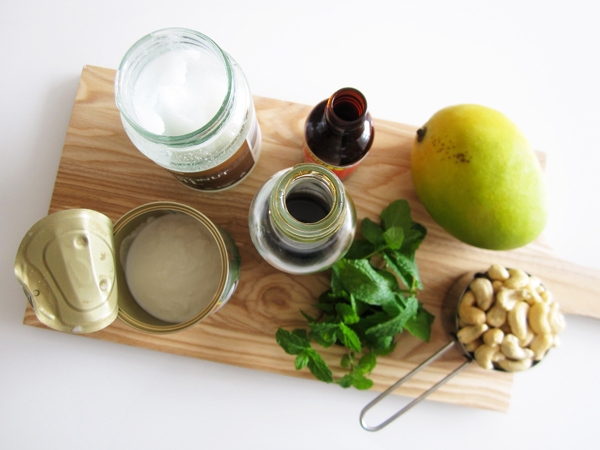 Raw Mango Cheesecake
Sweet mango, zesty lime, refreshing mint and an almond-based crust combine to make these yummy (but healthy) mini cheesecakes. Raw, Vegan, Gluten-Free!
Author:
Angela @ Vegangela.com
Ingredients
Crust
⅓ heaping cup raw almonds
¼ cup medjool dates
2 tbsp dried coconut
⅛ tsp vanilla extract
pinch of salt
Filling
1 small mango
½ lime, zested and juiced (optional)
½ heaping cup cashew kernels (soaked overnight, and drained)*
3 tbsp coconut oil
3 tbsp agave or maple syrup
2 tbsp coconut cream or coconut milk (optional)
1 tbsp fresh mint (optional)
½ tsp vanilla extract
Instructions
In a food processor, mix all the crust ingredients until it forms into crumbs, about a minute.
Evenly distribute the crumb mixture into 4 large cookie cutters** and press-down evenly to form the "crusts". Set aside.
In a high powered blender or food processor, blend the mango, lime juice and zest, cashews, coconut oil, agave, coconut cream, mint and vanilla. Blend until it is creamy, about a minute.
Pour the filling into the cookie cutter bases and place them in the freezer to set, about 2 hours***.
Remove cheesecakes from freezer and let sit on counter for 5 minutes (but no longer or they will be too "mushy". If that happens, just return them to the freezer until reset). Using your thumbs, gently push them up from the bottom of the crusts and plate them. Wait another 5 minutes before serving, or place them in the fridge until ready to serve.
Garnish with fresh mint leaves, lime zest and/or mango slices.
Notes
* For best results and a velvety-smooth filling, be sure to soak the cashews overnight.
** For a full-size cheesecake, multiply the ingredients by 4 and use a 10" spring-form pan.
*** May be stored in the freezer, well-covered, for a couple weeks.

Adapted from http://www.rawfoodrecipes.com/recipes/raw-vegan-mango-e2809ccheesecakee2809d.html