Pinterest is a life-changer, isn't it? I used to have to scroll through hundreds of bookmarks to find saved recipes. Now, whenever I'm looking for inspiration – for food, for fashion, or for the home – I can just go to my Pinterest boards and find just the thing I'm looking for. Love it!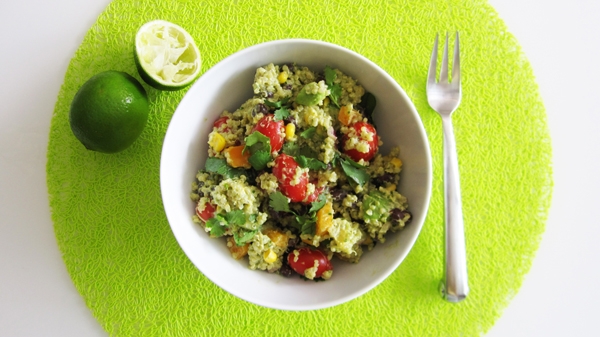 Today's recipe was inspired by a recipe for Southwestern Pasta Salad with Creamy Avocado Dressing that I pinned a while back. Those tastes and colors looked too good pass up! But if you're a long-time reader, you know that I like to put quinoa in pretty much everything. So I decided to modify the recipe by making it into a quinoa salad instead.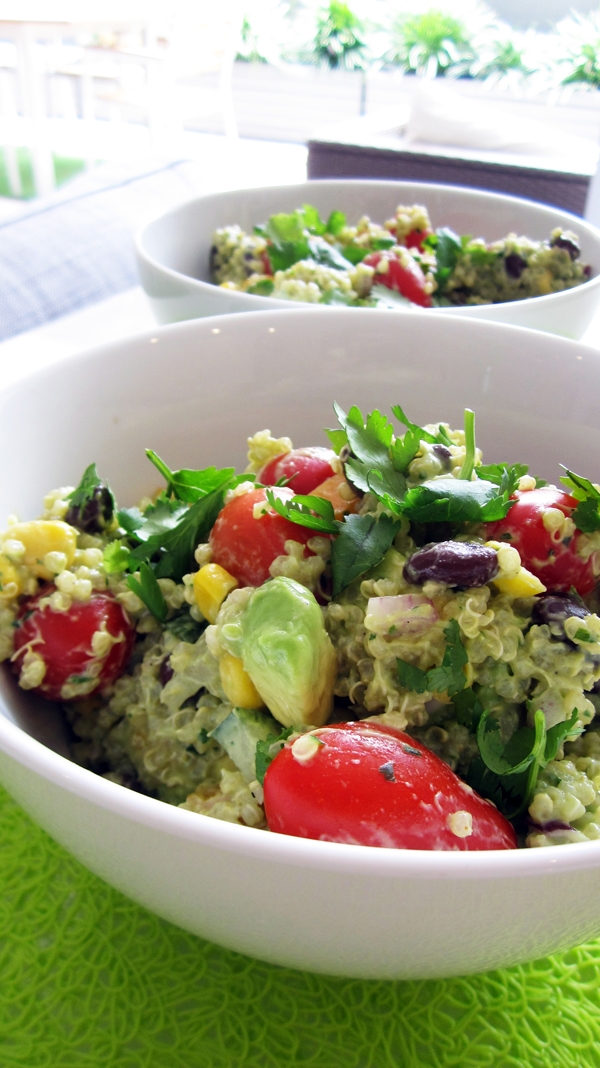 The result is a beautiful salad made up of fresh Southwestern ingredients: creamy avocado, plump grape tomatoes, lively corn and orange bell peppers, protein-packed black beans (and quinoa!), refreshing cucumber, zesty lime, and of course, lots of cilantro (fresh coriander).
The dressing is so thick and creamy, you could also use it as a dip. I can just imagine digging some corn chips in there. Mmm..!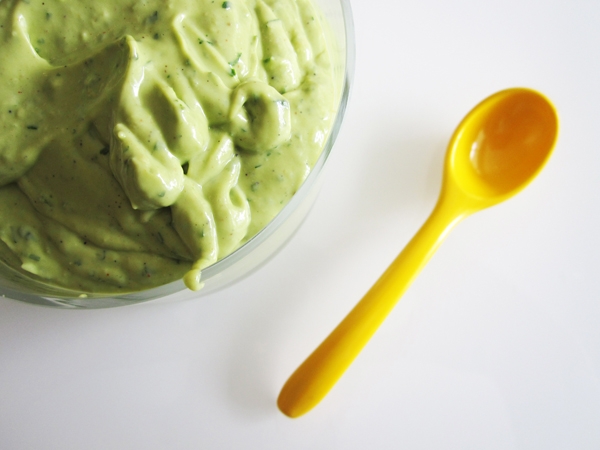 My Modifications to the Original Recipe
I replaced the pasta with quinoa. For day-to-day salads, I prefer using quinoa over things like pasta and couscous, mainly because I like the protein-punch that quinoa provides, and also because I feel better when I eat gluten-free. 1 cup of quinoa (once cooked), along with all the veggies made a large salad, enough to feed 4 people.
I played with the veggie combination by increasing the grape tomatoes, removing the red bell pepper, increasing the orange bell pepper, decreasing the red onion, and adding cucumber.
I veganized the dressing by replacing the buttermilk and Greek yogurt with silken tofu and tahini. It was just a bit too thick, so I added 3 tbsp of water to get things moving. I didn't have a jalapeno on hand, so I used 1/8 tsp of chili powder. I kept the 1/4 tsp of cumin because I can't get enough of the stuff. Otherwise, I pretty much just halved all the ingredients, and it was more than enough to create a perfectly creamy quinoa salad.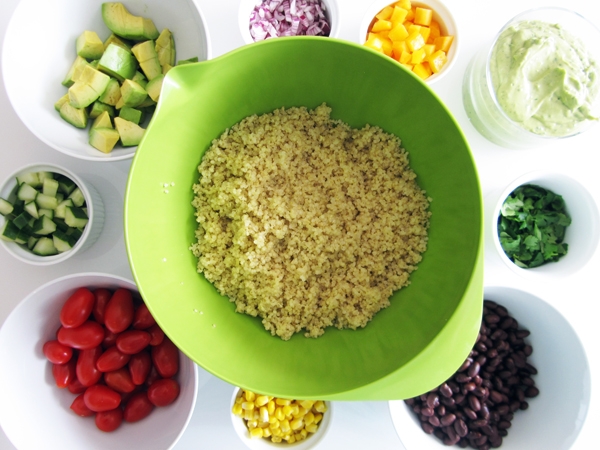 | | |
| --- | --- |
| | |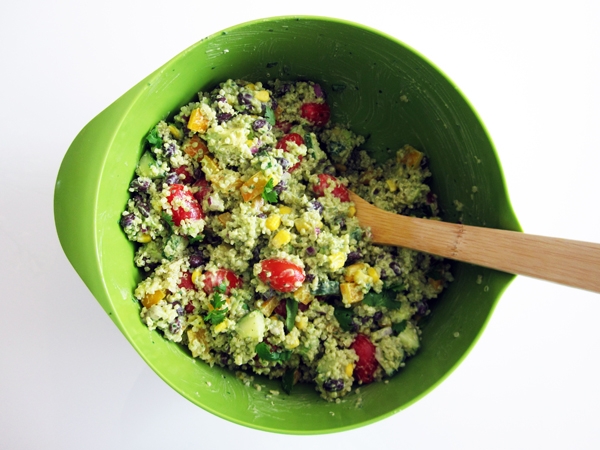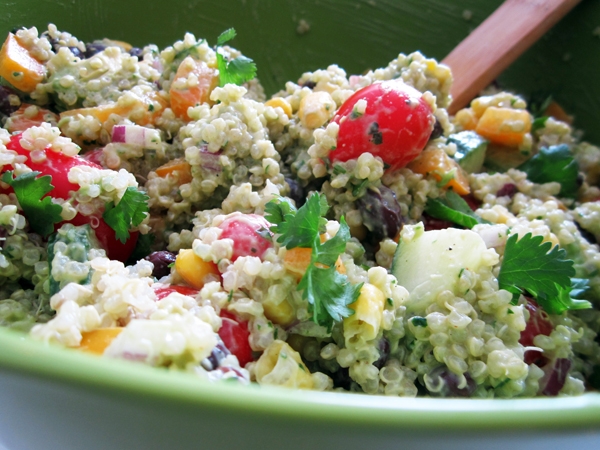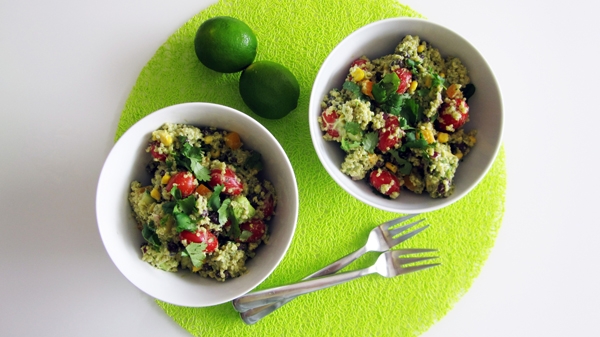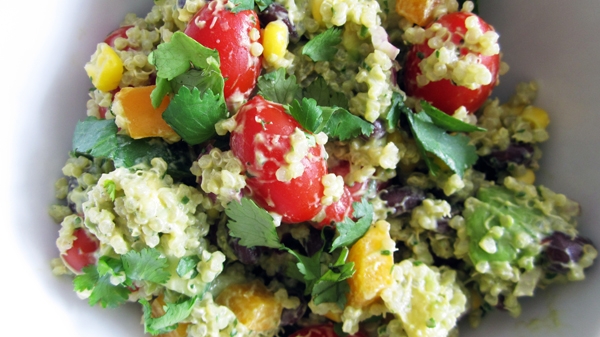 Southwestern Quinoa Salad with Creamy Avocado Dressing
This Southwestern quinoa salad features pump grape tomatoes, lively corn and orange bell peppers, protein-packed black beans, refreshing cucumber and a creamy avocado dressing. Vegan & Gluten-Free!
Author:
Angela @ Vegangela.com
Cuisine:
Mexican, Southwest, Tex-Mex
Ingredients
Salad
1 cup uncooked quinoa
1 (15 oz) can black beans, drained and rinsed
1 small punnet (200g) grape tomatoes
1 orange bell pepper, diced
1 large avocado, peeled, seeded, and diced
½ cup diced cucumber (seeds removed)
½ cup sweet corn (canned or frozen/defrosted)
¼ cup diced red onion
Salt and pepper, to taste
1 lime, for juicing over the salad
¼ cup chopped cilantro (fresh coriander)
Creamy Avocado Dressing
1 ripe avocado, peeled and seeded
¼ cup silken tofu
1 clove garlic, minced
3 tbsp water
2 tbsp chopped cilantro (fresh coriander)
1 tablespoon tahini
1 tablespoon chopped green onion
1 tablespoon fresh lime juice
¼ teaspoon ground cumin
⅛ tsp chili powder
Salt and ground black pepper, to taste
Instructions
Place the quinoa along with 2 cups salted water in a medium saucepan. Cover and bring to a boil, then reduce to the lowest heat setting. Simmer until water is completely absorbed and quinoa is fluffy, about 20 minutes.
While the quinoa is cooking, make the Creamy Avocado Dressing. Combine all of the dressing ingredients in a blender or food processor and blend until smooth.
In a large bowl, combine quinoa, black beans, tomatoes, bell peppers, avocado, cucumber, corn, red onion. Pour dressing over quinoa salad and stir until salad is well coated. Season with salt and pepper. Squeeze fresh lime juice over the salad, so the avocado doesn't brown. Garnish with chopped cilantro and serve at room temperature or chilled.
Notes
Adapted from: http://www.twopeasandtheirpod.com/southwestern-pasta-salad-with-creamy-avocado-dressing