I was going through old photos on my hard drive the other day and realized that I totally forgot to share this amazing chocolate chip cookie recipe with you!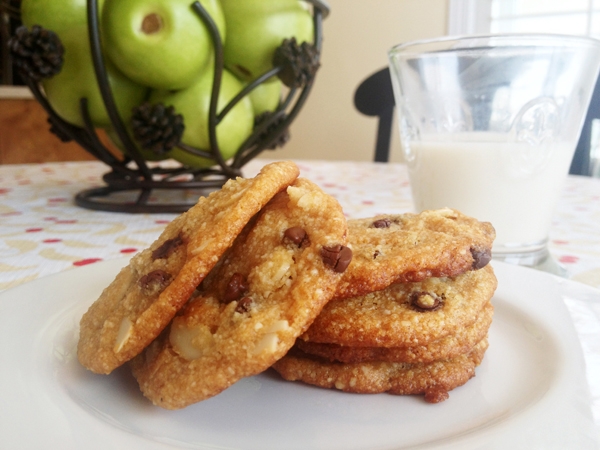 The cookies are thin and very soft, so they almost melt in your mouth. If you've ever had Keebler Soft Batch Chocolate Chip Cookies, then you know what I'm talking about!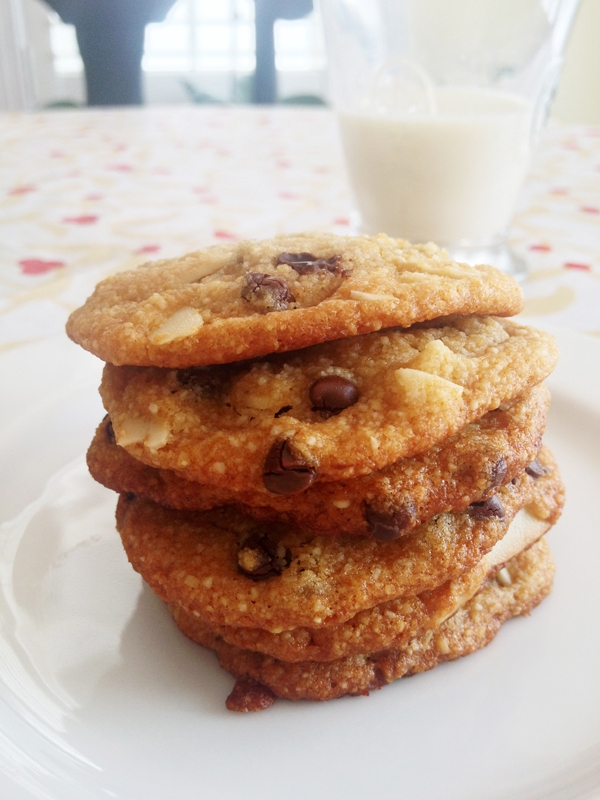 The best part about these cookies is they they're on the healthy side. They contain a ton of almonds, so they're a great source of protein and vitamin E. And because they don't contain any wheat, they're 100% gluten-free!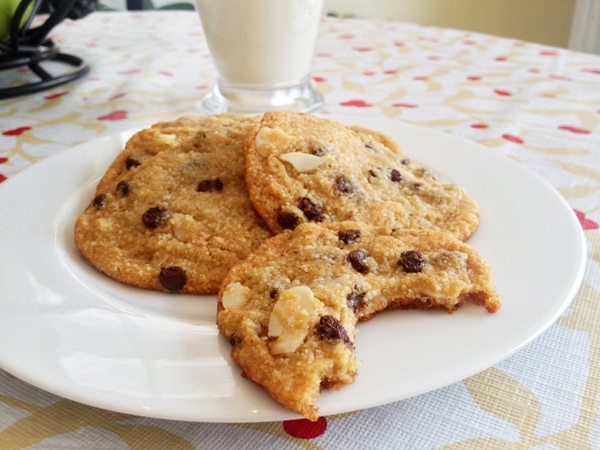 Speaking of almonds, I like that these cookies use almond flour instead of a bunch of "fancy" gluten-free flours or mixes.Many grocery stores carry almond flour now, otherwise you should be able to buy it from your local health food store or from Amazon.You can even make it yourself using a food processor – just pulse some blanched almonds until you have a flour-like consistency.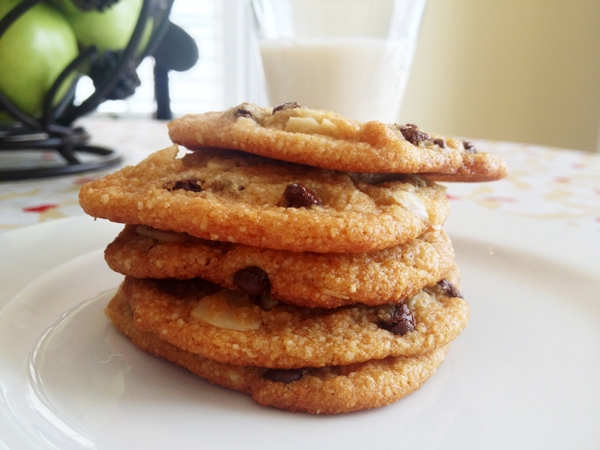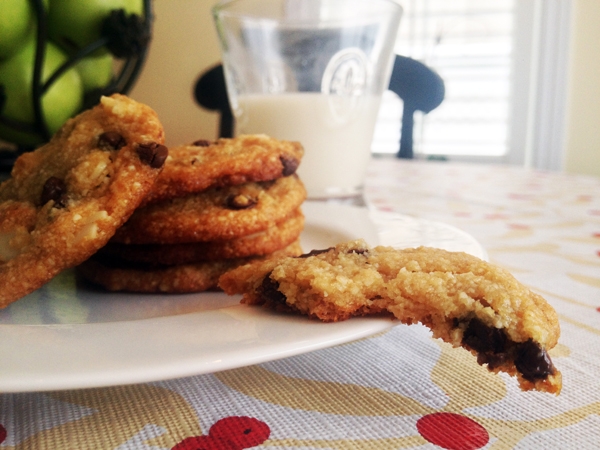 My mom made these cookies for me when I was home for Christmas back in 2012 after seeing the recipe in her local newspaper. The recipe comes from the Almond Board of California and the recipe is also available on their website. They actually have a whole list of vegan recipes there that are worth a look through! Anyway, I loved the cookies so much that I asked her to scan a copy of the recipe for me (See how she marked them as "vegan"? She's the best!):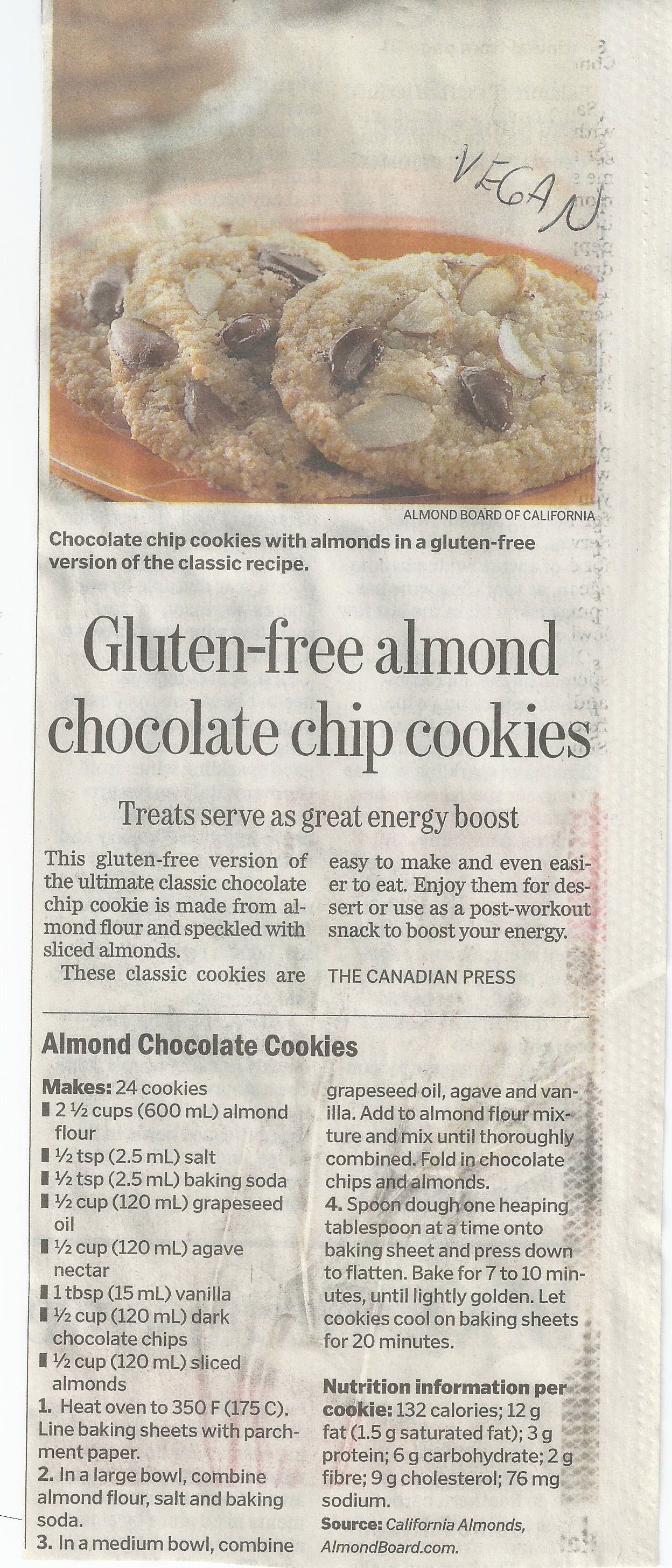 Isn't it such a great recipe? I love how simple it is and the fact it's vegan (just make sure you use vegan chocolate chips).
Updates
March 1, 2014 – A reader inquired about the amount of cholesterol listed on the scanned recipe (see comments below). He's right: 9g of cholesterol seems really off! I checked against the online recipe and there's actually NO cholesterol in these cookies. Here's the breakdown for each cookie:
Calories 132; Fat 12 g; Sat Fat 1.5 g; Mono Fat 5 g; Poly Fat 5 g; Protein 3 g; Carb 6 g; Fiber 2 g; Cholesterol 0 mg; Sodium 76 mg; Calcium 33 mg; Potassium 100 mg; Vitamin E 4.5 mg;
July 13, 2014 – Feel free to use softened coconut oil instead grapeseed oil – I do that all the time!