While my first passion is food, I also love good-quality vegan beauty products. This is a running list that I will continue to update as I discover new HG ("Holy Grail") products. For more info, check out my: Vegan Beauty Product Reviews Pinterest Board – "Vegan Beauty Products – Reviews" Pinterest Board – "Vegan Beauty Products To Try" (my wishlist)
Last Updated: June 12, 2016
---
Body
Perfumes
From candles and diffusers, to sprays and lotions, I love everything from Pacifica. They're a 100% vegan line of home and beauty products that smell absolutely incredible. If I had to pick a favorite, it would be their solid perfume tins. They're affordable, lightweight and air-travel friendly. I always have one or two of them in my handbag, and I love giving them to my girlfriends. My favorite scents right now are Hawaiian Ruby Guava, Indian Coconut Nectar, Tuscan Blood Orange and Mexican Cocoa.
Where to buy:
Amazon
iHerb — Get 10% OFF your first order with code FWK570
Pacifica
---
Body Lotion
I've been giving Alba Botanica Kukui Nut Body Cream to friends for years and now so many people I know are hooked on this awesome vegan body cream! It's rich and creamy and smells kind of like chocolate. I use it year-long, but it's especially essential if I'm going somewhere tropical and my skin needs some after-sun pampering.
Update: Lately I've also been loving Alba Botanica Cocoa Butter Hand & Body Lotion. It has a great consistency and smell, and I like that it comes in a tube rather than a tub.
Where to buy:
Alba Botanica
Amazon
iHerb — Get 10% OFF your first order with code FWK570
---
Body Scrub
This Giovanni Cool Mint Lemonade Salt Scrub smells incredible and is so wonderfully refreshing — it's like a frosty margarita for your body. Makes a great gift too!
Where to buy:
Amazon
iHerb — Get 10% OFF your first order with code FWK570
---
Razors

I'm a big fan of Dollar Shave Club. Great-quality vegan razor blades delivered monthly. What's not to love? I share a subscription of the "4X" blades with my man, and we have more than enough blades to get us through the month. I even had to pause our subscription recently because we had blades piling-up, but that's not a problem because you can pause/cancel anytime.
Where to buy:
Dollar Shave Club
---
Shaving Cream
I've been a soap-and-razor girl my whole life. But I recently discovered Alba Botanica's Very Emollient Cream Shave in Mango Vanilla and the smell alone has me actually looking forward to shaving. It also comes in aloe mint, coconut lime, sea mist, and unscented scents, as well as a foam formulation.
Where to buy:
Amazon
iHerb — Get 10% OFF your first order with code FWK570
---
Hair
Shampoo & Conditioner
Acure Organics Moroccan Argan Oil and Argan Stem Cell Natural Shampoo and Conditioner is very gentle on hair and it smells like sweet almonds or marzipan (some people hate the smell, but I adore it and think it smells like cookies). The conditioner is has more of a liquid texture than most thick and goopy conditioners, but it's very moisturizing without weighing my hair down.
Where to buy:
Amazon
iHerb — Get 10% OFF your first order with code FWK570
Acure Organics
---
Colour Depositing Shampoo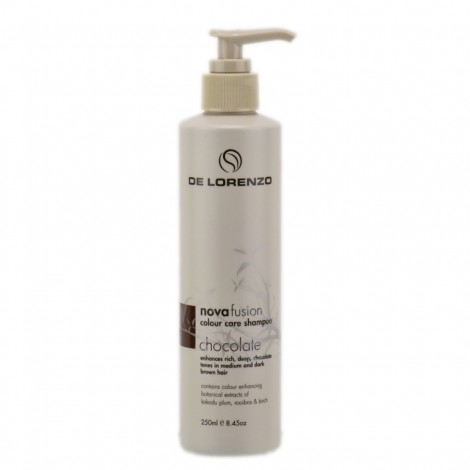 De Lorenzo is an Australian and 100% vegan hair care range. I use De Lorenzo Nova Fusion on my hair once a week and the Chocolate shade does a great job of enhancing my natural colour and covering (or at least blending) my greys. Because it's a dye, it's drying on the hair, so you'll want to follow-up with a good conditioner.
Where to buy:
Amazon
De Lorenzo
---
Serum / Heat Protectant
I love this 2-in-1 product! I apply Giovanni Frizz Be Gone Serum after washing and before heat styling to protect my hair, and also a bit to the ends on non-wash days to prevent frizz and add a bit of shine without weighing my hair down.
Where to buy:
Amazon
iHerb — Get 10% OFF your first order with code FWK570
---
Skincare
Cream Cleanser
I love this Sukin Cream Cleanser – it easily removes stubborn makeup and it smells incredible. Bonus that it's from a 100% vegan company that is committed to making natural and super affordable skin care products!
Where to buy:
Amazon
Lush Cosmetics
---
Cleanser Bar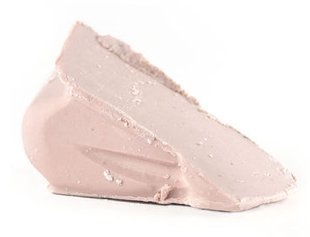 I've been using Lush's Fresh Farmacy Soothing Calamine Cleanser Bar ever since my university days. The formula is so creamy and calming, perfect for when my skin is breaking out or just feeling overly sensitive.
Where to buy:
Amazon
Lush Cosmetics
---
Facial Wipes
These are my favourite facial wipes – strong enough to remove stubborn makeup, yet gentle enough to not sting my sensitive eye area. I use the sensitive and regular ones interchangeably and find they're equally good. I leave a pack by my bed, so if I'm too lazy to wash off my makeup in the bathroom, I can quickly swipe it off in bed.
Where to buy:
WotNot
---
Daily Sunscreen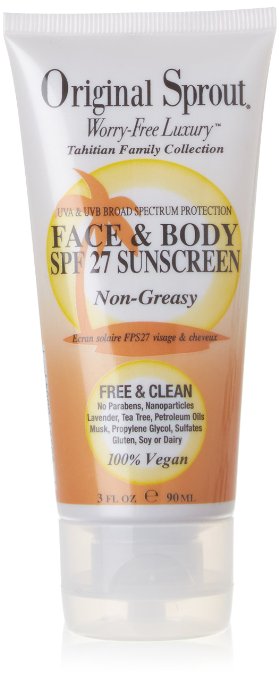 After reading countless reviews and trying many different facial moisturizers, I have finally settled on a favourite. Original Sprout Face & Body SPF 27 Sunscreen ticks all the boxes for me: it has high SPF, doesn't have any nasties, isn't greasy, works under makeup and smells great. Bonus that it's so affordable too!
Where to buy:
Amazon
iHerb — Get 10% OFF your first order with code FWK570
Original Sprout
---
AHA Peel
Eating right, drinking lots of water, working out, getting enough sleep, and using a good SPF can go a long way in making you feel and look younger than you actually are. But sometimes you need a little help, and that's where AHAs come in. The Evenly Radiant Overnight Peel With Alpha Hydroxy Acids from derma e gets a great review from beauty product reviewer Paula Begoun. I've been using it for a few weeks now, and I've been very pleased with the way my skin looks and feels in the morning. Derma e is a family-owned 100% vegan skincare line that doesn't contain harmful parabens, phthalates,sodium lauryl sulfate, petrolatum, mineral oil, artificial colors or GMOs.
Where to buy:
Amazon
derma e
iHerb — Get 10% OFF your first order with code FWK570
---
Coconut Oil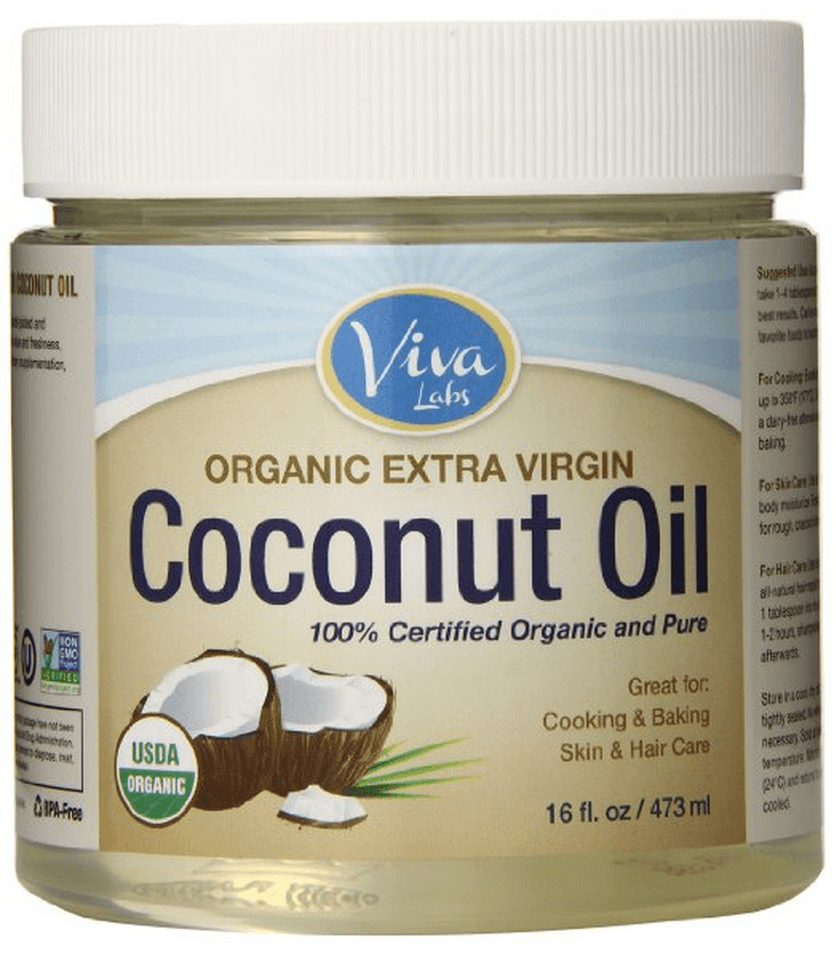 I've replaced margarine with coconut oil in most of my baking, and I've also been using it in my beauty regime for some time now. My favorite uses for it are as a deep conditioner for my hair (put it on, wrap a warm towel around your head for 20 minutes, wash it out), and as a gentle eye makeup remover (it does wonders on waterproof makeup). Try to buy cold-pressed extra virgin organic coconut oil if you can. For more info and tips on using coconut oil, read my "What is Coconut Oil?" post.
Where to buy:
Amazon
iHerb — Get 10% OFF your first order with code FWK570
---
Makeup
Liquid Foundation
I've tried cheap stuff and I've tried expensive stuff, but keep coming back to Australis Stayput Foundation. It goes on silky, has SPF 15, and has a light citrus smell. Not all Australis products are vegan, but they clearly indicate those that are on their website.
Where to buy:
Amazon
Australis
---
Tinted Moisturizer

I use Paula's Choice Resist Super-Light Wrinkle Defense SPF 15 on weekends or days when I don't want as much coverage. It's got SPF, works well under makeup, and doesn't leave my face oily at all. Folks with dry skin might need something more moisturising, but this is perfect for all the combo/oily skinned people out there.
Where to buy:
Paula's Choice
---
Concealer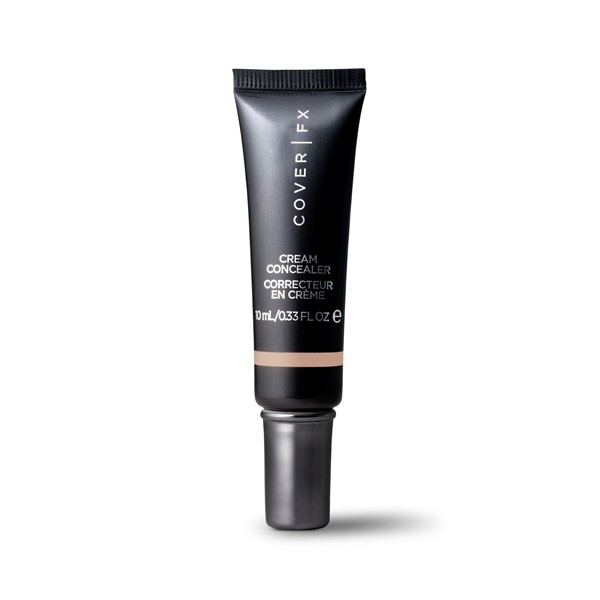 The best concealer money can buy, and while it's on the pricey side, a little goes a long way so a tube will last you a long time. I've had mine for over 6 months and I use it to cover my under eye circles every single day.
Where to buy:
Cover FX
---
Kabuki Brush
Too Faced sweetly claim that their cruelty-free Kabuki Brush is made with "100% teddy bear hair". Love it! While this brush may seem on the pricey side, it's a good quality tool that will last you for years. I use mine with my bronzer everyday and hand wash it every other week. I even bought it for my mom a few years ago and she still talks about how great it is. I can't say enough good things about this brush!
Where to buy:
Amazon
Sephora
Too Faced
---
Bronzer
This is another product that I've been using for years. There are certainly cheaper alternatives on the market, but I keep going back to the Sun Bunny Natural Bronzer from Too Faced because of how natural looks. It gives me a sun-kissed glow any time of the year, the packaging looks great, there's a mirror inside the compact's lid, and one of these babies lasts me about a year and a half. Love!
Where to buy:
Amazon
Sephora
Too Faced
---
Cheek Stain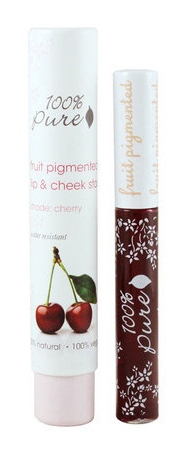 I've just recently discovered Fruit Pigmented Lip & Cheek Stain from 100% Pure (July 2014) and I just love it. It has a similar effect to Benefit's (non-vegan) cheek stain, but it's coloured from fruit and vegetable pigments and like most products in the 100% Pure range, it's vegan and gluten free. I love the rosy pink tint it gives my cheeks, which lasts for hours (if not all day). And it stains your lips with a beautiful colour, as though you've just eaten a cherry-flavoured popsicle. See my Instagram snap to see what I mean.
Where to buy:
Amazon
100% Pure
Australia: Nourished Life
---
Lipstick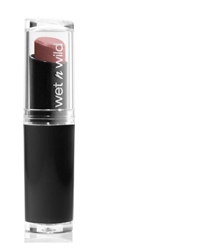 Super affordable and providing great coverage, Wet n Wild's Mega Last Lip Color is my go-to vegan lipstick. I particularly love the shade #902C (Bare It All) – it's the perfect nude matte lipstick, and you can top it off with a bit of gloss if you want a shiny look. (Note: not all Wet n Wild products are vegan, as some do contain carmine. Here's a complete list of Wet n Wild's vegan products.)
Where to buy:
Amazon
Beauty Joint
---
Gloss Stain
My latest obsession! I love how the brush applicator in these Milani Power Lip Lasting Gloss Stains lets me apply just a bit of product for a light stain, or more for a glossy look that eventually wears down to the stained look. They're a great option for long work days when I don't have time to think about or touch-up my makeup. My favorite shares are Creamy Cafe, Mango Tango, Red Control, Cabaret Blend and Pink Lemonade.
Where to buy:
Amazon
Beauty Joint
---
Liquid Lipstick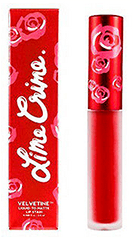 The standard in liquid-to-matte lipsticks for a reason, Lime Crime Velvetines smell incredible, feel great on, and last all day. I own (and love) the shades Red Velvet, Riot, Bleached and Suede Berry, and am planning on trying more ASAP!
Where to buy:
Amazon
Limecrime
---
Liquid Lipstick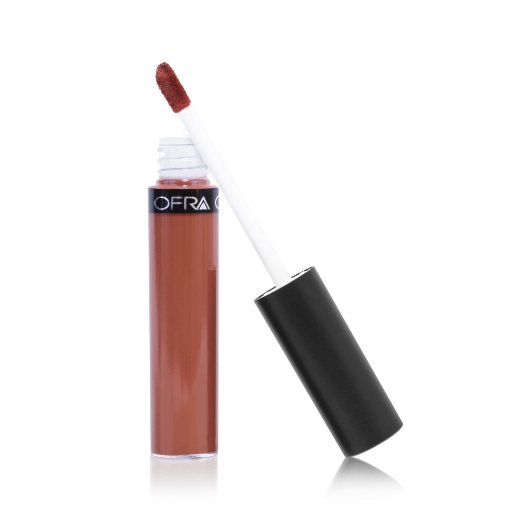 I first discovered Ofra Long Lasting Liquid Lipstick when a tube in the shade Plumas was included in my January 2014 Vegan Cuts Beauty Box. I've since tried a few more of their shades, but my favourite so far is Miami Fever (pictured above). It's a gorgeous dark orange shade that's perfect for Fall (and seems to flatter all skin tones). These look and smell amazing, and while they're not as long-lasting as the Limecrime Velvetines, they're also not as drying on the lips.
Where to buy:
Amazon
Ofra Cosmetics
---
Brow Pencil

If you live in Canada you're in luck because the Canadian-owned Annabelle Skinny Brow Pencil is the best brow pencil I've ever used. It's a skinny retractable waxy pencil similar to Anastasia Beverly Hills' Brow Whiz, but it's a great dupe at over half the price. A must for anyone looking for a more defined brow!
Where to buy in Canada:
Annabelle
Shopper's Drug Mart
Walmart
---
Mascara
Everyone has a favourite mascara and this is mine. Milani Distinct Lash Mascara adds good volume and length, doesn't flake and is a steal at under $10.
Where to buy:
Walmart and most good drugstores in the USA
Amazon
Beauty Joint
---
Nails
Nail Lacquer
I recently found out that the Butter London Patent Shine 10x range is vegan, but the original range is not. I've tried shades in this new range and they're just as good as the originals, so I'm using-up my old favourite (Come to Bed Red) and switching to the new range ASAP. These go on incredibly smooth, are very shiny, and have excellent staying power when topped with a top coat.
Where to buy:
Amazon
Butter London
---
Nail Lacquer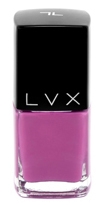 I'm not usually a "pink" girl, but I really like this LVX Nail Lacquer in "Orchid". Like the Butter London polish I mentioned above, this also goes on very smooth and dries quickly. And I can even get away with one coat!
---
Q: Do you have a favorite vegan beauty product? Please share it in the comments area below!