I met a cool girl named Tess at an Indian vegan cooking workshop (more on that later) a few months back, and after connecting on Facebook and seeing some of my food photos, she asked for my beetroot risotto recipe. I've been procrastinating on getting back to her, but then today she left me an awesome comment about my Caramel Apple Muffins post and I felt a bit guilty for taking so long to get back to her. So although I wasn't going to post this so soon after the Gourmet Mushroom Risotto recipe, here it is… for you, and for Tess: the best vegan cupcake maker that I've met in 15 years!
I developed this recipe from two non-vegan recipes, one from Marie Claire magazine, and the other from Canadian Living magazine. One of the recipes has you roast the beets in the oven and cut them into small chunks before adding them to the risotto, while the other recipe just calls for freshly grated beets. It all comes down to whether you want chunks of beetroot in your risotto, as well as how much time you have (roasting beforehand will take an extra hour). I've included both options in the recipe below.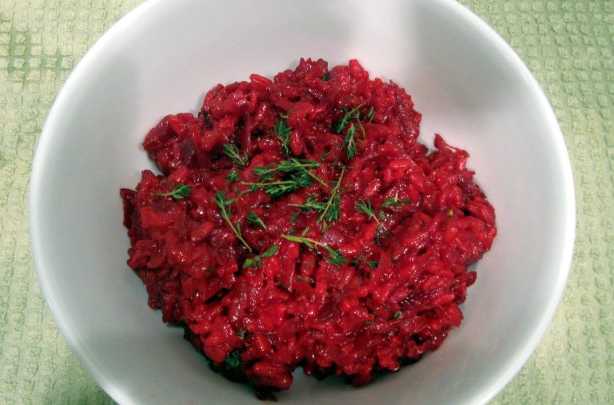 Note: this isn't really a "main course" risotto, like mushroom risotto, which is so complex and hardy. However, this makes a fabulous side dish or starter, as the vibrant color would liven-up any plate.
Also, if you're looking for a healthier alternative to using (white) arborio rice, check out Vegan Epicurean's Beet Barley Risotto with Wilted Beet Greens recipe. I'm looking forward to trying it myself very soon!

Vegan Beetroot Risotto
Author:
Angela @ Vegangela.com
Ingredients
2 beets
1 litre vegetable stock
2 tbsp olive oil
2 cloves garlic, minced
¼ cup shallots, peeled and finely chopped (or 1 small onion, peeled and finely chopped)
1 cup arborio rice
¼ cup vermouth, or white wine
1 tsp salt
½ tsp pepper
2 tbsp vegan margarine
fresh parsley or thyme, for topping
Instructions
If you want chunks of beetroot throughout the risotto, wrap the beets in foil and roast them in the oven at 350F (180C) until tender, about 1 hour. Peel and chop into ¼ inch (5mm) cubes to make 3 cups; set aside. Alternatively, wearing latex gloves, peel the beetroot with a small pairing knife and grate into a bowl; set aside.
Place vegetable stock in a saucepan over high heat and bring to the boil, then reduce heat to a low simmer.
Heat oil in a large, heavy-bottomed saucepan over medium-high heat. Add garlic, and shallots/onion, and cook until onion is soft, about 3 minutes.
Add rice, stirring to coat and toss grains, about 2 minutes.
Stir in vermouth/wine until absorbed.
If using fresh shredded beets, add them now.
Add stock, ½ cup at a time, stirring after each addition until most of the liquid is absorbed before adding more, about 20 minutes total. Rice should be loose, creamy but not mushy, and al dente (still slightly firm at center of grain).
If using cooked beets, add them now.
Add salt and pepper, and stir in margarine.
Serve in warmed bowls, and scatter with fresh parsley or thyme.