Vegan MoFo #25 – My favorite risotto recipe is easily my mushroom risotto. I love the creaminess of the rice, and the earthiness of the various mushrooms and truffle oil. It requires opening a bottle of white wine, and I enjoy the process of making it: add broth… stir rice… sip wine… repeat! However, I know that the white arborio rice used to make traditional risotto isn't all that healthy. So I sometimes feel a bit guilty after eating it (especially when I go back for seconds!)
I had heard about people using cauliflower to replace mashed potatoes or white rice. You see, although cauliflower is white, and technically still a carb, it packs way more nutrition than white rice. According to Wikipedia: Cauliflower is low in fat, high in dietary fiber, folate, water and vitamin C, possessing a very high nutritional density. Cauliflower is a source of indole-3-carbinol, a chemical which boosts DNA repair in cells and appears to block the growth of cancer cells. The compound also appears to work as an anti-estrogen, appearing to slow or prevent the growth of tumors of the breast and prostate. Cauliflower also contains other glucosinolates besides sulfurophane, substances which may improve the liver's ability to detoxify carcinogenic substances.A high intake of cauliflower has been found to reduce the risk of aggressive prostate cancer. Summary: eat more cauliflower!
I wondered whether there was a risotto recipe out there replacing rice with cauliflower. I found this recipe from Dinner at Christina's and I was intrigued, so I decided to try it out. I replaced the parmesan with nutritional yeast to make it vegan, and also added some wine, margarine, oyster mushrooms and truffle oil to mimic my traditional recipe.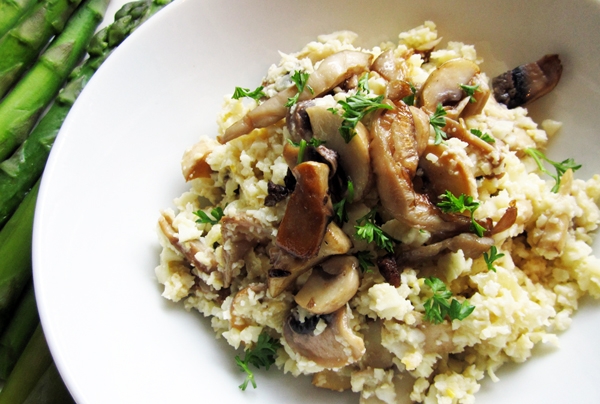 It turned out so well, and I can honestly say that it was a great replacement for my traditional recipe. It's light and tasty, and sure, it's not as gooey and creamy as the real thing, but I think it's a really great healthy alternative. You can't taste the cauliflower at all, so for those of you who might not be huge fans of it, I would highly recommend that you still try this!
The trick to keep it light and fluffy is to only use the cauliflower florets, and not any of the thick stem. This is a great base risotto recipe, so you could omit the mushroom/truffle oil combo and replace with other famous risotto combos, such as fava beans & saffron, or fennel & peas. I'll definitely be experimenting with more combos now that I don't have the white-carb guilt to deal with!

Vegan Low-Carb Cauliflower Risotto
Made with cauliflower "rice", this cauliflower risotto / low-carb risotto is a light and healthy alternative to traditional risotto. Vegan and Gluten-Free.
Author:
Angela @ Vegangela.com
Ingredients
3 Tbsp olive oil
450g mushrooms, chopped (I used just oyster, but any mix would be great)
1 head cauliflower, grated (either by hand or food processor)
¼ cup dry white wine
1 cup onion, grated
2 garlic cloves, minced
½ cup vegetable broth
6 Tbsp pine nuts, lightly toasted
2 Tbsp nutritional yeast
1 tsp salt
2 tbsp vegan margarine
pepper, to taste
truffle oil
Instructions
Heat 1 tbsp olive oil in a medium skillet and cook the mushrooms until tender; set aside.
Heat 2 tbsp olive oil in a large skillet over medium heat and cook the onions and garlic for a few minutes until the onion becomes translucent.
Add the cauliflower and wine, and cook for about 5 minutes, until the wine has evaporated.
Add the broth, reduce the heat and cover, letting it cook a few minutes. You'll want the cauliflower to be "al dente" with a little texture so it isn't just mush.
Meanwhile, pulse together the pine nuts, nutritional yeast, and salt until it forms a powdery consistency.
Remove the cauliflower from the heat and stir in the nut mixture until well combined. Stir in the margarine and season with pepper, to taste.
Stir in the mushrooms and drizzle some truffle oil on top before serving.