Vegan MoFo #30 I'm very sad to be posting my last entry for the Vegan Month of Food. It's been such an awesome experience, and I'm so happy to have connected with so many great vegan food bloggers from all over the world. It will take me the next 11 months to make all the yummy goodies I've bookmarked from you all! I look forward to keeping in touch throughout the year, and doing it all again next year – same bat-time, same bat-channel! 🙂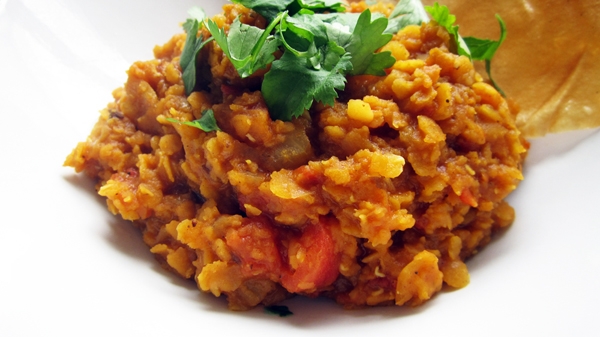 I was cleaning-out my kitchen cupboard yesterday (tiny, tiny ex-pat kitchen, which I will feature in a future post), and came across a big bag of red lentils. I decided to finally make this Delicious Pakistani Dhal – a recipe that I had bookmarked years ago. Then today, Jennifer left me a comment about my Cauliflower Risotto, and when I clicked on her link, her latest post was for a Red Lentil Dahl. Then shortly after that, I came across Drew @vegananimal's latest VeganMoFo post for Split Red Lentil Dhal. Add the fact that today is a cold and rainy day in Sydney, and it seemed obvious that the world was sending me a message: Darling, make some warm, delicious Dal!
(By the way, according to Wikipedia, Dal is also spelled Dahl or Daal, or Dhal. I have chosen to spell it as "Dal" to keep things simple!)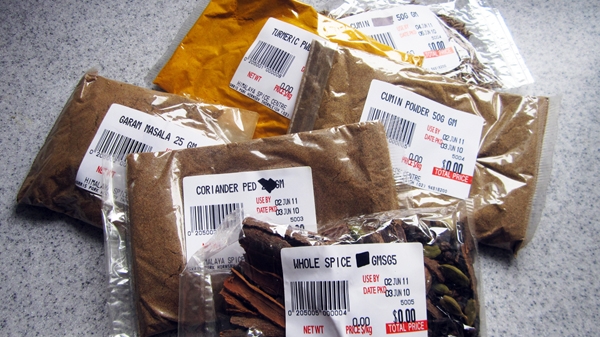 The VegWeb recipe seemed a little bit light on spices, but I didn't have everything on hand to make the other 2 recipes. So, I decided to use all three recipes as inspiration and go at it that way instead. Ever since I attended a vegan Indian cooking workshop back in August, I'm feeling more confident with spices – not to mention the fact that the spice pack that I received includes everything that I need.
Instead of serving this with rice, I decided to fry-up a couple papadums instead. I know it's probably not the traditional way to serve Dal, but I'm a Canadian cooking Pakistani Dal in Australia, so why not mess with tradition a little?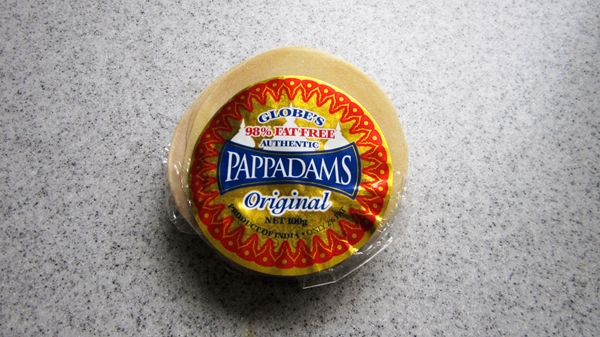 Updates
June 5, 2013 – I made this again today and decided to shoot some new photos and add them to this post… enjoy!

Delicious Vegan Dal
This easy curry is not only vegan and gluten-free, but also jam-packed with protein from all those lovely lentils. It may not look pretty, but it's a staple quick and healthy meal that should be part of any healthy diet!
Author:
Angela @ Vegangela.com
Cuisine:
Pakistani, Indian
Ingredients
1 cup dry red lentils
3 cups water
2 bay leaves
1 teaspoon curry powder
1 tsp crushed chillies (or more depending on the spice you want)
2 tbsp vegetable oil
1 tsp cumin seeds
1 tsp cumin powder
1 tsp coriander powder
1 tsp garam masala
½ tsp turmeric
1 onion, diced
1 clove garlic, minced
1 tbsp ginger root, peeled & chopped
½ (14 ounce) can chopped tomatoes
salt + pepper
fresh coriander (cilantro) for garnish
Instructions
Heat water in a pot until boiling. Add lentils and boil for 1 minute. Add bay leaves, curry powder, crushed chillies, and reduce heat to simmer.
While lentils are simmering, heat oil on medium-high heat add in the cumin seeds. Saute for 30 seconds or so until the seeds start popping. Add the remaining spices: cumin powder, coriander powder, garam masala, and turmeric. Stir constantly and allow to fry for another 30 seconds, ensuring that the spices don't burn or stick.
Add the onion, garlic, ginger, and cook until soft.
Add the tomatoes, and saute for another 3 minutes, reduce to simmer.
Once the lentils have absorbed all the water, add them to the spice mixture, and simmer for an additional 10 minutes. Season with salt + pepper, to taste.
Garnish with fresh cilantro and serve as-is, over basmati rice, or with papadums or flat bread.