My friend Karla loves Ruinart champagne. It's the oldest champagne house in France and it's absolutely delicious. Ruinart comes in a big fat bottle, and I thought that it would be fun to make bath salts and fill the bottle with them as part of Karla's Christmas gift this year. (She's not online very much so the odds of her seeing this are pretty slim. If you know her and are reading this, please don't spoil the surprise! That means you, Daina!)
I thought that I'd share this idea with you – in case you're running low on time (or cash) and are looking for gift-ideas. It's affordable and super fast to make, and it's great to have-on hand throughout the year as a last-minute gift, hostess gift, or for someone who is feeling under-the-weather. It's cheap but cheerful – and because you've made it yourself, it means so much more than some store-bought stuff!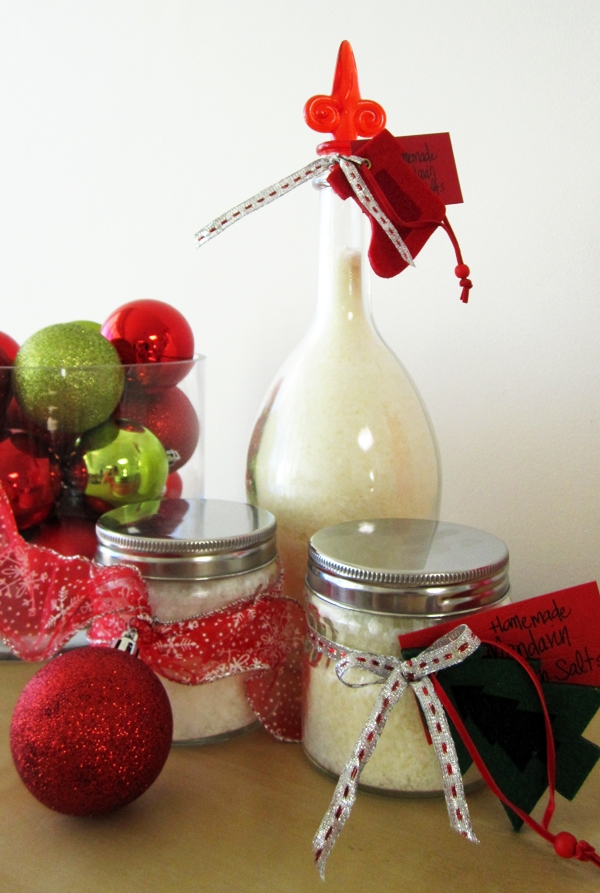 You can make this without any fragrance, making it perfect for people who have allergies or sensitivities to strong smells. If you do decide to use a scent, make sure it's a skin-safe essential oil. I chose mandarin orange essential oil because I like how fresh and clean it smells.
I scoured the web for bath salt recipes and decided on the combination below. You can also add a little bit of food coloring if you want. All the websites that I read say that it's safe and won't dye your skin or bathtub. However, I prefer products without a lot of dyes and artificial stuff, so I decided to leave it as-is. Naturally-derived dyes would be a good choice too, but remember to read the labels as they could contain animal by-products like cochineal. The mandarin essential oil that I chose had a golden hue, so it colored the salts a very pale yellow, which gave it a frothy champagne-like color and thus worked-out well for the champagne theme.
This recipe filled the 750ml bottle, as well as 2 little jars that I got from the dollar store. I was looking for a nice stainless steel stopper for the champagne bottle but didn't find any that I liked so I went with this red plastic one from the dollar store because it was pretty festive. Everything came-in under $20, and I have a little bit of the Epsom salts remaining , as well as half of the sea salts and baking soda. If you manage to score all of your ingredients at the dollar store or in bulk, this will be even cheaper.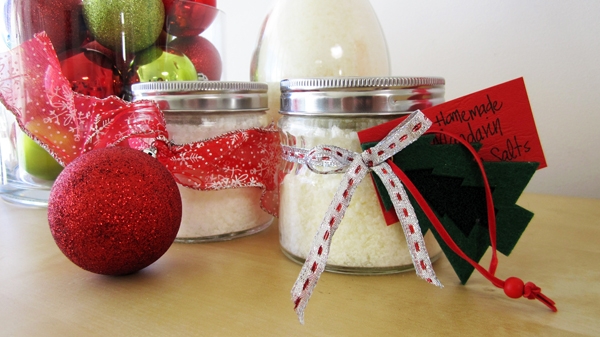 DIY Bath Salts
Author:
Angela @ Vegangela.com
Recipe type:
Beauty, Health
Ingredients
3 cups Epsom Salt
2 cups sea salt
2 tbsp essential oil
1 cup baking soda
Instructions
In a medium bowl, mix Epsom salts and sea salts.
Add essential oil and mix well to break-up any clumps that have formed.
Add baking soda and mix well.
Pour into *clean* glass jars.
And here are a few shots of our place – I try to decorate a little but I have to admit, it doesn't feel like Christmas without snow!