It's not everyday that you come across a recipe that will become a staple for your household and lifestyle. For me, it has to:
Contain simple ingredients that I normally have on hand
Be easy to prepare
Taste great while being healthy enough to eat each day
I recently discovered raw ice cream, which has quickly become one of those staples. (If you haven't tried that yet, then I urge you to do so!)
And now, I've added these "everyday truffles" to that category. While I make some pretty awesome vegan truffles, they're a little bit of a mess to put together and certainly not something you'd want to eat everyday. However, these little guys are full of healthy ingredients and they're super easy to make. If you can toss stuff into a food processor, then you've got a delicious and healthy snack/dessert! You don't even need a knife or a chopping board. Now that's what I'm talkin' about!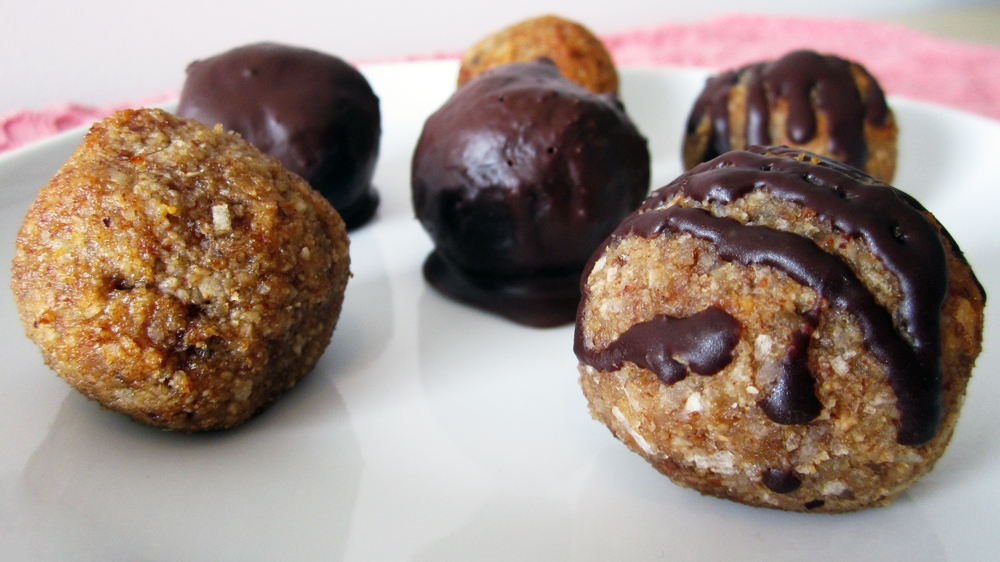 For the recipe and directions, check out Clean Eating Chelsey's chocolate covered dough balls (which I found via Living Lindsay's awesome blog).
Notes
The first time I made these, I made them plain, without any chocolate and they were so good that they didn't last long enough for a photo shoot. However, this week, I decided to make them again and dipped/drizzled two-thirds of them with chocolate, and all I can say is: WOW. They're so decadent with the chocolate – but truly and honestly, they're great either way so feel free to make both versions.
I used 3 tbsp of apple sauce, as per Chelsey's version, but I used a total of 3 tbsp of maple syrup instead of the maple syrup/agave nectar combo. Lindsay uses date syrup, which sounds great too.
I used walnuts instead of pecans, but feel free to use either, as per Lindsay's recipe.
I even made a couple of these without baking them (and without the chocolate). I just formed the balls and put them into the fridge to harden, and they were equally great. They were possibly a bit mushier, so probably not as good if you plan on transporting them, but great if you just plan on eating them out of the fridge… as I did… repeatedly.