Yesterday, I happened upon a package of puff pastry dough in my freezer and decided that it was about time that I use it. The other items in my fridge and pantry inspired me to come up with this vegan quiche, which was really yummy and which I'll definitely make again.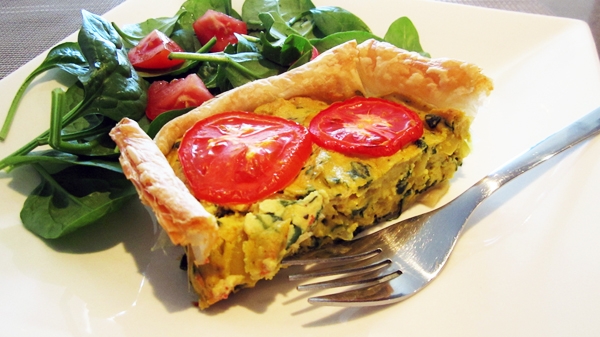 I used a lot of turmeric in this recipe, because just like my Tofu Scramble, it adds a nice bright yellow color to any recipe that would traditionally call for eggs. Turmeric is super high in anti-oxidants so I try to use it as much as possible, but it doesn't impart a lot of flavor so feel free to leave it out it you don't have any on hand.
This quiche can be very versatile. I made a spinach filling, and then topped the quiche with sliced tomatoes, but the following combinations would also be really yummy:
spinach & mushroom
sun-dried tomato & basil (& black olive)
wild mushroom with truffle oil & thyme (you may want to exclude the paprika & turmeric for this one)
The filling is pretty basic, so you can really customize it with whatever you feel like (or whatever you have sitting in the fridge or counter) and fresh herbs like basil, coriander or thyme would be great in this too.
I don't own a pie plate here in Sydney, so I just used a 23x14cm oven-safe dish.
UPDATE
August 18, 2011 – Lexi over at After Apple Picking has successfully made this without the crust! It's an even healthier/lighter option that I will be trying very soon. Thanks Lexi!
Versatile Vegan Quiche
Modify this versatile vegan quiche recipe to suit your taste - it's rich & creamy and perfect served with a side salad.
Author:
Angela Thompson @ Vegangela.com
Recipe type:
Main, Entree
Ingredients
1 tbsp olive oil
1 small onion, chopped
1 garlic clove, minced
½ bag fresh spinach (or ½ package of frozen spinach, thawed and drained)
½ cup cashews, soaked in water for an hour and drained
½ block firm tofu
¼ cup nutritional yeast
4 tbsp soy milk
½ tsp tumeric
salt & pepper
1 sheet defrosted puff pastry dough, or 1 vegan pie crust
¼ tsp paprika
1-2 tomatoes, sliced (optional)
Instructions
Preheat oven to 375F/190C.
Heat olive oil over medium heat, and saute onions and garlic until translucent, about 2 minutes. Add spinach and cook until wilted. Season with salt and pepper.
Grind the cashews in food processor until very fine. Add tofu, nutritional yeast, soymilk and tumeric. Blend until you have a creamy, even consistency (add more soymilk if needed).
In a mixing bowl, combine the onion mixture with the tofu mixture. Season with salt & pepper.
If using puff pastry dough, lay it in a pie plate or other oven-safe dish, creating a border around the edges. Pour the tofu mixture into the dish and spread it evenly. Sprinkle with paprika and top with tomato slices.
Bake in oven for 30 minutes, or until mixture is set and crust has browned.