Nooch Disclaimer: If you missed my post on Nutritional Yeast, and you're not familiar with that ingredient, you may want to check it out before reading further because this post is very "nooch" focused.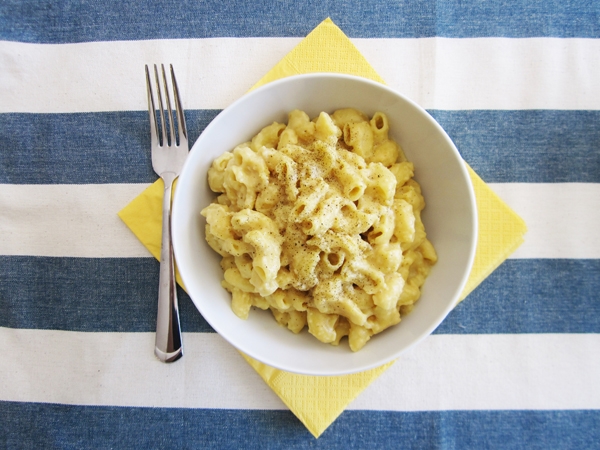 I guess I should start by saying that I've probably tried every "cheezy" nutritional yeast sauce out there. From tofu-based ones to cauliflower-based (!) ones, I've tried them all. And although they weren't always the best, I've eaten them all, because they were smothered over big bowls of pasta. Let's face it: I never say "no" to a bowl of pasta (except one covered and real cheese and/or meat!)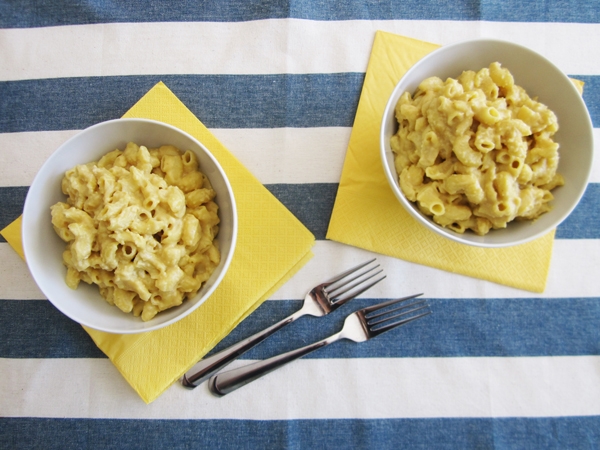 Truthfully, those mac and cheese recipes weren't that bad (except maybe the cauliflower one – it was pretty horrible). They were relatively creamy and as close to the "real" thing as one can remember after being vegan for over 15 19 years. But there was always something missing. Also, many of them called for a lot of vegan margarine, which I try to avoid unless I'm making holiday & special-occasion recipes.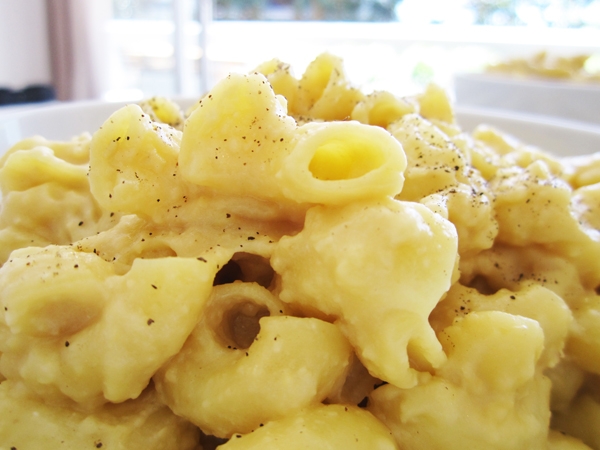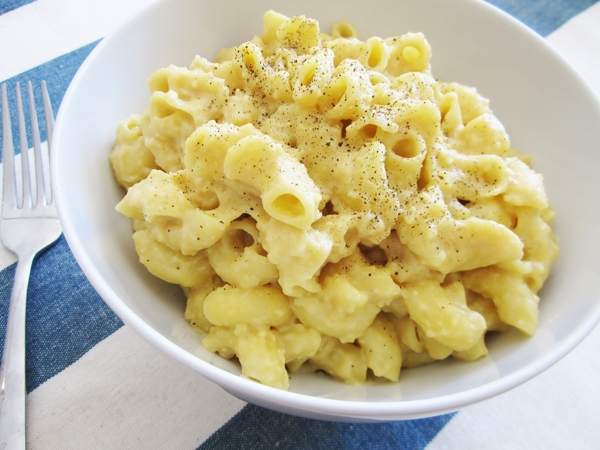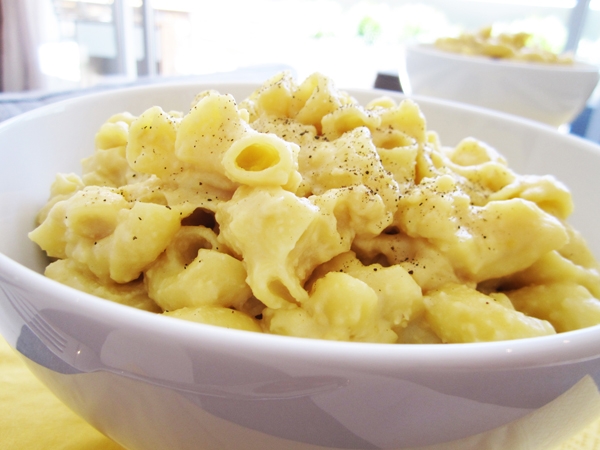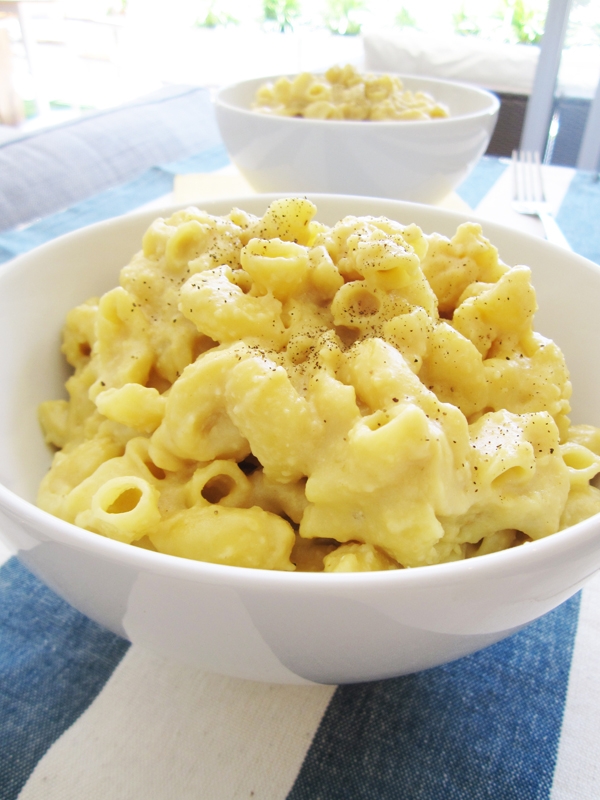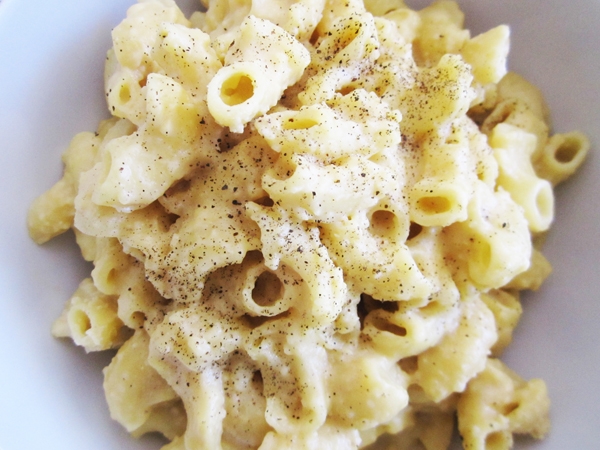 I was going through my bookmarks last week and came across The Epicurean Vegan's Creamy Macaroni and Cashew Cheese post about Colleen Patrick-Goudreau's recipe from her cookbook, The Vegan Table.
A cashew-based cheese sauce? This I had to try!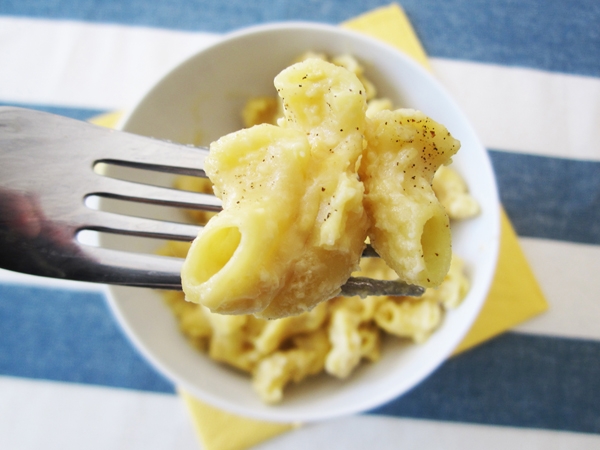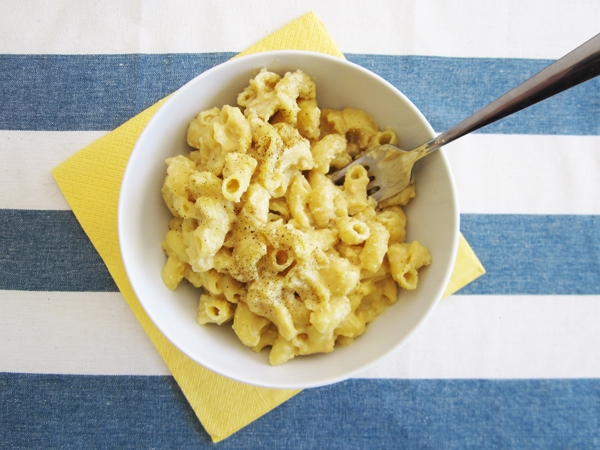 I have to say (and as you've probably guessed from the title of this post) – this is definitely the best vegan cheese sauce that I've ever tried. It's rich and creamy, but also sweet and mellow. The cashews impart a bit of sweetness, but I think it's the miso that really does the trick. Oh, and I have to say that the addition of truffle oil is pretty awesome. It adds a nice sophistication to a basic comfort food.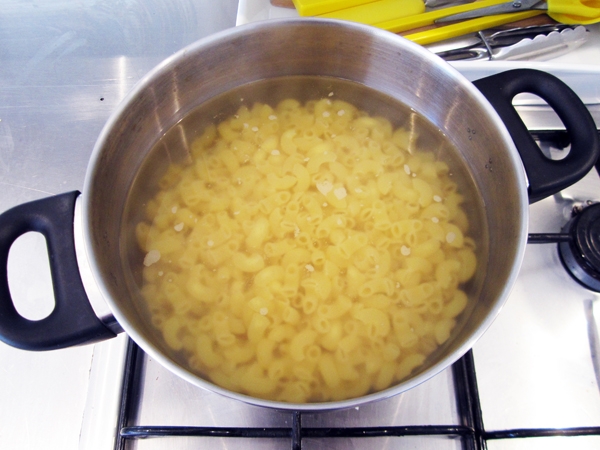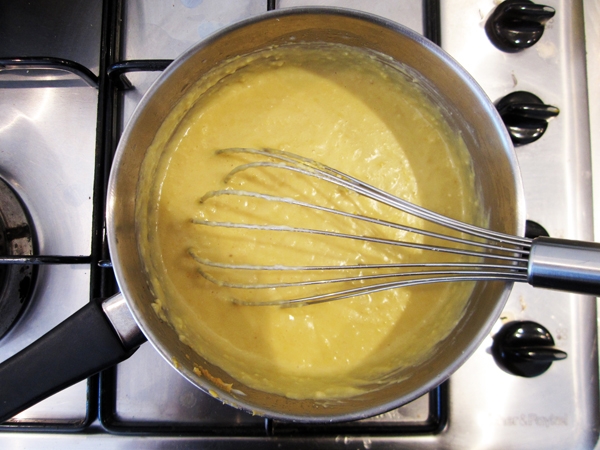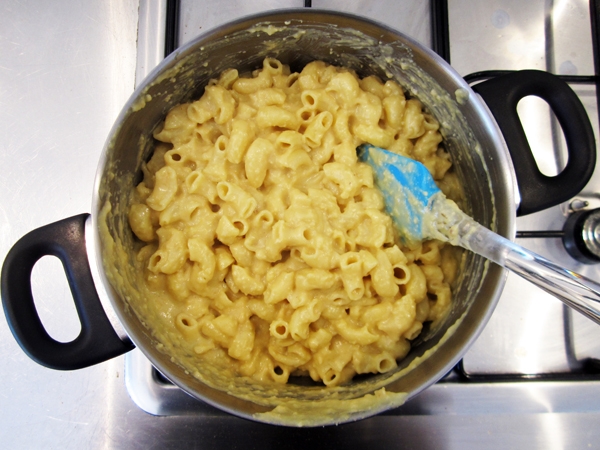 Notes on my modifications to the original recipe
The original recipe makes a lot of sauce! The halved recipe, which provides 2-3 portions, appears below.
I used half the oil and it still turned out great, so that's what I included in the recipe below.
I replaced white pepper with regular black pepper.
Instead of blending the sauce ingredients in the food processor, I quickly whisk it on the stove – it's easier and less messy that way.
My sauce turned-out a bit darker because although my miso paste is labelled "white", it's actually really dark brown.
I sometimes uses the sauce in a big bowl of quinoa and broccoli. It's a healthier option that I had originally read about on Jenn's website (her version is good but this cashew one steals the show for me).
Updates
August 2, 2012 – I have to agree with Epicurean Vegan – this is way better straight-up, rather than baked in the oven. However, as per the original recipe, I've included that option in the directions in case you prefer baked mac & cheese.
December 17, 2013 – The response to this recipe via Pinterest and elsewhere has been incredible!  I remade this today and updated the photos, as well as the recipe below by simplifying it a little bit. In addition, here's some information for those of you who may not be familiar the following vegan terminology:
Best Ever Vegan Mac & Cheese
This rich and creamy macaroni and cheese is the ultimate comfort food. Vegan and Gluten-Free
Author:
Angela @ Vegangela.com
Ingredients
8oz macaroni noodles, cooked (use gluten-free, as required)
¾ cup raw cashews
1 + ¾ cups almond or soy milk
¼ cup canola oil
1.5 tbsp cornstarch
¼ cup nutritional yeast
2 tbsp light (yellow or white) miso paste
1 tbsp lemon juice
1 tsp onion powder
½ tsp garlic powder
½ tsp salt
1 tsp truffle oil (optional, but highly recommended)
pepper, to taste
Instructions
Place cashews in the food processor and finely grind (just don't let the cashews turn to a paste). Set aside.
In a heavy saucepan, combine milk, oil and cornstarch. Bring to a simmer over high heat. Decrease heat to low, cover and simmer, stirring occasionally for 10 minutes, or until cornstarch dissolves.
Using a whisk or large fork, stir in the ground cashews, nutritional yeast, miso paste, lemon juice, onion powder, garlic powder and salt until well combined.
Add the cashew cheese to the macaroni noodles, drizzle with truffle oil (if using) and serve.
Optional: For a baked version, preheat oven to 325 and place macaroni mixture in a 8 or 9″ square baking dish. Cover and bake 20 minutes. Uncover and sprinkle with ½ cup herbed bread crumbs. Continue baking, uncovered, for 15-25 minutes until topping is golden brown.