Despite being vegan for many years, I've never attempted to make my own vegan cheese. The process always seemed a bit daunting and since I went vegan in the Southern United States in the mid-90s, I quickly got used to living without cheese alternatives (or any processed vegan food for that matter!) Sure, I love a nutritional cheese sauce as much as the next girl, and I've enjoyed a couple pizzas here and there sprinkled with Vegan Gourmet or Daiya, but other than that, vegan cheese hasn't played a big part in my diet. But when I was online-ordering some nutritional yeast the other day, I noticed that the merchant was also selling agar powder (check out my post on agar for more info) so I decided to pick some up. And in the spirit of Vegan MoFo, I decided that it was time to finally take the plunge and make some cheese!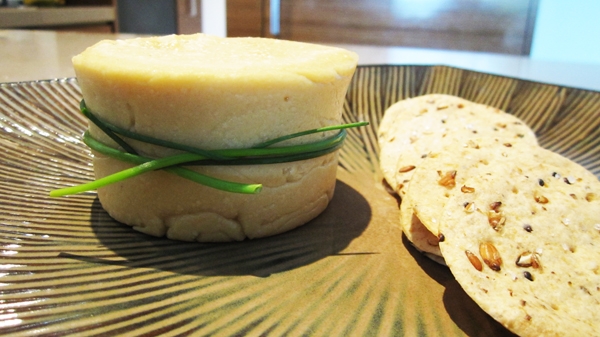 From what I know, there are basically 5 different types of vegan cheeses:
Cheese sauces that you pour over nachos or pasta (like this mac and cheese)
Tofu "ricotta", as used in vegan cannelloni and lasagna
Spreadable cheeses made with nuts (cashews/macadamias/almonds) that are pretty much ready to eat immediately
Cheeses that require using a nutmilk or cheese bag and probiotic bacteria to culture (Check-out JL's probiotic cheese adventure for more info)
Firm cheeses that contain agar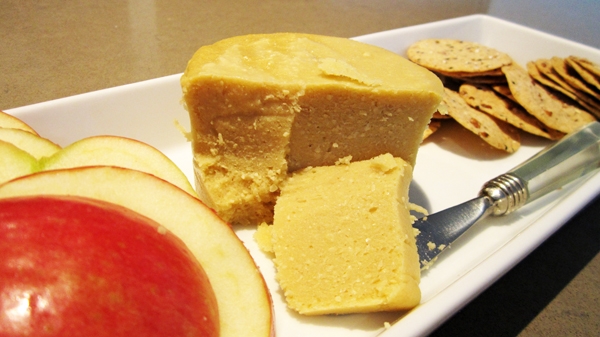 I decided to go with Ann Gentry's Vegan Cashew Cheese recipe because it seemed simple enough and now that I had the agar powder, I had everything on hand to make it. I found the recipe on her blog, but it's also available in her cookbook, Vegan Family Meals: Real Food for Everyone. The result is a firm cheese that can be easily sliced. I wouldn't say that it's super creamy, but it has a nice little sharpness to it that pairs really well with tart apple slices. I just love the option of finally being able to bring my own vegan cheese to wine & cheese parties!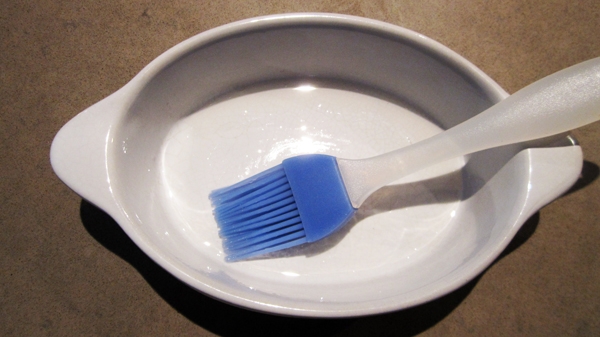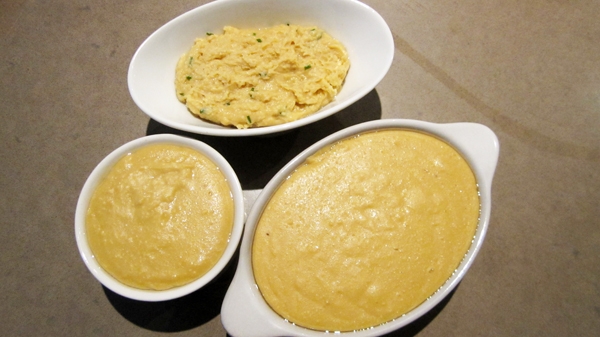 Notes
I halved the recipe and it produced 3 small ramekins worth of cheese. I recommend using the halved recipe (at least for your first attempt). The halved recipe appears below.
The recipe calls for agar flakes, not agar powder. Agar powder is much more concentrated than agar flakes so you only need about a third as much of it: 1 tsp agar powder = 1 tbsp agar flakes. So for this recipe, 1 cup agar flakes = 16 tbsp agar flakes = 16 tsp agar powder (I used 8 tsp agar powder since I was halving the recipe).
My food processor is tiny, so rather than return the milk mixture to the food processor, I poured the cashew mixture into the saucepan and stirred it vigorously for a minute or so.
I didn't have any white pepper on hand, but otherwise I stuck to the recipe as-is, other than adding a handful of chopped chives to the final portion of cheese.
I lightly oiled the ramekins before filling them, and although I had to use a knife to gently lift them out, I think it was a good idea to do this. I gently patted-down the cheese with a paper towel to remove the extra oil before serving.
As per my notes below (as well as reader's comments), you may want to experiment with different flavors. Thing like truffle oil, fresh herbs, sun-dried tomatoes, black olives, apricots, walnuts and figs come to mind. Just have your fillings ready to mix in, because as you can see from the chive version above, the cheese firms-up very quickly once removed from the heat.
Updates
The cool thing about agar is that even once it has set, you can re-melt it, add ingredients to it, and let it re-set. So, I just melted-down one of the cheeses in a saucepan and added a few tablespoons of soy milk to help it break down. I added 1 tsp of white truffle oil and a handful of chives. It hasn't set yet, but I licked the spatula and it tastes AMAZING. I am kinda freaking out right now! What have I been missing?!
It Melts! I just sliced a piece of cheese, stuck it on a cracker and zapped it in the microwave for 10 seconds and it melted! It wasn't stretchy, but it totally melted. So I'm pretty confident that it would melt in the oven for a few minutes on the "broil" setting.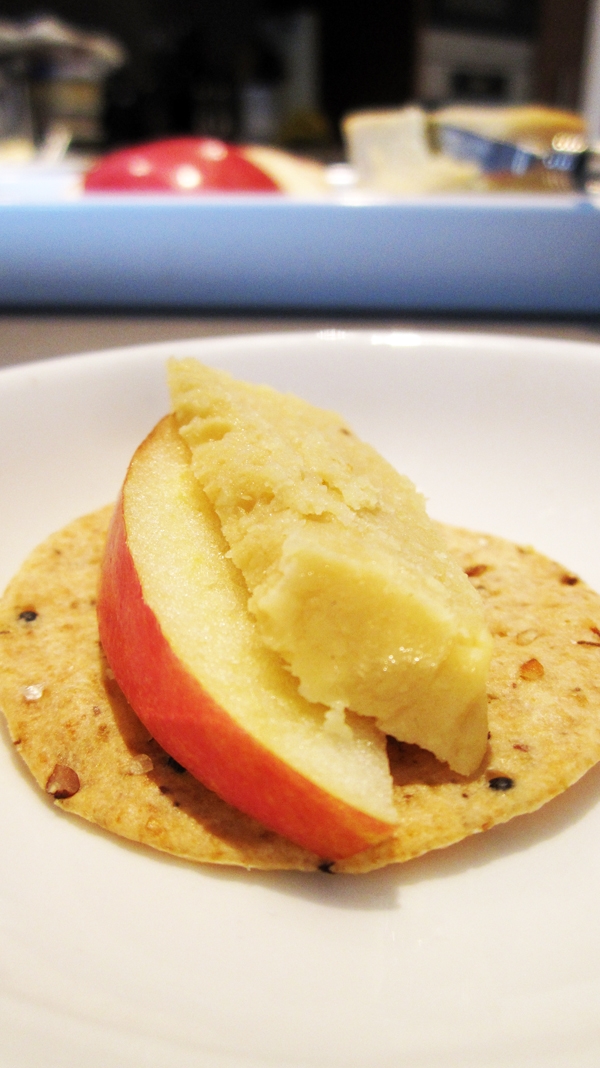 PS. If you're in Australia, I really recommend these crackers. I've got a few friends here onto them because they're just so good. They're super light and crispy and check out the super-short ingredient list: brown rice, vegetable oil, cornflour, rye, salt, canola seeds, herbs. They're miles above those regular Styrofoam rice crackers!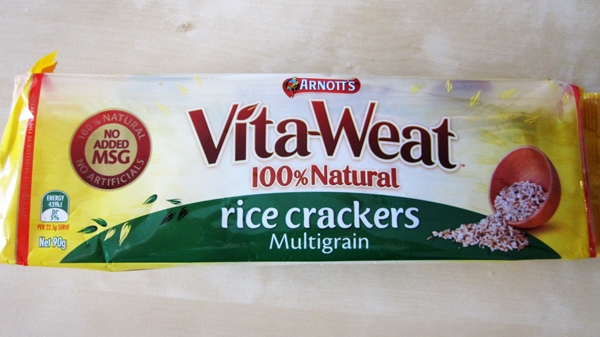 Homemade Vegan Cheese
Make your own homemade vegan cheese using cashews, nutritional yeast, and agar powder. It's much easier than it looks!
Author:
Angela @ Vegangela.com
Recipe type:
Snack, Appetizer
Ingredients
½ cup + 2 tablespoons raw cashews
¼ cup nutritional yeast
1 teaspoon onion powder
1 teaspoon sea salt
½ teaspoon garlic powder
1+3/4 cups plain unsweetened soy milk
½ cup agar flakes (or 8 teaspoons agar powder)
¼ cup canola oil
2 tbsp yellow or white miso
1 tablespoon fresh lemon juice
3 teaspoons white truffle oil (optional)
Chopped chives (optional)
Instructions
Lightly oil 3-4 small ramekins.
Using the pulse button, finely grind the cashews in a food processor (do not allow the cashews to turn into a paste). Add the nutritional yeast, onion powder, salt and garlic powder. Pulse 3 more times to blend in the spices.
Combine the soy milk, agar, and oil in a heavy medium saucepan. Bring to a simmer over high heat. Decrease the heat to medium-low. Cover and simmer for 10 minutes, stirring occasionally, or until the agar is dissolved. With the food processor running, gradually pour the milk mixture through the feed tube and into the cashew mixture. Blend for 2 minutes, or until the mixture is very smooth and creamy. Blend in the miso, lemon juice, and truffle oil and chopped chives (if using). Note: if your food processor isn't very big, simply pour the cashew mixture into the saucepan and stir it vigorously for a minute or so, and then add the remaining ingredients.
For grated or sliced cheese: Transfer the cheese to a container; cover and refrigerate until it is very firm, about 4 hours. Once it is firm, use a knife to gently remove the cheese from the ramekin. Grate or slice the cheese as desired.
For melted cheese: Use the cheese immediately as melted cheese. To make the cheese in advance, cover and refrigerate it. When ready to use, melt it in a saucepan over medium heat until it is smooth and creamy, stirring frequently and adding more soy milk to the melted cheese to thin, if necessary.
The cheese will keep for 4 days, covered and refrigerated.
Notes
Adapted from Vegan Family Meals, Real Food For Everyone 
By Ann Gentry
 Andrews McMeel Publishing 
Copyright 2011.