As you may have read in my Roasted Fresh Tomato Soup post, I've been going a little overboard at the farmers' market lately. I never used to make the effort to get up early and go to farmer's markets, but I have to say that it has since become something that I really look forward to on Sundays. The variety of fruits and veggies is so awesome and I've found items there (such as kale) that I hadn't seen at any supermarkets in my two years of living in Sydney. Sometimes, I come home with a wide variety of produce, and other days I come home with large quantities of fewer things.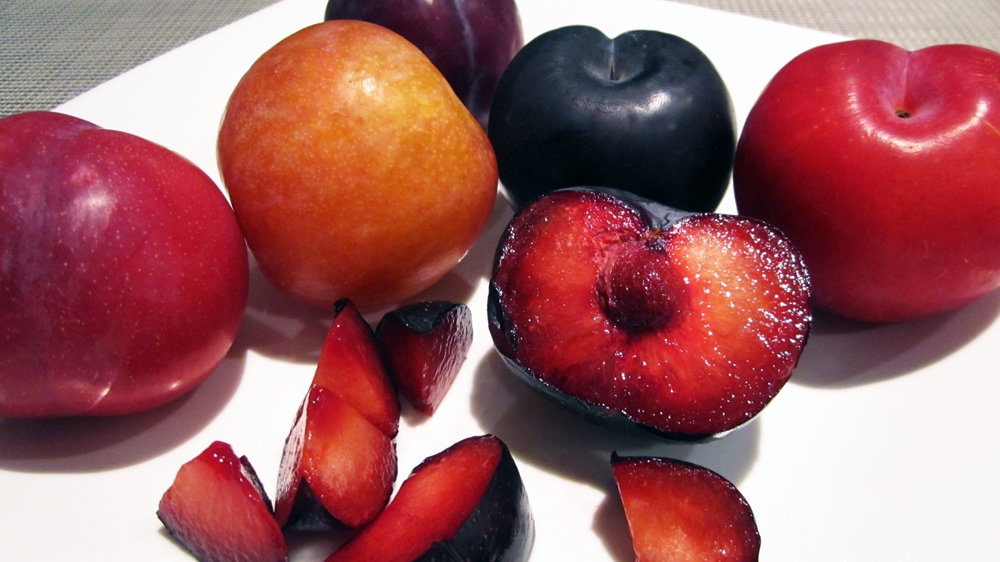 This week, it was plums. From gold, to bright maroon to almost black, they were all juicy and delicious. However after a week of eating them straight-up, I was looking for a different way to use up the last six. I was so happy when I found this recipe on Jamie Oliver's site for Apple & Plum Crumble. It calls for exactly 6 plums, and 2 apples – the exact amount of apples that I had on hand from the previous week's trip, and which I had found too tart to eat on their own. It seemed like the perfect time to make a plum crumble… Plumble?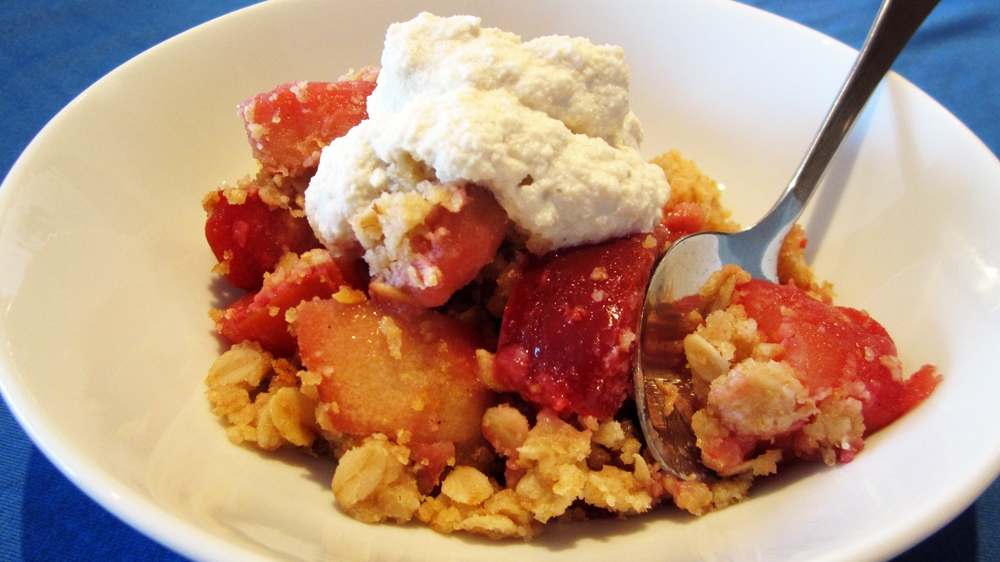 I changed this recipe to make it vegan and healthier by using raw sugar and wholewheat (wholemeal) flour, and by replacing the 1/2 cup of butter with 1/3 coconut oil. (Check out my post on coconut oil if you missed it.) I've tried doing the coconut oil/butter (margarine) switch with crisps and crumbles in the past, but the texture hasn't always seemed right. I've come to realize that the trick is to use the coconut oil in it's hardened state, so that it resembles shortening or cold butter rather than an oil. If you make the crumble first and keep it in the fridge while the fruit is simmering, you'll ensure that the crumble stays firm until it is ready to go in the oven.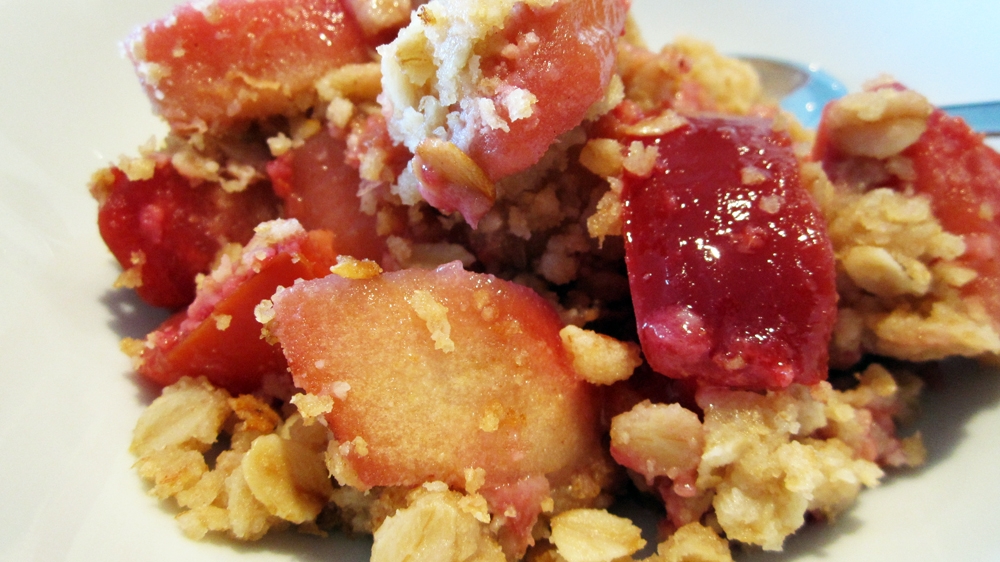 Oh, and if you're curious, I served it with a dollop of cashew cream (flavored with a splash of vanilla and agave).

Vegan Apple & Plum Crumble / Crisp
This lovely vegan fruit crumble/crisp uses coconut oil instead of margarine or butter.
Recipe type:
Dessert, Crumble, Crisp
Ingredients
6 large plums
2 large cooking apples
2 tbsp raw sugar
zest of 1 lemon
pinch of Cinnamon
Topping
1½ cups +1 tbsp wholewheat (wholemeal) flour
⅓ cup coconut oil (or vegan margarine)
¾ cup oats
½ cup raw sugar
Instructions
If using coconut oil and it is liquified, refrigerate it for about 5 minutes until it is the consistency of margarine / shortening.
Mix the topping ingredients in a bowl and place in the fridge.
Preheat oven to 200C/390F.
Chop the fruit and place it in a saucepan with the sugar, lemon zest and Cinnamon.
Simmer on low heat until the fruit is soft.
Place in a 9×9″ oven-safe dish and top with the crumble topping.
Bake for about 25 minutes, or until the top has browned.
Notes
Adapted from Jamie Oliver's Apple & Plum Crumble.