I love peanut butter. Peanut butter cookies, peanut butter dipping sauce, peanut butter out of the jar… peanut butter anything! So when a late-night Google search returned a recipe for quinoa salad with spicy peanut dressing, I didn't hesitate to bookmark it and use it as inspiration for my lunch the next day.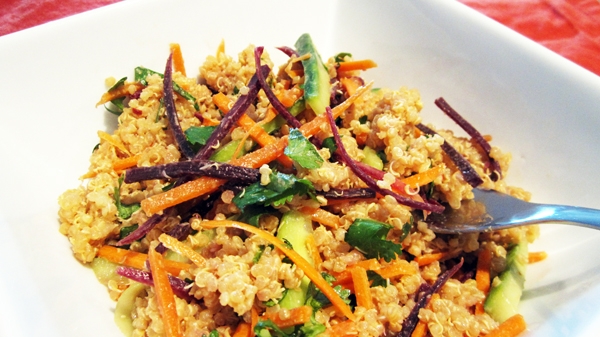 For the veggies, I used what I had on hand in the fridge, which was cucumber as well as orange and purple carrots (read my post on the awesomeness of purple carrots). If you can't find purple carrots, then feel-free to substitute with any other colorful veggie – purple cabbage and/or red/yellow capsicum (bell pepper) would be great.
I added cilantro (fresh coriander) and garlic because I think that they both go so well with peanut sauces, but feel free to use basil or mint if you're not a fan of cilantro. A tablespoon or so of fresh grated ginger and/or a handful of chopped green onions would also be awesome.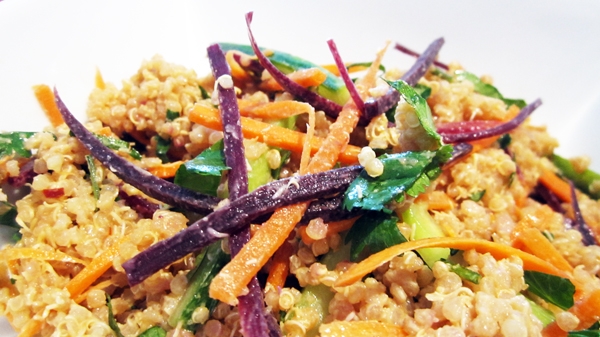 I must admit… I LOVE this salad and it's pretty much been on my weekly lunch rotation ever since I first made it. Not only is it super yummy, it's also a really healthy and colorful way to indulge in your peanut butter cravings.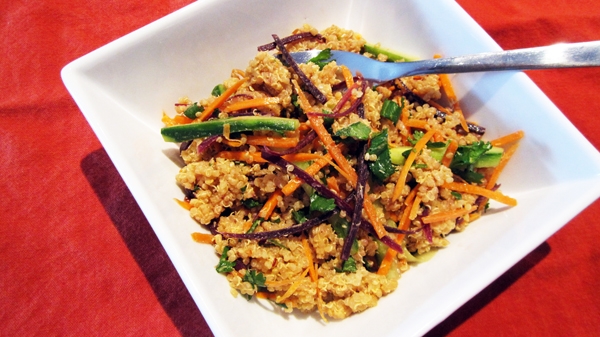 Updates
November 12, 2011 – I made this today with purple cabbage instead of purple carrot, and fresh mint instead of cilantro. The salad is just as pretty and tastes great. The mint and cucumber make this such a refreshing salad, and it's a great option for people who don't like the taste of cilantro.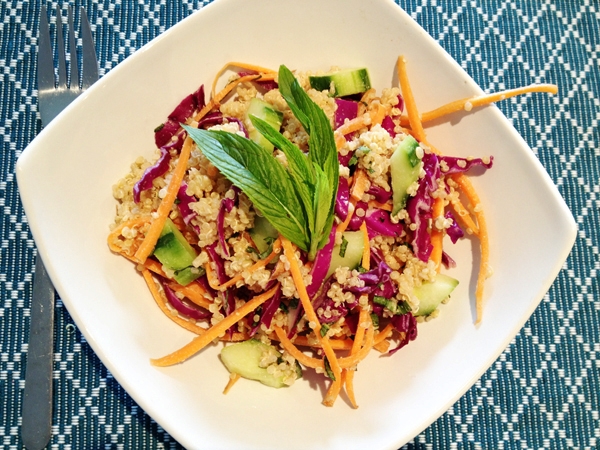 April 1, 2013 – Readers have been asking me how I get perfect Julienne-cut vegetables. It's not handy knife work on my part! I use this OXO Good Grips Julienne Peeler. You could also use a mandoline – but watch out that you don't slice your fingertips off! A Microplane Cut-Protection Glove is a great way of preventing that from happening!
Spicy Peanut Quinoa Salad
This slightly spicy quinoa salad makes a great side dish, or a perfect lunch. Vegan / Gluten-Free
Author:
Angela @ Vegangela.com
Ingredients
1 cup quinoa
2 cups water
½ medium cucumber, seeds removed and cut into julienne strips
1 medium orange carrot, cut into julienne strips
1 medium purple carrot cut into julienne strips (or ½ cup shredded purple cabbage and/or strips of red/yellow bell pepper (capsicum))
¼ cup cilantro (fresh coriander) (or mint, or basil), chopped
3 tbs smooth peanut butter (or other nut butter)
3 tbs seasoned rice vinegar
2 tbs tamari (or light soy sauce)
½ tsp hot red pepper flakes
1 small clove garlic, minced
Instructions
Bring 2 cups of water to a boil in a medium saucepan. Add quinoa, cover, and simmer until quinoa is tender, about 15 minutes.
Meanwhile, in a large bowl, combine peanut butter, vinegar, soy sauce, hot red pepper flakes, and garlic. Add enough hot tap water (about 2 tablespoons) to thin the mixture to sauce consistency.
When quinoa is ready, transfer it to the bowl, along with the veggies and cilantro, and toss to combine.
Can be served immediately, but even better after having been refrigerated for 30 minutes. Keeps in the fridge for up to 3 days.
Notes
Adapted from: http://toddholmstedt.com/resources/recipes/quinoa-salad-with-spicy-peanut-dressing