Here's another one of the great meals that my little mommy made for me when I was home last month. I love the fact that it uses fresh zucchini (courgettes) as the pasta. I've used zucchini as pasta before (normally raw with a pesto or vegan alfredo cream sauce), but because the zucchini here is heated-up just a little bit, it does seems more like "real" pasta. For me though, it's the tomatoes and lemon zest that make this especially lovely and summery. I wanted to post this as soon as possible, so that those of you in the Northern hemisphere can take advantage of the fresh zucchini and tomatoes that are overflowing at the markets right now (and in your backyard gardens if you're lucky). Summer in Sydney is just around the corner, so I imagine that I'll be eating this on my balcony in no time – although, let's face it, it's almost always "eat-outside" weather in this awesome city!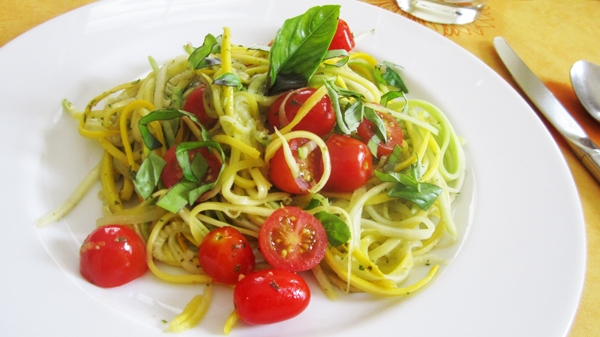 Notes
The original recipe said to toss in some precooked spaghetti as well, but I really don't think that you need to do that. The zucchini tastes great on it's own and it's way healthier that way, so I've upped the number of zucchini required to 4-6 – enough to fill pasta bowls/plates for two people (or however many people you're feeding).
Parmesan was also included in the original recipe, but I didn't think it was missing anything. Pine nuts would be a yummy addition, though.
My mom used 1 green and 1 yellow zucchini, which made the dish so visually appealing. The yellow zucchini has a light yellow flesh that really "pops" against the red tomatoes and green basil.
A vegetable spiralizer or julienne vegetable peeler will allow you to make these really thin spaghetti-like noodles. I'm normally not a big fan of kitchen gadgets, but I use these all the time and think they're a good investment for any vegetarian/vegan, or anyone looking to eat more vegetables. Otherwise, check out my Raw Vegan Alfredo Sauce with Zucchini Noodles post to learn how to make wide Fettucine noodles with a regular vegetable peeler.
My mom thinks that she cut the recipe out of one of last summer's Style at Home magazines. I Googled and couldn't find it, but if you recognize this recipe, send over the details and I'll update this post.
Fresh Tomato, Basil and Lemon Zucchini Pasta
Zucchini "noodles" sautéed with fresh cherry tomatoes, basil and lemon makes a wonderfully fresh and fragrant dish. Vegan and Gluten-Free!
Author:
Angela @ Vegangela.com
Ingredients
2 tbsp olive oil
2 garlic cloves, minced
2 tsp lemon zest
½ tsp crushed red chili flakes
½ lb (250g) cherry tomatoes, halved
4-6 small zucchini (courgettes) (if possible, a mix of yellow & green ones)
freshly squeezed juice of ½ lemon
fresh basil leaves
salt and pepper
Instructions
Use a julienne peeler or vegetable spiralizer to prepare the zucchini "noodles"
Heat olive oil in a frying pan, add garlic, lemon zest, and crushed red chili flakes and cook for one minute.
Add cherry tomatoes and zucchini, and cook for one minute.
Add lemon juice, fresh basil, salt and pepper and toss to combine.