My man came home from work with severe flu symptoms yesterday. Aches, chills, sore throat, you know the deal. "No problem," I thought. "I'll just go to the freezer and pull out one of the many homemade soups I've stashed there for precisely these types of emergencies. I'm so awesome!" But just as I was about to high-five the air, I opened the freezer and realized that we ate the last soup/chili/stew weeks ago and the freezer was bare, except for a few frozen bananas and a bottle of rum. If only daiquiris cured the flu! It was time to look through the kitchen to see what type of soup I could make. Roasted Fresh Tomato Soup was out of the question – there weren't any fresh tomatoes in sight and there was no time to roast anything anyway. The two measly carrots in the fridge were not enough to make my mom's awesome Carrot Soup. But I did come across two giant heads of broccoli and a few potatoes. I knew exactly what I would make!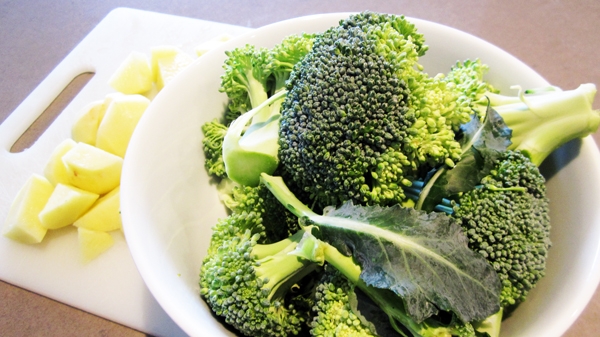 A bit of background. When we moved to Australia almost 3 years ago, I brought 2 giant bags with me. Bag #1 was filled with clothes. Duh. Bag #2 was for shoes. Hey, there was no way I was leaving all my shoe babies behind! Only two other items also made the journey: 1) my pampered chef garlic press (I will write an ode to that little guy someday) and 2) my 3-ring recipe binder, filled with all the recipes that I had collected over the years. In that binder lay the recipe that would save the day: my grandma's Broccoli & Potato Soup, which my mom had annotated with her own notes and typed-up for me in French many years ago:
I've made this recipe many times over the years and I've modified it further because I found that by the time the potatoes were ready, the broccoli had lost its beautiful green color. Even with a couple extra steps, this is still a super-quick soup that you can have ready in less than 30 minutes… perfect for those days when you're feeling great, but even better if you or someone you know is feeling under the weather.
Notes
If you're using a stick blender, you may need to tilt your pot a little bit so that there is enough soup to cover the blades. See the photo above to see what I mean.
This is a pretty thick soup. Feel free to add an extra cup of stock if you prefer a thinner soup.
This is also beautiful served with a drizzle of roasted red pepper coulis.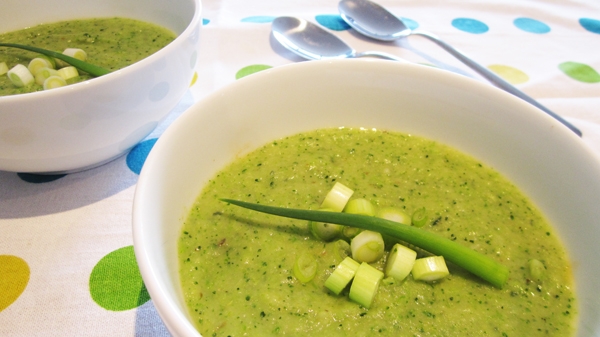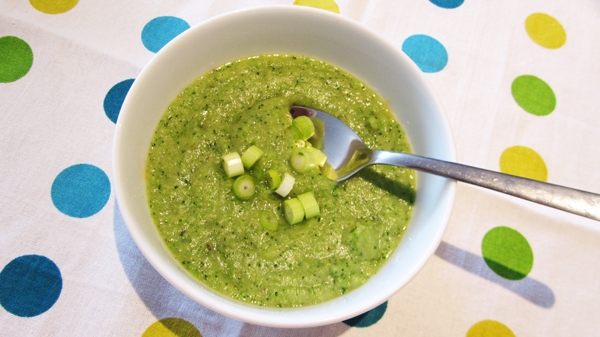 Vegan Broccoli & Potato Soup
This soup is easy to prepare and freezes well. It serves 2 big bowls, or 4 small ones. Vegan & Gluten-Free
Author:
Angela @ Vegangela.com
Ingredients
1 tbsp olive oil
1 small onion, peeled and diced
1 clove garlic, minced
3 cups vegetable broth
2 cups broccoli florets (about 1 head of broccoli)
3 medium potatoes, peeled and quartered
¼ tsp thyme
salt and pepper, to taste
garnish: chives, vegan sour cream (optional)
Instructions
In a large stockpot, heat the olive oil over medium heat and cook the onions and garlic until tender, a few minutes.
Add the vegetable broth and potatoes to the pot. Cover and bring to a boil. Reduce back to medium heat and cook until potatoes are tender, about 15 minutes.
Add the broccoli and thyme, and cover for 5 minutes, until fully steamed but still bright green.
Puree the soup in a blender or with a stick blender. Season with salt and pepper and serve with chives and/or vegan sour cream, if desired.