This is going to be a quick post as I didn't have a lot of time today. But I wanted to get a post out and keep my Vegan MoFo mojo going strong for the rest of the month!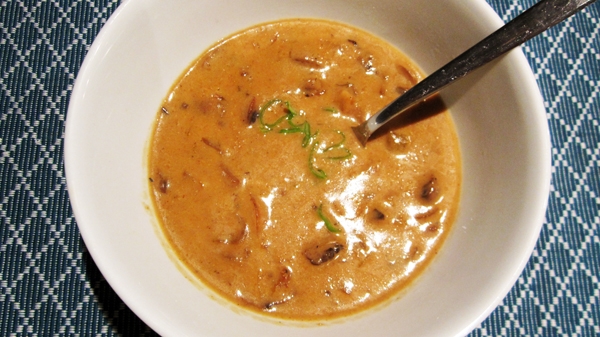 I first came across this recipe last year and absolutely loved it. You see, other than minestrone soup, I normally really only like puréed soups. Well, to be honest, the first time I made this soup, I puréed it before serving it as well. But this week, I made it as-is and I found it to be pretty amazing. So the choice is yours, serve it straight-up, mushroom bits and all, or take an immersion (stick) or regular blender to it, and serve it up as smooth mushroom goodness. The choice is yours!
Melissa over at New York in Green adapted this recipe from On Golden Pond Mushroom Soup from Sarah Kramer's lovely cookbook, La Dolce Vegan. Funny enough, Melissa posted the recipe for Vegan MoFo back in 2008!Also, a little known fact: my Quick & Easy Tofu Sandwich recipe actually made it into Sarah's other cookbook, The Garden of Vegan. That was many years ago now… I think I was still in high school or university at the time!
Modifications to the Recipe
I switched up a few things, and included my changes in the recipe below:
I used whole wheat flour
I didn't have any lemon pepper, so I used 1 tsp regular pepper and 1 tsp lemon juice
I used plain soy milk instead of almond milk
I used regular white mushrooms instead of portobellos
Mushroom Soup
Author:
Angela @ Vegangela.com
Ingredients
2 tbsp olive oil
2 small onions, diced
3.5 oz. shitake mushrooms, de-stemmed and sliced
16 oz. baby portobella mushrooms (or regular button mushrooms), sliced
¼ cup tamari (or soy sauce)
2 tsp dried dill
1½ tsp paprika
1 tsp black pepper
1 tsp lemon juice
¼ cup wholewheat flour
2 cups vegetable broth
3 cups unsweetened plain almond milk (or soy milk)
Instructions
In a stockpot or large saucepan, heat olive oil over medium heat and cook onions until translucent.
Add mushrooms and cook them down for about 5 minutes.
Add tamari, dill, paprika, pepper and lemon juice.
Once the mushrooms are quite cooked down and have released a substantial amount of liquid, stir in the flour to form a chunky mushroom paste.
Immediately add the first cup of broth and bring the mixture up to a simmer.
Add in the second cup of broth, and bring to a simmer once more.
Follow the same procedure with the almond milk, adding one cup at a time, and bringing to a simmer (not a boil) each time.
Once all five cups of liquid have been added, let the pot simmer (not boil) for 10-15 minutes.
Turn off heat; let sit 5-10 minutes before serving.
Optional: For a creamy soup, blend it using an immersion (stick) or regular blender (in batches).
Notes
Adapted from http://newyorkingreen.blogspot.com.au/2008/10/do-mushroom-fantastic-veganmofo-day-14.html, who adapted it from La Dolce Vegan cookbook (On Golden Pond Mushroom Soup, p.105)