I started making this sandwich back in high school, and although I don't consider it a real "recipe", it's something that I make from time to time when I'm craving a sandwich or I'm in need of a quick meal. It can be easily customized to your personal sandwich preferences and/or whatever you have on hand at the moment.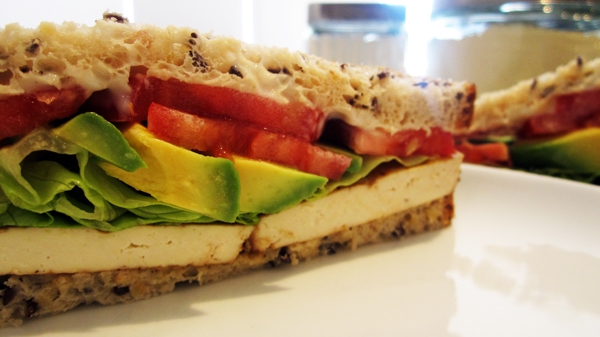 Notes
You could also top this with vegan "bacon" to make a sort of BLT… I'm working on a "real" recipe for that so stay tuned…
I submitted this recipe to the authors of  the The Garden of Vegan: How It All Vegan Again! cookbook years ago, so if you own a copy of it, look for this recipe in it. I'm the "Angela from Ottawa" 🙂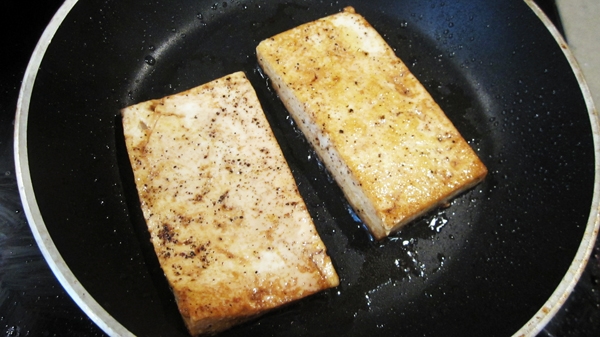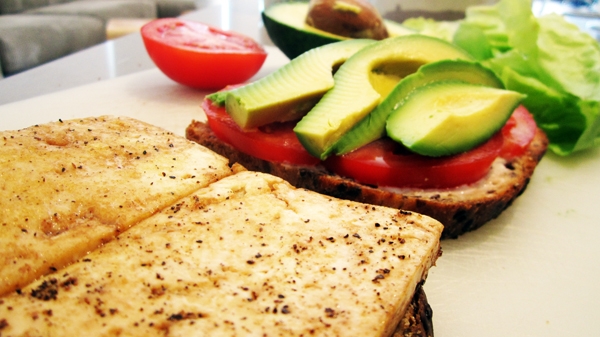 Quick & Easy Tofu Sandwich
Author:
Angela @ Vegangela.com
Recipe type:
Main, Sandwich
Ingredients
2 slices of tofu
Sprouts or lettuce or baby spinach
2 tomato slices
2 avocado slices (optional)
2 slices vegan bread (gluten-free, as required)
vegan mayonnaise
vegan margarine (optional)
vegetable oil
salt and pepper
Instructions
Heat oil in a frying pan on medium heat. Cook the tofu on both sides until browned.
Season tofu with salt and pepper.
Assemble sandwich using bread, margarine, mayonnaise, tofu, and veggies.