I picked up some puffed quinoa at the health food store this weekend and decided to make a little treat with it. I have a deep and unending love for peanut butter, so that's what I went with…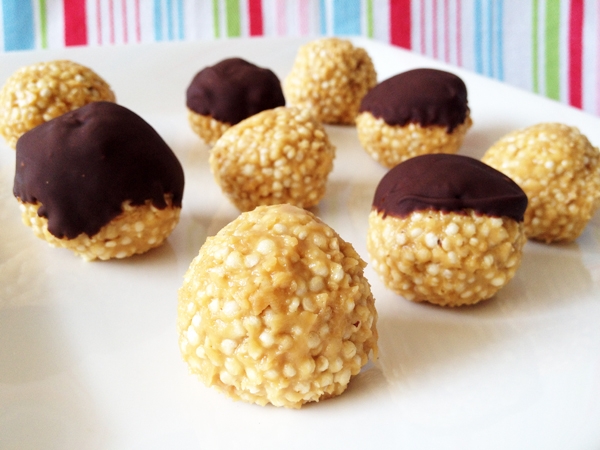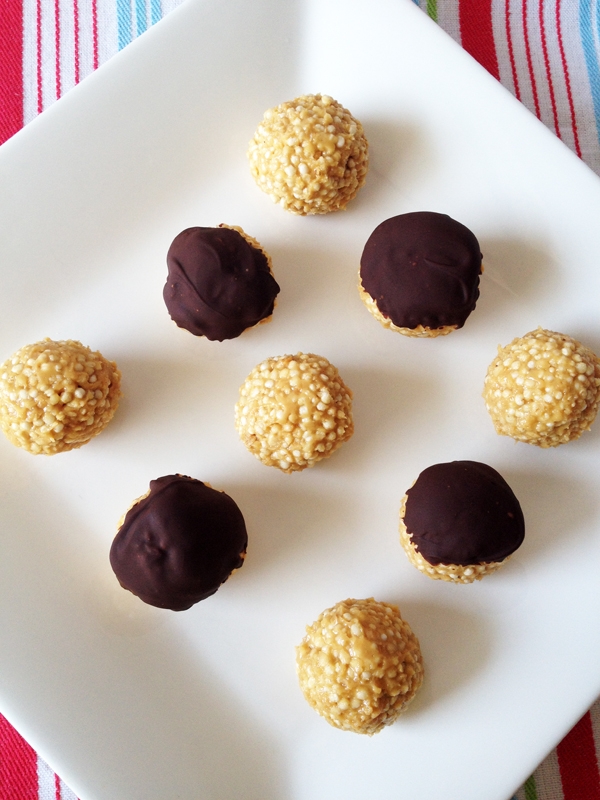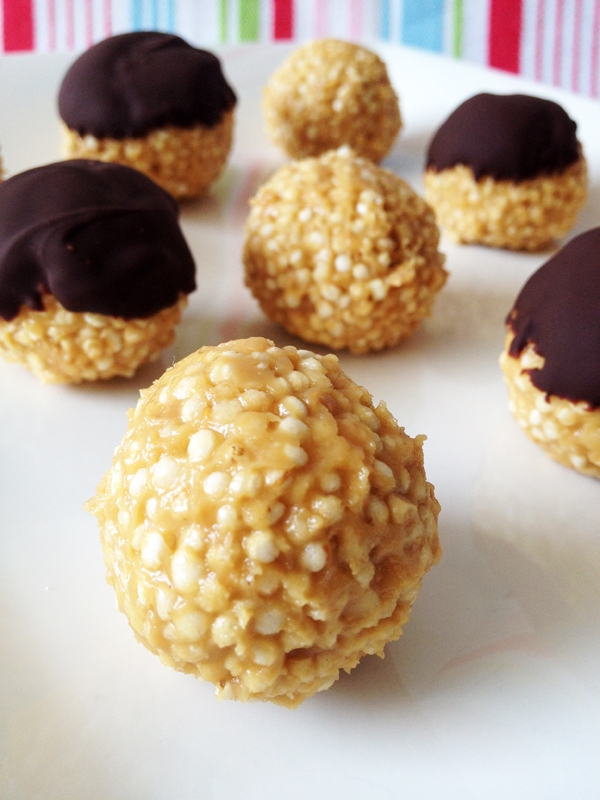 Notes
The natural peanut butter that I used is not very sweet, so I used 4 tbsp of agave nectar. Adjust this depending on your taste.
I decided to add a tablespoon of crushed peanuts to the mixture since I was using smooth peanut butter.
The peanut butter I used is very runny, but if yours is on the thick/dry side, you may want to heat it up slightly beforehand.
I found the mixture to be too sticky to roll into balls right away, so I placed it in the fridge for 15 minutes, and it firmed-up just enough to easily roll into balls.
I tried making something similar a couple weeks back using puffed brown rice, but the texture seemed too chewy – and almost soggy. Regular (white) puffed rice (such as regular Rice Krispies) should work well, but it has under half the protein, so seek-out puffed quinoa if you can.
Updates
April 6, 2012 – This recipe was featured as an "Afternoon Snack Recipe" on Glamour.com. Woohoo!
May 9, 2013 – Reader Tamara (below) said that she found Puffed Quinoa in Canada at Bulk Barn. In the U.S, it can be ordered online from Amazon.com.
July 15, 2013 – Reader Amanda (below) says you can find Puffed Quinoa in Toronto at Noah's Natural Foods. Thanks Amanda!
December 12, 2013 – I just realized that this recipe made Buzzfeed's 12 Ballin' Recipes list. Yay!
Puffed Quinoa Peanut Butter Balls
These puffed quinoa peanut butter balls don't require any cooking - just roll 'em and eat 'em! Vegan / Gluten-Free
Author:
Angela @ Vegangela.com
Recipe type:
Dessert, Snack
Ingredients
1 cup puffed quinoa
½ cup peanut butter
3-4 tbsp agave nectar
1 tbsp crushed peanuts (optional, for extra crunch if using smooth PB)
1 tsp vanilla extract
vegan dark chocolate (optional)
Instructions
In a mixing bowl, combine the peanut butter, agave and vanilla. If the mixture is too firm, heat it up on the stove a little bit.
Add the puffed quinoa (and peanuts, if using), and stir to combine.
Place mixture in the fridge for 15 minutes to let it firm up.
Remove from fridge, roll into 12 balls, and return to fridge for 15 minutes before serving.
Optional: dip some or all of the balls in dark chocolate.