I totally missed-out on my Thursday and Friday Vegan MoFo posts, so rather than get back into recounting my 3-month NZ and Southeast-Asia travel adventures, I thought I'd share a new recipe with you.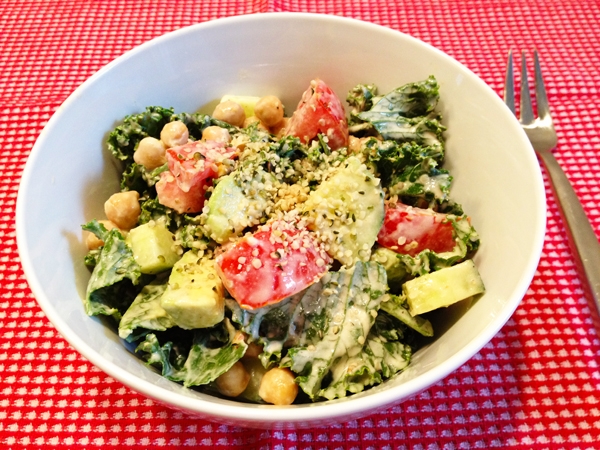 As mentioned previously, I now live really close to one of Toronto's great Fresh Restaurants and find myself eating there quite often. I've come to really enjoy their lemon tahini dressing and decided that it seemed simple enough to attempt to recreate at home.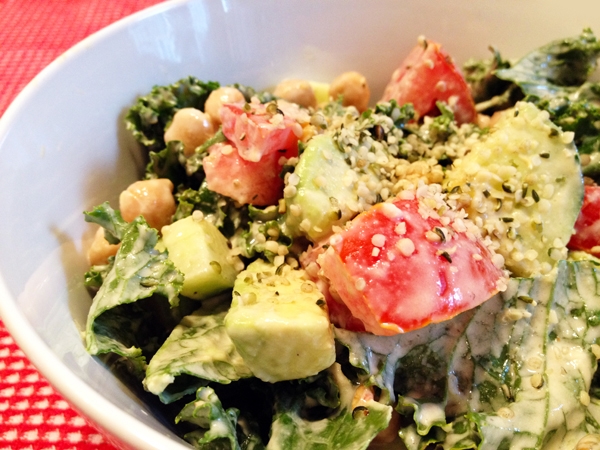 I first worked out this easy tahini dressing a couple months ago, and poured it over a mixture of quinoa, greens, avocado, shredded cabbage and carrots. Then one day, I had a bunch of kale and hand and decided to make the dressing again to serve over it. The result is a creamy, tangy and super healthy salad that I just had to share.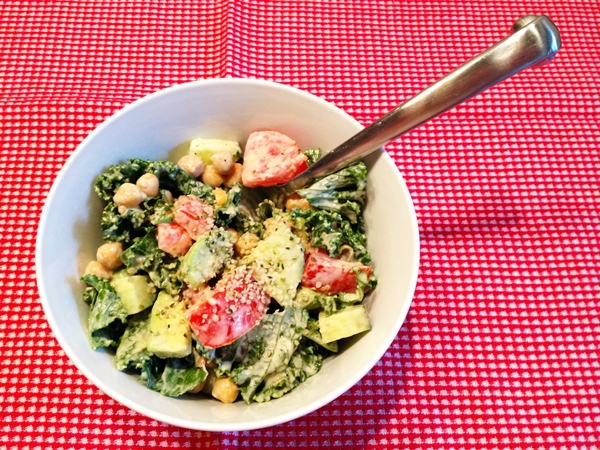 Notes
If you're new to kale or find the taste a bit overwhelming, feel free to use a mixture of kale and regular greens.
The benefit of using kale for this salad (beyond all its nutritional benefits) is that because the leaves are thicker than regular greens, any leftovers will hold-up nicely for a couple days in the fridge.
This salad contains chickpeas and avocados – two things that I toss into most of my ad-hoc salads. Bell peppers (capsicum) and/or shredded carrots would also be delicious.
If you make the dressing in a big bowl, and then mix the salad ingredients right in, it's a one-pot meal.
This dressing is perfect with falafel – either straight-up, or in a pita.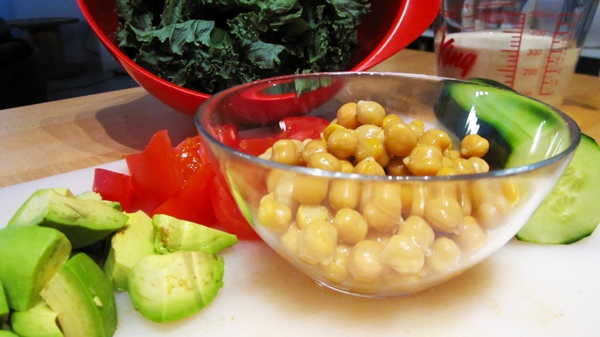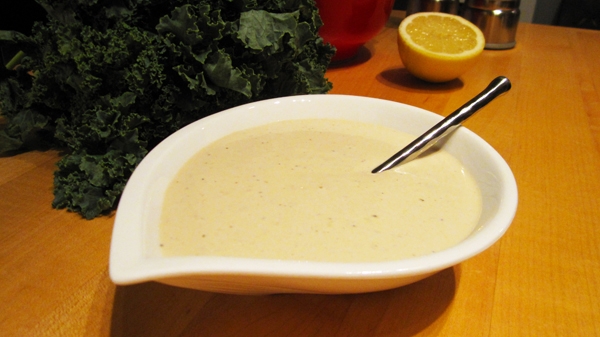 Kale Salad with Creamy Lemon Tahini Dressing
You'll love this creamy dressing with no added oil/fat. Vegan / Gluten-Free
Author:
Angela @ Vegangela.com
Ingredients
1 head kale (or a blend of greens)
1 cucumber, peeled and diced
2 avocados, diced
2 tomato, diced
1 can garbanzo beans (chickpeas), drained and rinsed
Topping: hemp seeds (or other seeds such as sunflower, pumpkin)
Dressing
½ cup tahini
¾ cup water
1 lemon, juiced (about 2 or 3 tbsp)
1 large garlic cloves, minced
Salt and pepper, to taste
Instructions
Whisk all the dressing ingredients together. Add more water if needed.
Toss dressing into the rest of the salad ingredients. Due to the thickness of the kale leaves, it should keep for a few days in the fridge.