The last few months at work have been crazy for me, and that's left me little time to blog and try new recipes. The good news is that I have a fair bit of time off over the holidays, and I plan on cooking and blogging up a storm. Stay tuned!
I was putting a Christmas gift basket together for my boss this week and I thought it would be nice to include something homemade. These pecans are just the right amount of sweet and spicy, and once packaged up in a cute jar with some holiday trim, they make really easy personal gifts.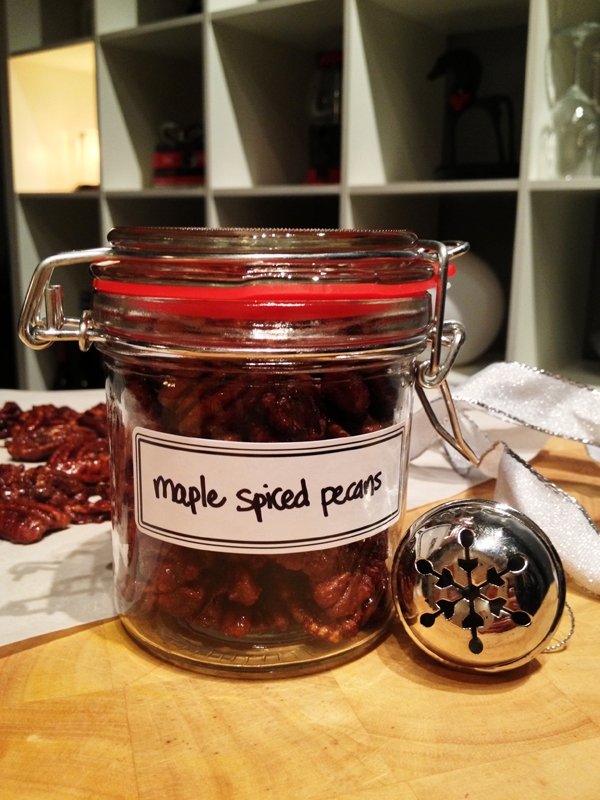 Notes
These aren't overly sweet.Feel free to add a couple tablespoons of sugar if you want them to be more like candied pecans.
They also aren't overly spicy. Again, feel free to add more chili and cayenne if you want a real kick!
Leftovers would be really good sprinkled on a salad. I don't suspect they'll stick around long enough for that in this house!
| | |
| --- | --- |
| | |
Maple Spiced Pecans
Ingredients
4 cups raw pecans
½ cup maple syrup
1 tsp cinnamon
½ tsp salt
½ tsp cumin
¼ tsp nutmeg
¼ tsp ginger
¼ tsp chili powder
¼ tsp cayenne pepper
⅛ tsp allspice
Instructions
Preheat oven to 375 degrees.
Line a rimmed baking sheet with foil or parchment paper.
Place all ingredients in a large bowl and toss to combine.
Spread pecans in a single layer on the baking sheet.
Bake for 15 minutes, stirring every 5 minutes or so.
Remove baking tray from oven and spread the nuts onto a large plate in a single layer, ideally not touching each other.
Place plate in the fridge for 10 minutes (this cools the nuts and makes them extra crispy).
The pecans can be stored at room temperature in an airtight container up one week.