I've loved falafel ever since my aunt Annie introduced me to it as a kid. She took me to a Middle Eastern restaurant outside Montreal and ordered me a plate of vegetarian goodness, including tabouli, hummus, and falafel. At the time, I wasn't even sure exactly what I was eating, and it wasn't until years later, when I was in NYC for the first time, that I had falafel again and remembered what it was and how much I loved it.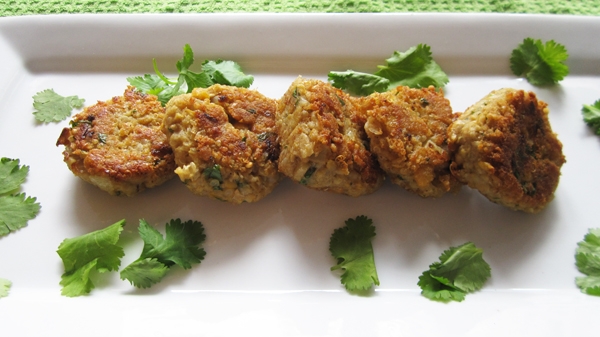 My mom also loves falafel, so she saved this recipe from her local newspaper. She made it for me when I was home for Easter and it was really great. I'm including the recipe below, because it's delicious and really easy to make vegan:
My mom made the following changes to the recipe:
She  lightly fried the onions before adding them to the mixture

She used gluten-free bread to make the breadcrumbs (she's gluten-sensitive)
She used vegan sour cream (Tofutti) instead of the yogurt for the cucumber sauce
The falafel were so good that I was craving them at lunch today. I decided to substitute the breadcrumbs with quinoa for an extra protein boost…
… I also didn't have any parsley on hand, so I decided to use cilantro (fresh coriander) instead…
… and with that came the idea serving it with an avocado-tahini dressing!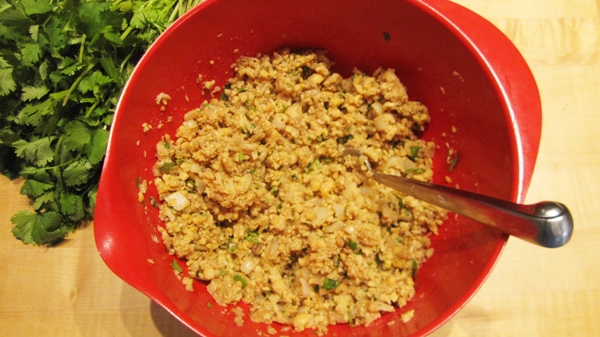 I did a test-run of one of the quinoa falafel balls and found that it crumbled quite a bit during the frying stage. So, I added 2 vegan eggs worth of EnerG egg replacer to the rest of the mixture, and that really helped to keep the patties from falling apart.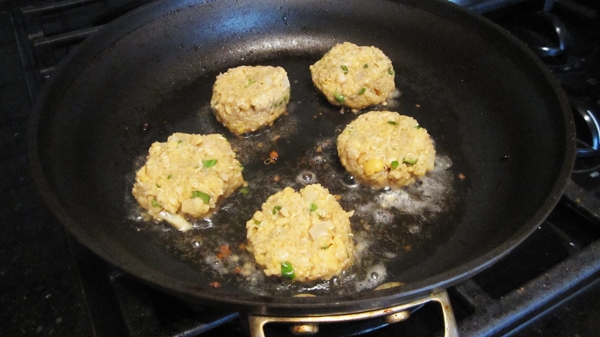 These aren't your typical hard round falafel patties – they're soft and light…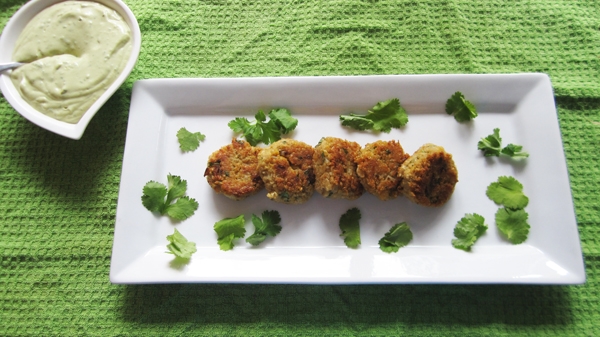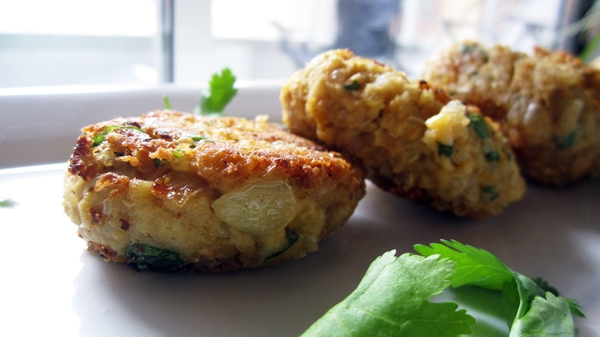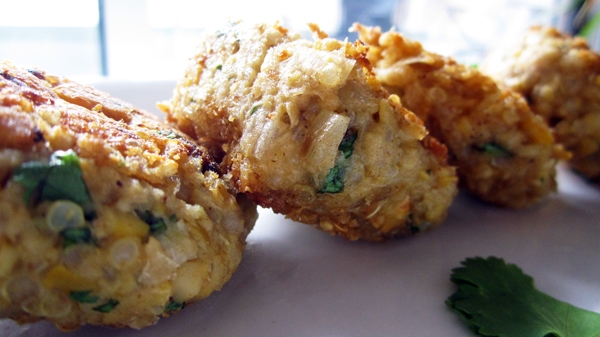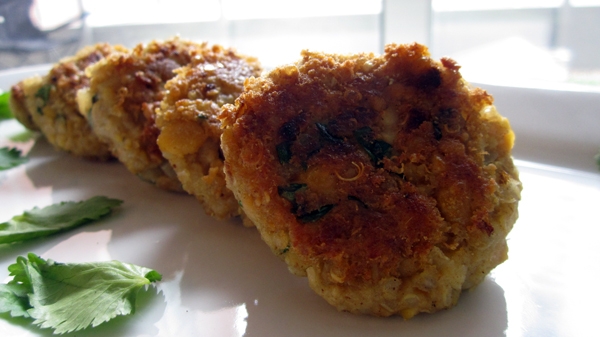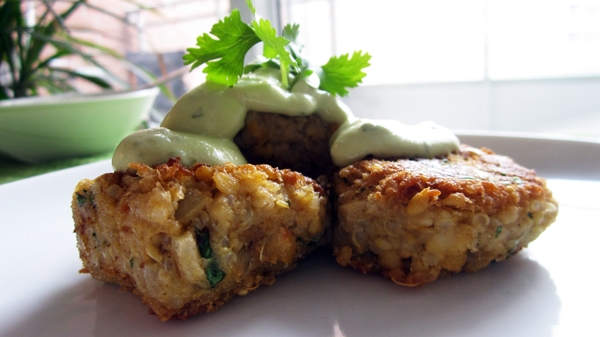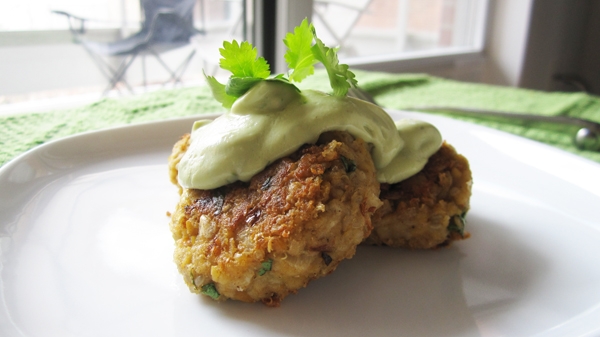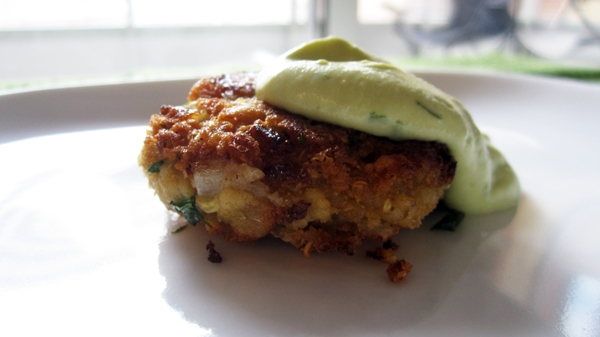 Serve them straight-up – as an appetizer or a main – or in pita bread sandwich. You could also make the patties bigger to make falafel burgers. Mmm!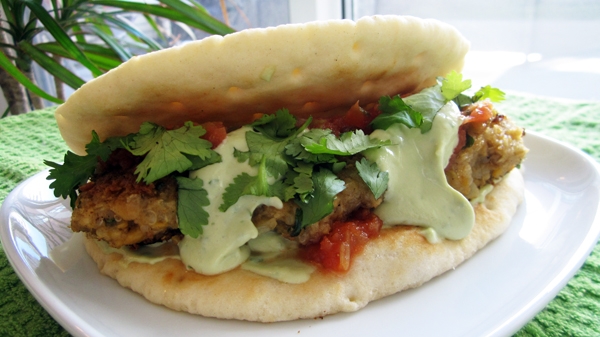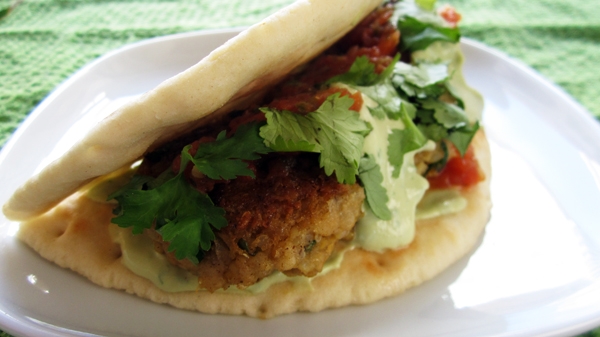 Updates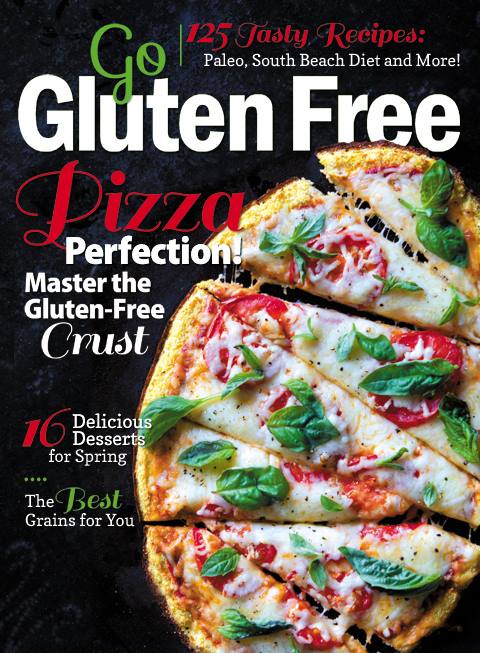 March 3, 2014 – This recipe (along with my Quick & Easy Indian Curry Quinoa) was featured in the March/April 2014 issue of Go Gluten Free Magazine. It's so cool to see my humble little recipes in print 🙂
Quinoa Falafel with Avocado Tahini Dressing
Falafel made with canned chickpeas and quinoa for a big taste and protein boost, topped with a creamy avocado dressing. Vegan and Gluten-Free
Author:
Angela @ Vegangela.com
Recipe type:
Appetiser, Main, Entree
Cuisine:
Middle Eastern, Southwest
Ingredients
540 mL can chickpeas, rinsed & drained
vegetable oil
1 medium onion, finely chopped
1 clove garlic, minced
⅓ cup cooked quinoa
2 tbsp cilantro (fresh coriander)
1 tbsp ground cumin
¼ tsp salt
¼ tsp pepper
2 vegan "eggs" (such as Ener-G Egg Replacer)
Avocado Tahini Dressing
1 ripe avocado
¼ c tahini
1 tbsp fresh lime juice (about ½ lime)
2 tbsp cilantro (fresh coriander)
½ cup water
Instructions
Blend all dressing ingredients in a food processor or blender. Set aside.
Pulse the chickpeas in a food processor until no more whole chickpeas remain.
Heat 1 tbsp vegetable oil in a frying pan on medium heat and fry the onions and garlic until soft.
Combine chickpeas, onion mixture, quinoa, cilantro, cumin, salt, pepper, and vegan "egg" mixture.
Form the mixture into 12 balls, and flatten them slightly.
Heat a couple tablespoons vegetable oil in a frying pan on medium heat. Add the falafel patties and cook for about 3 minutes on each side, or until lightly browned.
Serve with dressing, either straight-up, or in pita bread with lettuce, tomato, etc.