Hi everyone! It's been a while since my last post but I'm almost all set up in my new apartment now, so I should be able to get a bunch of new recipes posted before the end of the year. Can you believe it's already the middle of November? Time flies!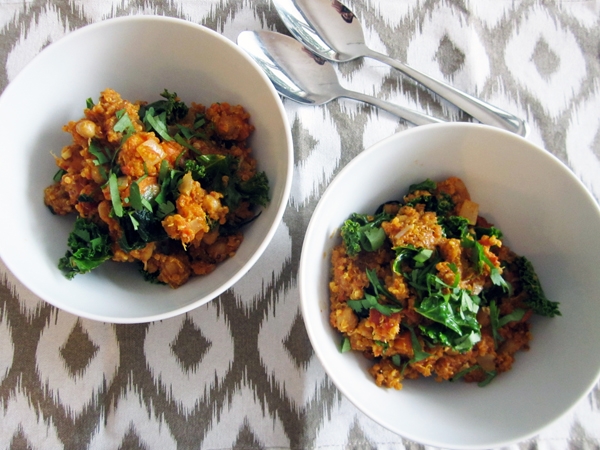 When lunch rolled around yesterday, I decided to experiment a bit and I came up with this little recipe that is a mix of my Quick & Easy Red Curry Quinoa and this Spicy Potato Curry.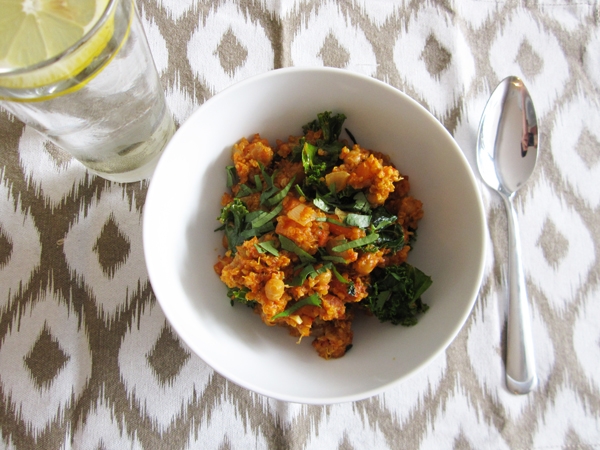 Because it's made up of pantry staples, this recipe is easy enough to pull together, even for a basic kitchen like mine is right now!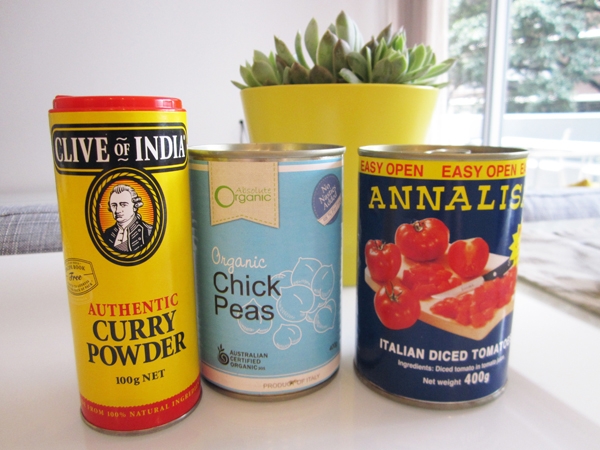 For the veggies, I used carrots and a mixture of kale and spinach, however frozen green peas, butternut squash, cauliflower, broccoli or mushrooms would be equally delicious.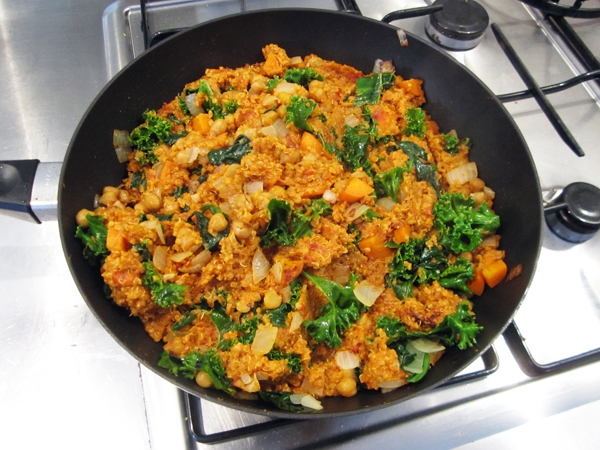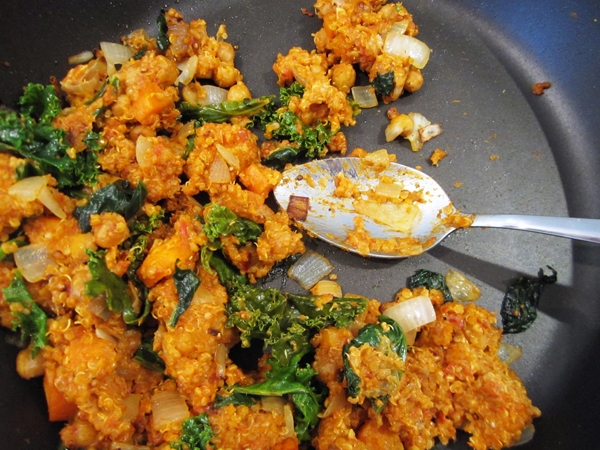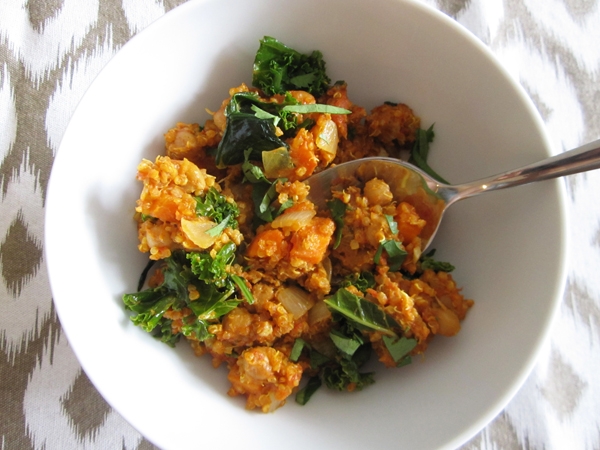 Updates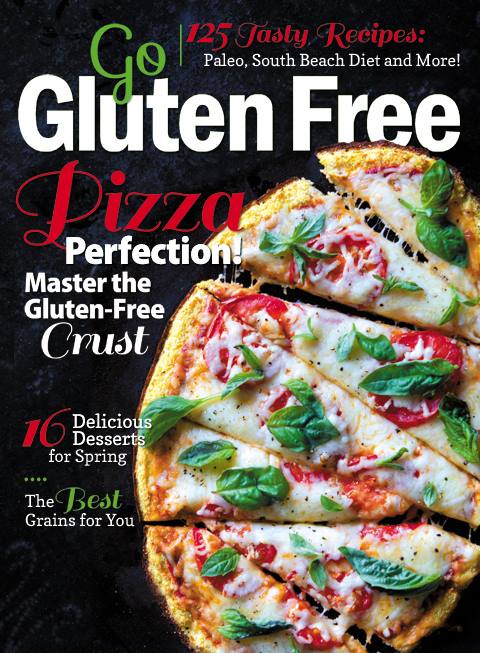 March 3, 2014 – This recipe (along with my Quinoa Falafel with Avocado Tahini Dressing) was featured in the March/April 2014 issue of Go Gluten Free Magazine. It's so cool to see my humble little recipes in print 🙂
October 5, 2014 – Some commenters have noted that 3 Tbsp of curry powder made the dish way too spicy for them. Because curry powders can vary in terms of heat, I've updating the recipe accordingly…

Quick & Easy Indian Curry Quinoa
By cooking the quinoa in the coconut milk and tomatoes, you get a very quick and tasty meal that is ready in no time! Vegan & Gluten-Free.
Author:
Angela @ Vegangela.com
Ingredients
1 cup quinoa, rinsed & drained
1 can (400ml) coconut milk
1 can (400ml) diced tomatoes
3 tbsp curry powder (note: curry powders vary in heat. If in doubt, go with less, and add more later)
2 tbsp ketchup or tomato paste
2 tbsp coconut oil (or other vegetable oil)
1 large onion
1 clove garlic, minced
1 carrot, diced
1 can (400g) chickpeas, drained
2 large handfuls of chopped spinach or kale
½ tsp crushed red chili pepper
salt and pepper
cilantro (fresh coriander) (optional)
Instructions
In a medium saucepan, mix quinoa, coconut milk, diced tomatoes (with juice), curry powder and ketchup/tomato paste, and bring to boil. Lower heat to lowest setting, cover saucepan and simmer until quinoa is ready, about 15 minutes.
While quinoa is cooking: in a frying pan, heat oil over medium heat and stir-fry the garlic and onion until translucent.
Add the carrot and saute for a couple minutes.
Add the chickpeas and cook for another couple minutes.
Add the spinach/kale and cook until wilted, about a minute.
Mix the veggies with the quinoa, season with salt, pepper and crushed red chili pepper, and garnish with cilantro before serving.