It was grey and rainy in Toronto today, so when dinner rolled around, I decided to try this Lentil Lemon Soup recipe. It contains very few ingredients and it's quick and easy to prepare, making it a perfect weekday meal.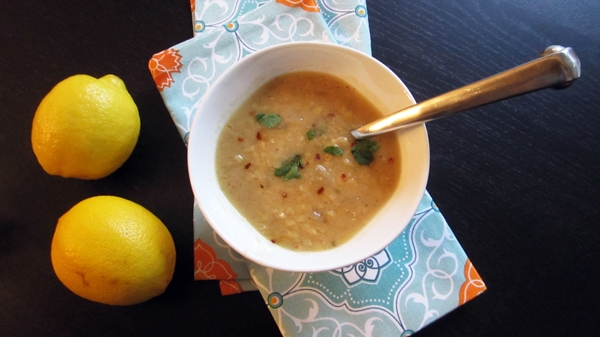 On lentils…
According to Wikipedia, Canada is the world's #1 producer of lentils. I definitely did not know that before today!
Don't be scared of lentils. I must admit that I don't use them as much as I should. But I'm making a concerted effort to change that. Why? Well, because they're cheap, easy to use, and full of protein. So, as I discover and create new recipes, you'll be seeing a lot more lentils around here.
Notes about the recipe
I modified the original recipe by swapping the chicken stock with vegetable stock to make it vegan. Otherwise, I kept it as-is.
Please don't be put-off by the somewhat bland color of this soup. Once garnished with fresh parsley or cilantro (fresh coriander) and additional hot pepper flakes, it's a simple but beautiful soup. Oh, and it tastes great!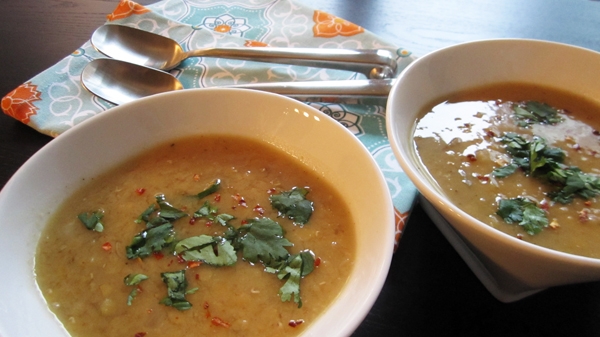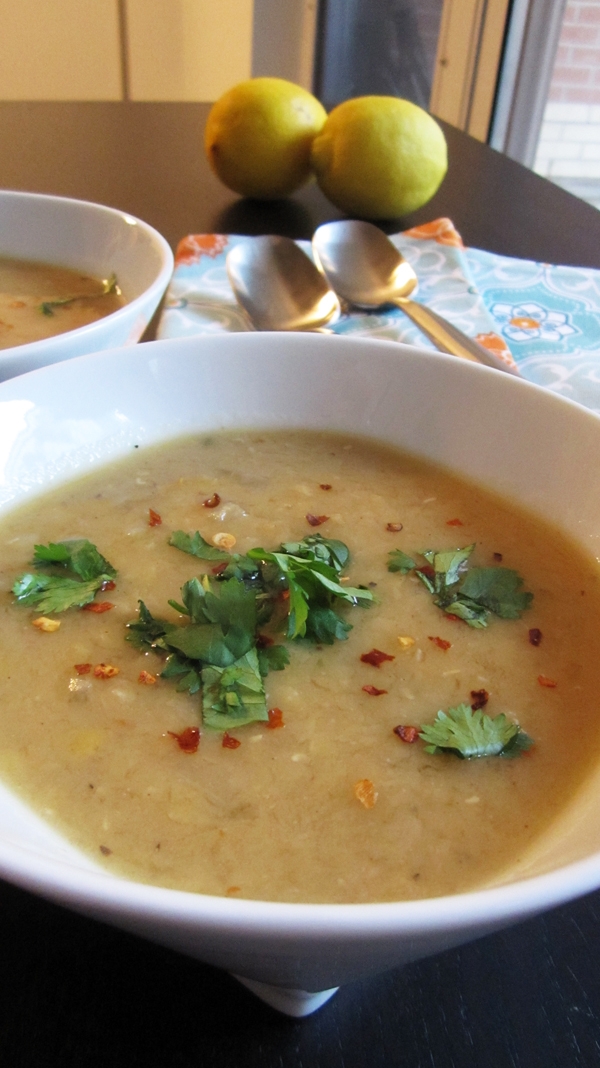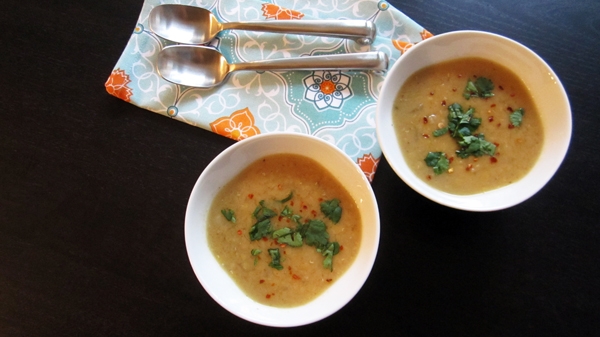 Updates
January 20, 2014 – I made this again tonight, and tossed 2 cups of chopped kale in at the end. Besides boosting the nutrition of this already super-healthy soup, it added some nice color and texture. I've added it as an option in the recipe, below.

Easy Lemon Lentil Soup
This soup contains lentils and other pantry staples, so it's easy to make and is full of protein. Vegan and gluten-free.
Author:
Angela @ Vegangela.com
Ingredients
1 tbsp olive oil
1 onion, chopped
2 cloves garlic, finely chopped
pinch hot red pepper flakes
1 tsp cumin
1.5 cups dry red lentils
6 cups vegetable broth
salt and pepper to taste
2 tbsp lemon juice
2 cups kale or spinach, chopped (optional)
2 tbsp fresh parsley (or cilantro / coriander), finely chopped
Instructions
In a large saucepan or dutch oven, heat oil over medium-low heat. Add onion, garlic and hot pepper flakes and cook for 5 minutes.
Add cumin, lentils, broth, salt & pepper, and bring to a boil.
Reduce heat, cover and simmer until lentils are tender and soup is beginning to thicken, about 30 minutes.
Stir in lemon juice and kale/spinach (if using). Serve sprinkled with parsley/cilantro.
Notes
Adapted from: http://www.lentils.ca/recipes/lentil-lemon-soup